Inktober Challenges Artists — Aficionados And Amateurs Alike — To Create Daily Sketches
Last Sunday, a small group of artists, whose collective inventory contains the contents of a tiny art store, stood near the entryway of Mount Auburn Cemetery in Cambridge. Pencils, paints and watercolors tucked into pockets, they violated the No. 1 rule of horror flicks and agreed to split up and meet back later.
They aren't hunting bad guys though, just artful inspiration. This was the weekly gathering for the members of Urban Sketches Boston, a young organization that aims to connect artists in the Greater Boston area. Each week they select a spot in the area, sketch independently and then circle back to discuss their works.
That day, inside the cemetery, most of the artists are killing two birds with one (head)stone. It's Inktober — or perhaps it registers more clearly in your mind as #Inktober — a hashtag you may have seen on Twitter, Facebook, and especially, Instagram. There's close to 3.5 million posts on the picture-based social media network using that hashtag. The month-long internationally-celebrated event is a call to create for artists of all types and skill levels.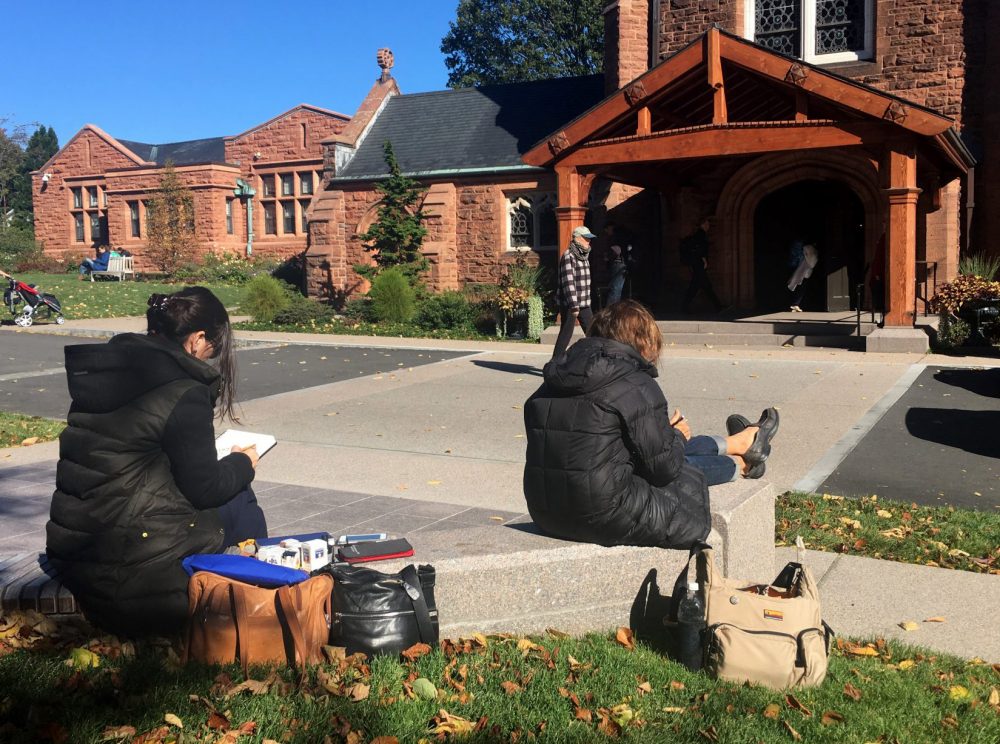 The premise is super simple. For each day in October, find yourself some time and draw. It doesn't matter what you draw, what you use to draw or if you draw with or without somebody. You just gotta (try to) sketch once per day. And you're highly encouraged to share the work — both to keep up with the community and keep you honest — on social media, where the hashtag helps creators find, inspire and admire each others' works.
Inktober was launched in 2009 by Utah-based illustrator Jake Parker, who created the challenge to "improve [his] inking skills and develop positive drawing habits. It has since grown into a worldwide endeavor with thousands of artists taking on the challenge every year," according to his website. And in the Boston area, where artists, designers and creativity — from students to professionals — are not in short supply, the popularity of #Inktober seems to have only grown through the years.
A Chance To 'Use A Neglected Medium' 
Like many artists, Brendan Tobin, 40, of Norwood, simply remembers feeling "compelled" to draw as a kid. This early fascination would transform into a career path, taking him from a major in illustration at the Parsons School of Design in New York City to his current work as an illustrator, animator and video editor for a Rhode Island tech company.
"I work digitally so much that trying to wrangle a physical ink brush can prove difficult, so I'm trying to improve those skills," Tobin said. "That's my favorite part of Inktober: It's an excuse to turn off the computer and use a neglected medium."
Tobin said the first year he did it, he mostly worked with ballpoint pens and posted just a couple drawings online. "I think I was discouraged that I didn't have a concrete concept planned out," he said.
His second attempt was more focused. He drew roughly three comics panels — or half of a traditional six-panel comic — daily, generating 15 pages of a comic book centered on a character called "Wonder Boy" by the month's end. Undoubtedly, Tobin, who says he is "mentally wired to be a bit of a completist," was compelled by the challenge.
But, life has ways of interrupting neuroses and passions. Tobin's wife, Nina, 37, had to ease up her Inktober ambitions this year when the couple welcomed their newborn daughter, Tallulah, this October. And with "an adorable, little baby wreaking havoc [on their] sleep schedule," Brendan can't always make Inktober's self-imposed deadlines.
Still, he thinks everyone should be pleased to be staining their hands with ink when they can.
"The whole spirit of the thing ... is to work on your inking skills and to share your work using the internet as a medium," he said.
'Anyone Can Draw'
Aisha Yousaf, of Boylston, a freelance illustrator, said she finds Inktober to be both a challenging and rewarding experience. With two small children, she says cobbling together minutes throughout the day to produce her pieces pushes her to be a more disciplined artist.
It's her second Inktober, and this year, she's been using the time to "brush up on inking techniques," like inkwash — a type of brush painting with black ink — and watercolor.
Yousaf says Inktober should not be "limited to people who live the artist life," adding the ever-encouraging artist adage that "anyone can draw" — and you can tell she believes it. For her, Inktober isn't necessarily about being good — it's about fun and pushing individual limits.
And arguably, it is easy to push boundaries if you're starting with the concept of, hey, just start. One way many Inktober newbies both find out about the challenge — and keep up with it — is through illustrating with other Inktoberers.
Which Brings Us Back To The Cemetery
Megumi Kibi was staring at the facade of a mausoleum, using a Japanese brush pen to bring out its details on paper. She joined Urban Sketches Boston last winter, and learned about Inktober this year.
She said she loves that the feedback at these events is immediate and in-person — and she often comes away with practical tips, like how to store tiny watercolors inside an Altoids tin to make a portable art kit.
"My favorite part is sharing the work," said Kibi. Without attending this open artist meetings, she said, few people would see or comment on her Inktober creations.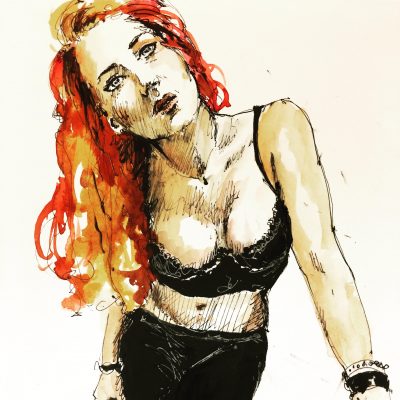 Seated quietly on a stone wall, Laura Sfiat, a graphic designer in Boston and one of the founders of Urban Sketches Boston, was zeroing in on the cemetery's burnt orange-colored building near the entrance, capturing textures illuminated by the bright sun.
For Inktober, Sfiat has mostly been drawing portraits, "thrilled by selfies of people" and "their expressions and personalities." It's her first Inktober.
Hands moving steadily, Sfiat gave this reporter a brief lesson in an ink drawing's composition: The focus of the sketch starts with the architecture, then moves to capture the natural environment.
Sfiat bobbed her head up and down between bristol paper and the building, saying "its beautiful texture" and "the contrast of [it] and the green trees" while drawing with India ink. She continued the lesson and emphasized a point about how shadows — and the play between light and dark, more generally — makes an ink drawing come to life. And then, a final element can help give the picture balance.
"You can create balance by adding people," and other living or otherwise movable objects in the largely still scene, she said. "So then you wait, if you can, for someone to pass through that spot, just exactly where you need it."
A woman half-hidden in the shadows of the entryway's arch begins playing the harp — and with a hint of sadness — Sfiat explained the harpist might not make it into this Inktober drawing. The timing is off.
But, just like the rules of Inktober, Sfiat is flexible, happy for the opportunity for self-expression, as well as the fellowship, feedback and fun between those who took up the daily challenge and those who just love to draw.
"You don't need to be an 'artist,' " Sfiat said. "Just pick a pen and draw, anything and everything you want. I can assure you, you will find flow if you relax and let it be. It will be your own unique expression, and it doesn't have a name: It's not art, it's you."
---
Boston-area artists: Have you been participating in #Inktober? Post your favorite work on social media with #InktoberWBUR or leave it in the comments below this post or on Facebook so we can check them out.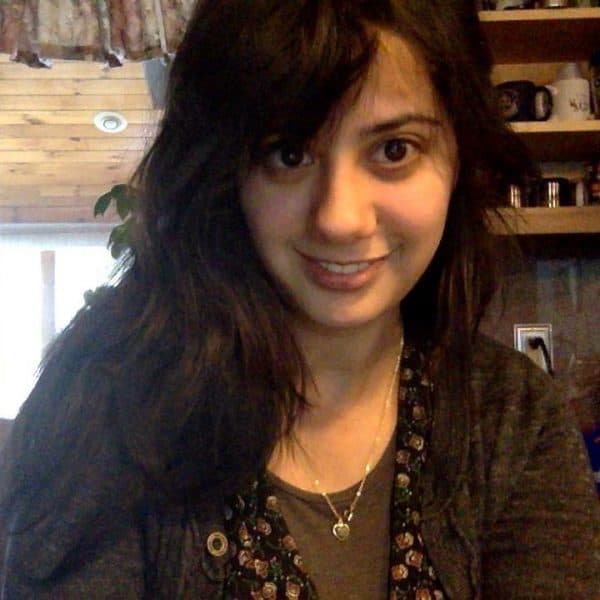 Lisa Creamer Digital News Producer
Lisa Creamer is a digital producer at WBUR.