After Decades Blending Storytelling And Journalism, 'Frontline' Creator To Receive Salem Film Fest Award
When it comes to broadcast documentary series, "Frontline" has no peer. The same could, and frequently has been said, of the man behind the longest running series of its kind — David Fanning.
Fanning is the founder and executive producer at large of the stalwart PBS program, produced at WGBH since 1983. With more than 600 films over 33 seasons at "Frontline," and "World" before it (1977 to 1982), Fanning has blazed a broad path on the shakiest of tightropes — one that ties journalism to filmmaking.
"There's a curious balancing act between having someone step forward and say 'Gather around, we have a story to tell you tonight' " and a rigorous editorial process, explains Fanning. To him, honest journalism, "requires that you report against yourself." It's a constant process of examination and re-examination.
He agrees to meet a few days after returning from an extended shoot in Tehran, Iran, and before departing for a tropical sailing trip. He'll return to his home on the North Shore in time to pick up the Salem Film Fest Storyteller Award at a gala event on Thursday, March 2. The celebration kicks off the all-documentary festival's 10th year with international feature and short films running through Thursday, Mar. 9.
Salem Film Fest program director Jeff Schmidt created the Storyteller Award this year to honor someone who's had a lasting impact on the documentary form. Schmidt says "Frontline's" uncensored investigative journalism is "unparalleled" and the series is viewed by many "as the grandfather of that type of filmmaking; they're really pioneers."
"...you have to force yourself to ask all the hard questions a skeptic would ask. It's not an easy thing to do and makes a lot of filmmakers uncomfortable."

David Fanning
Over his tenure, Fanning has sat in the editing room and challenged hundreds of filmmakers on topics as far-ranging as myths within the NFL to the origins of Islamic terrorism. His recent shift to being "Frontline's" executive producer at large (the buck now stops with executive producer Raney Aronson-Rath) gives him more time in the field, and in his words, to "re-learn the craft."
Fanning acknowledges that film is a highly manipulative media. "The very act of picking certain shots, the accidental shots you get or don't get, found footage, interviews that either go well or go badly, send you down a trail that is all very seductive," he explains.
"As you come closer to drawing conclusions about circumstances and politics, you have to force yourself to ask all the hard questions a skeptic would ask. It's not an easy thing to do and makes a lot of filmmakers uncomfortable," he says.
Indeed working with "Frontline" pushed filmmaker Joe Cultrera to find evidence for all statements made in his 2006 film about priest abuse, "Hand Of God." "They made sure I had all my I's dotted and my T's crossed before it went on the air," he says. "It was actually enlightening to me, especially given the recent atmosphere of fake news."
While Cultrera couldn't have imagined a better landing place for his film than "Frontline," his overall disillusionment with the film festival circuit is part of what led him to co-found the Salem Film Fest in 2007. The festival has since begun showcasing "Frontline" programs and, in 2014, created the Michael Sullivan "Frontline" Award for Journalism.
"Sometimes it's easier for an audience to hold on to the more entertaining documentaries and an award is a good way of bringing recognition to films that are harder to make and harder to sell but tell important stories. That's what 'Frontline' has been all these years," says Cultrera.
"Frontline" has also been at the forefront of trends that became industry standards. Fanning's longtime and now retired colleague, Louis Wiley, points to Fanning's early advocacy for an internet presence, despite resistance within PBS. (The pair worked side-by-side for nearly all of Wiley's three-decade career at WGBH.) In 1995 Fanning began to publish extended interviews and original material online and the program has since developed a presence on every available platform. "He didn't run away from that, he embraced it," says Wiley.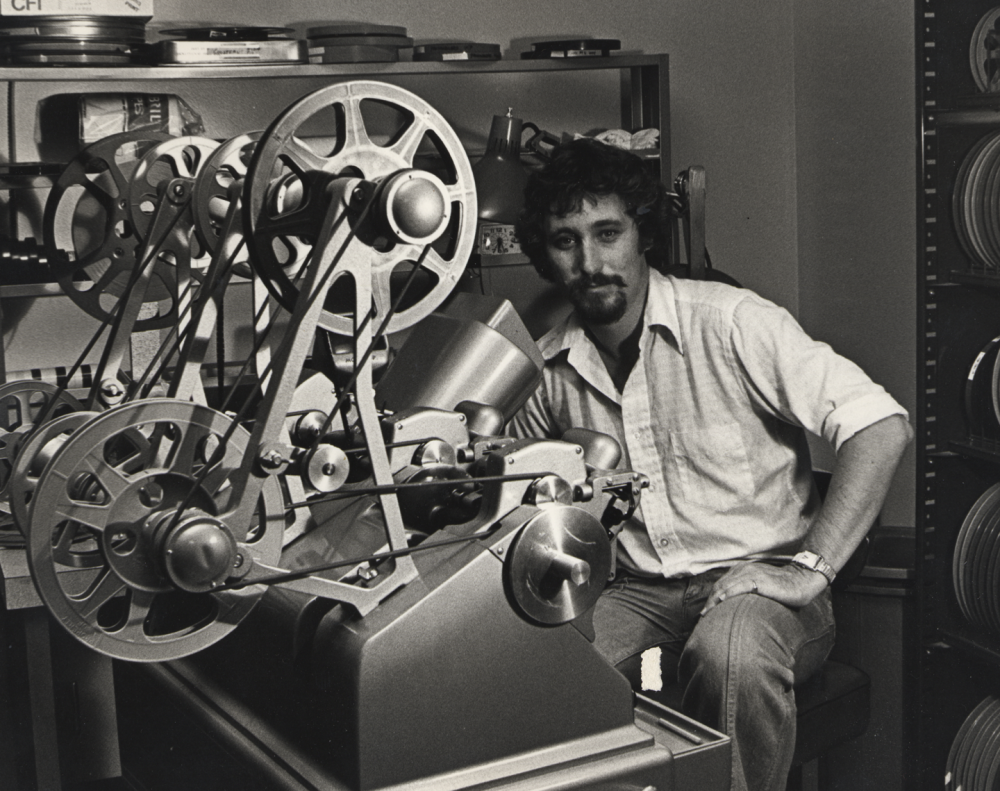 Fanning himself recalls holding up an S-VHS camera at Sundance in 1986, telling an audience, "This is the future of documentary." It was a panel doing the "usual chest-beating about network documentaries versus films," he says. "I was booed." They didn't believe in the possibility of video, though it was cheaper and more mobile than film. Fanning promptly sent a filmmaker to the occupied territories in the West Bank to shoot a video diary.
Originally from South Africa, Fanning spent a year in California as a high school exchange student and soaked up all that American culture had to offer, including surfing and TV. "I grew up without television," he acknowledges, recalling an occasional movie matinee, like the "swashbuckling 'The Flame and the Arrow.' "
Fanning sported a "California look" when he moved to the Boston area in the mid-1970s. "He had long shaggy hair, a mustache and goatee," says Wiley about when they first met, adding that it was quite a contrast to his own — and perhaps WGBH's — buttoned up New England style.
Wiley suggests that Fanning's point of view as an immigrant deepened his regard for freedom of expression. "He knew at 'Frontline' with its 20 slots for producers ... that there would be very talented producers he could not accommodate," recalls Wiley. In the late 1980s, Fanning encouraged the development of another non-fiction series, "POV," and later "Independent Lens" and ITVS — which together are the primary supporters of and showcases for independent voices within public media.
"It's hard to capture truth in a bottle."

David Fanning
Fanning's vision made an impression on ITVS board member and American University professor of communication Patricia Aufderheide, who teaches at least one recent "Frontline" episode in her documentary courses. "I thought it showed farsightedness on his part," she says, "especially when he himself was being attacked for having a strong executive producer role. He never pretended he didn't, and showed justifiable pride in his ability to produce a uniformly branded series with appropriate distinctiveness in format to suit the topic."
Wiley likewise credits Fanning for building the "Frontline" brand. "It's structured in a way that it can withstand political winds. Even if current politics are a little iffy," says Wiley.
Fanning observes that in any climate, "It's hard to capture truth in a bottle." He ultimately still considers himself a student of the non-fiction form he's worked in all of these years. "There's a lot of excitement when something's a real mess," he says.
Follow The ARTery on Facebook and Twitter, and sign up for our upcoming newsletter.
Erin Trahan Contributor, The ARTery
Erin Trahan writes regularly about movies for The ARTery and has also contributed to The Boston Globe, The Independent, MovieMaker Magazine, Women's Review of Books, AGNI, and several other publications.