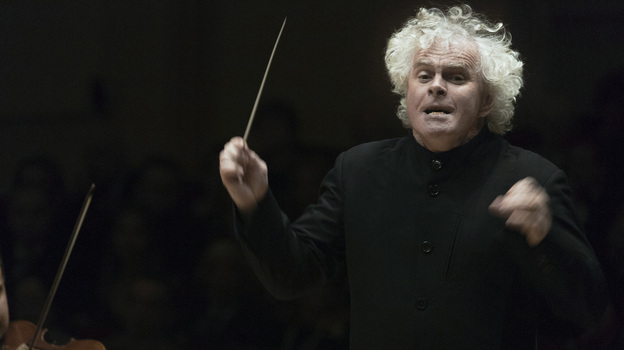 Finding the right mix of artistic heft and party-night pizzazz is a balancing act orchestras face when planning an opening night gala concert for Carnegie Hall.
The Berlin Philharmonic and its chief conductor Simon Rattle will especially want to start things right when they open the legendary venue's season Oct. 1. They're sticking around for five more concerts in New York, including three at Carnegie and two at the Park Avenue Armory. The former will include all of Schumann's four symphonies; the latter, Peter Sellars' staged presentation of Bach's St. Matthew Passion.
This gala program is an altogether different affair. It will feature two servings of late Russian Romanticism — Rachmaninoff's Symphonic Dances and scenes from Stravinsky's The Firebird — along with Bruch's First Violin Concerto with German soloist Anne-Sophie Mutter. NPR Music and WQXR will broadcast the performance live.
Long identified by her sumptuous tone and glamorous presence, Mutter has a long and somewhat complex history with the Philharmonic. She made her debut with the ensemble in 1978, when she was just 13, playing Mozart's Third Violin Concerto in Salzburg. The orchestra's music director, Herbert von Karajan, had heard her play two years earlier.
There was some skepticism around Mutter in those early years. Critics and some members of the orchestra didn't feel the teenage violinist was ready for the big time. But with Karajan's support, she managed to overcome the doubters and made her first recording with the ensemble in 1978 (Mozart's Concertos Nos. 3 and 5). Several more recordings followed, including the major concertos — Beethoven, Mendelssohn, Brahms and Bruch — usually with Karajan on the podium.
Karajan arranged for an exclusive Berlin contract for Mutter, by which in that city she appeared only with the Philharmonic.
Then from 1987 there was a 26-year hiatus between Mutter and Berlin that has been shrouded in mystery (Mutter guards her personal affairs carefully, and many published profiles of her read similarly). But in recent years, she has been on the Philharmonic's speed dial again, appearing several times. Last year saw the release of Dvořák's Violin Concerto, their first recording together since 1983.
As things often coincide at Carnegie Hall, the opening night concert also kicks off Mutter's "Perspectives" series at the venue — and, perhaps surprisingly, marks her first performance with the Berlin Philharmonic in the U.S.
PROGRAM
• Rachmaninov: Symphonic Dances
• Bruch: Violin Concerto No. 1
• Stravinsky: Closing Scenes from The Firebird
Berlin Philharmonic
Simon Rattle, conductor
Anne-Sophie Mutter, violin
Copyright 2015 WQXR-FM. To see more, visit
http://www.wqxr.org
.
Copyright NPR. View this article on npr.org.