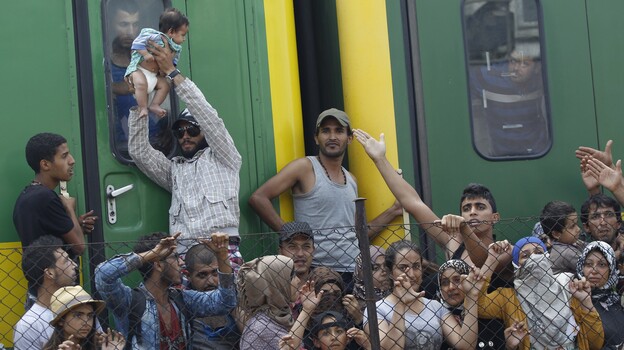 Here are the latest developments in the migrant crisis in Europe:
-- Abdullah Kurdi — the father of a 3-year-old Syrian boy whose body washed up on a Turkish beach, focusing the world's attention on the crisis — has reached his hometown of Kobane in Syria, where he buried his family. The toddler will be buried along with his 5-year-old brother and mother — all of whom drowned in the Aegean Sea as they tried to flee Syria.
-- The United Nations says the European Union must accept 200,000 refugees as part of a "common strategy" to replace its country-by-country response to the sudden surge of refugees from Syria, North Africa, Afghanistan and Bangladesh.
"This is a defining moment for the EU, and it now has no other choice but to mobilize full force around this crisis," U.N. High Commissioner for Refugees Antonio Guterres said. "The only way to solve this problem is for the union and all member states to implement a common strategy, based on responsibility, solidarity and trust."
-- Turkish President Tayyip Erdogan says the EU shares "the sin of every refugee who loses their life" trying to escape the Middle East for Europe.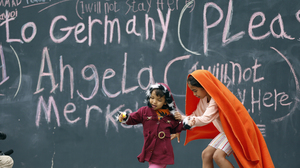 -- Some 2,300 migrants in a Hungarian refugee camp near the Serbian border are threatening to break out, according to police. The news agency says that about 300 migrants have already escaped the camp near the town of Roszke, and police have called in a riot unit to secure the compound.
-- Meanwhile, Serbia has said that it is ready to discuss accepting a quota of refugees for settlement as per a tentative EU plan among the bloc's 28 members.
-- Police in Austria says that 71 refugees found dead in a truck last week along a major highway include Syrians, Iraqis and Afghans who "probably suffocated."
-- German police are investigating a fire at home for asylum seekers in Hesse that injured five people, one of them seriously. Officials say it's too early to say whether the cause was arson.
Copyright 2015 NPR. To see more, visit http://www.npr.org/.
MORE: The 71 victims included Syrian, Iraqi and Afghan refugees, Austrian police say: http://t.co/8CV6wB6qPl

— The Associated Press (@AP) September 4, 2015
Copyright NPR. View this article on npr.org.