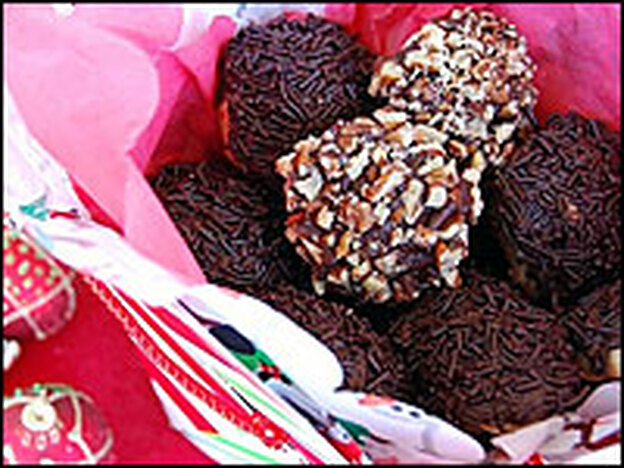 Spending countless hours trapped in a cold, dimly lit basement is one of my best Christmas memories.
I don't remember gifts I gave or received (except for the year I got my awesome pink Huffy bike). I do, however, remember making Christmas cookies every December with my mom, a ritual that ended in the basement.
Christmas cookie baking was a massive project. Each year, it began by buying obscene amounts of flour, sugar, butter and eggs, which would be transformed into holiday family favorites such as biscotti, pizzelles and macaroons. The cookies would be assembled onto trays, tied with shiny ribbons and given as presents to everyone we knew, including the dry-cleaning guy.
Mom and I would spend days rolling and dipping and sprinkling. We did this until our backs ached and our feet swelled, then we did it some more, fueled by eating the occasional defective chocolate crinkle or Hello Dolly cookie that didn't make the cut.
Then we'd head to the basement, where more than 2,000 cookies in metal tins were stacked on our old air hockey table waiting to be assembled. (I told you, everyone got a cookie tray).
Culinary historians claim that the earliest cookies as we know them developed from cake baking. In the 7th century, Persians made small sweet cakes, which became the prototype for modern-day cookies. It is believed that at some point, small amounts of cake batter were baked to test an oven's temperature, and eventually these small cakes became treats themselves.
During medieval times, cookie recipes and baking techniques spread from the Middle East to Europe. With the Muslim invasion of Spain and the development of the spice trade, cookies laced with cinnamon, nutmeg, ginger and anise began to appear. By the Renaissance, cookbooks included many recipes for sweet cookies made from eggs, sugar and flour. Indeed, the word "cookie" comes from the Dutch word koeptje or koekje, which means small cake.
Cookies underwent major changes in the 18th and 19th centuries as the price of sugar and flour dropped and chemical leavening agents such as baking soda became widely available. The inventions of the modern refrigerator and oven with thermostat also helped propel the popularity of home-baked cookies.
Though cookies have been associated with feasts and special occasions for centuries, they may be most identifiable with Christmas, dating back to medieval Europe. The first genuine Christmas cookie was likely lebkuchen, a German gingerbread cookie, which was followed by other European cookies including buttery Swedish spritz and speculaas koekjes (Dutch spice cookies).
When European immigrants came to America, they brought along their cookie recipes as well as cookie cutters and decorative molds. Soon, American home bakers excitedly began making Christmas cookies in the shapes of St. Nicholas, Christmas bells and stars.
Cookies also are the confection most closely associated with Santa Claus. The tradition of leaving cookies for Santa on Christmas Eve began in the 1930s during the Great Depression. Some say it was an inexpensive yet sweet way for nice children to thank Santa, while others claim it was a way for naughty children to bribe him. Either way, cookies remain a beloved Christmas treat for Santa and are an ideal Christmas gift during tough economic times.
Because cookies come in all shapes, sizes and textures, you can find something to please everyone on your gift list. Drop cookies, which are among the easiest to make, are so named because the dough is dropped by spoonfuls onto a baking sheet. Drop cookies such as chocolate chip and oatmeal raisin do not have to be perfectly shaped. However, to ensure even baking, use a small cookie scoop or measuring spoon coated with cooking spray to drop roughly equal amounts of dough.
Bar cookies are a hectic holiday baker's best friends. All of the ingredients get mixed together, poured into a single pan like a cake, then baked. Brownies, likely the most treasured of bar cookies, are ideal for large gatherings and require minimum effort.
Rolled and cut-out cookies are made from stiff dough that is rolled out then cut into shapes such as hearts. Sugar cookies, pinwheel cookies and shortbread are among the most popular.
Refrigerator cookies are so named because the dough is formed into a cylinder and chilled in the refrigerator before baking. These are great plan-ahead cookies because the dough freezes well.
Molded, shaped or pressed cookies are made from dough that is typically chilled then rolled into logs or balls before being shaped. Some are hand-shaped like crescents, while others, such as madeleines, are made in molded cookie pans.
As the name implies, sandwich cookies are made from two cookies held together by a filling, like an Oreo. Filled cookies such as fig bars are made from dough that is baked with a filling inside.
Finally, there are specialty cookies, such as cloud-like meringues and elegant curved tuiles (French lace cookies).
If you want to make Christmas memorable for your kids this year, skip the mall and spend a day or two baking Christmas cookies with them instead. It may be the only gift they remember 20 years from now.
Copyright 2016 NPR. To see more, visit http://www.npr.org/.
Related:
Copyright NPR. View this article on npr.org.