'Back' At MIT, Matt Damon Urges Grads To Engage With The World
Resume
Although actor Matt Damon attended the other big-name school in Cambridge, he owes a debt of gratitude to MIT. The school was the setting of his first breakout hit, 1997's "Good Will Hunting."
Damon was back at MIT Friday morning -- as commencement speaker — to offer a little inspiration to this year's graduates.
More than 2,800 black-robed graduates filed into rows of seats in the heart of MIT, Killian Court. Damon had a robe on too, and took his place among the school's faculty and president on the stage.
The actor's connection to MIT goes back to his childhood in Cambridge and to "Good Will Hunting," which he co-wrote and starred in. Damon's character Will works as a janitor at MIT but upends people's expectations when he reveals himself as a cocky, self-taught genius who — in this bar scene — puts a Harvard student in his place with intellectual prowess:
Onstage at the prestigious school Friday, Robert Millard, chair of the MIT Corporation, introduced Damon as a local boy who grew to become an exceptional social activist, director, producer, writer and actor.
"Incidentally, we're also grateful that when we see him in a movie that's set in Boston, he gets the accent right," Millard said, as the audience laughed. Millard then welcomed "a wonderful kid from the neighborhood who's done a good job and truly has goodwill, Matt Damon."
The actor thanked his hosts and joked about the commencement speakers who've been there before, including President Obama.
"Well look, I don't even have a college degree," Damon said. "As you might've heard, I went to Harvard, I just didn't graduate from Harvard. I got pretty close but I started to get movie roles and I didn't finish all of my courses. But I put on a cap and gown and I walked with my class, my mom and dad and brother were there and everything. I just never got an actual degree. You could say I kind of fake graduated. So you can imagine how excited I was when President Reif called to invite me to speak at the MIT commencement. And then you can imagine how sorry I was to learn that the MIT commencement speaker does not get to go home with a degree.
"So yes, for the second time in my life, I am fake graduating from a college in my hometown."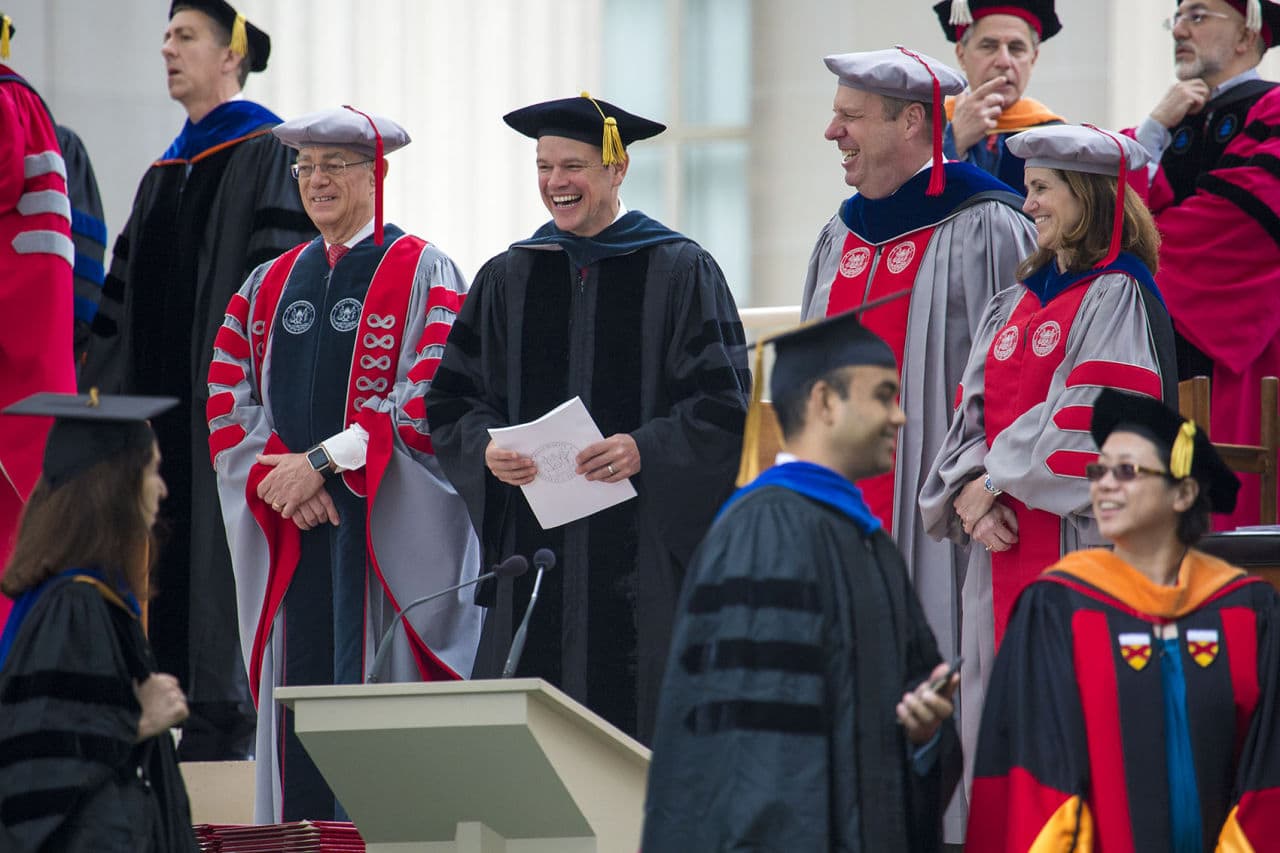 Taking a more serious turn, Damon said Boston is lucky to have MIT because it draws people from all over the world. He encouraged the new grads to tackle some of the biggest, real problems on the planet.
"Economic inequality, that's a problem," he said. "How about the refugee crisis? Massive global insecurity, climate change, pandemics, institutional racism, a pull to nativism, fear-driven brains working overtime. Here in America and places like Austria where a far-right candidate nearly won the presidential election for the first time since World War II."
Damon went on to call out American bankers, politicians, the media — and Donald Trump. He told the crowd what he's learned trying to bring safe drinking water to parts of Africa through his pioneering nonprofits, H2O Africa Foundation and Water.org.
"Human beings will take your breath away. They will teach you so much, but you have to engage," Damon shared. "I only had that experience because I went there myself. It was difficult in many ways, but of course that's the point. There is a lot of trouble out there, MIT, but there's a lot of beauty too, and I hope you see both."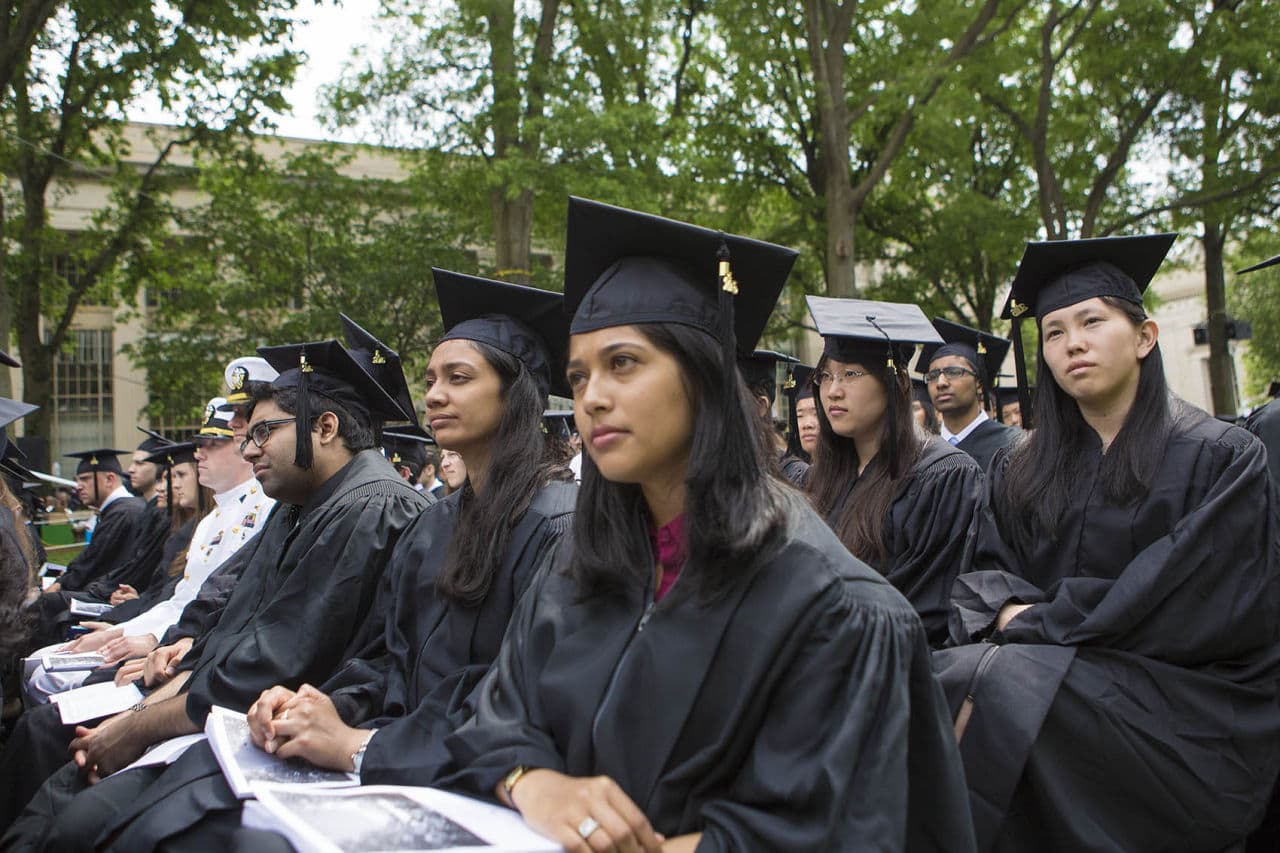 Like a lot of the MIT grads, senior class president Anish Punjabi relates to the MIT character Damon once played, and said so on stage.
"Like Will we possess a gift not just for creativity, but more importantly a gift for relentless service and compassion. We know what it takes to make something happen — even if we're the only one in a room of 100 people who truly believe in it," Punjabi told his classmates.
While Damon didn't leave the MIT commencement with a degree, he did get what was called an "authentic MIT Pirate Certificate" for promoting a swashbuckling appreciation for science, engineering and space exploration in his latest film, "The Martian."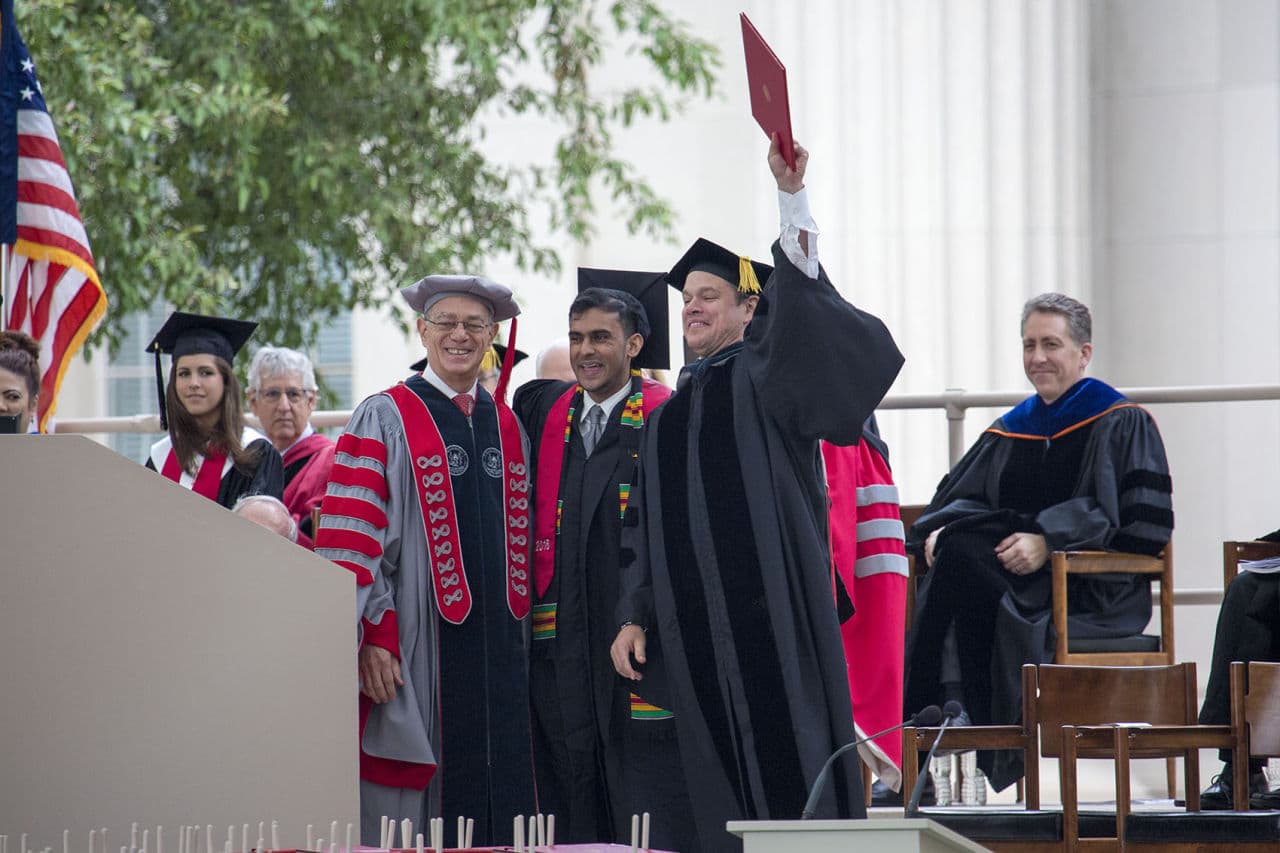 This segment aired on June 3, 2016.