Harvard Men's Soccer Team Apologizes After Season Is Canceled Over 'Scouting Report' Scandal
02:33
Play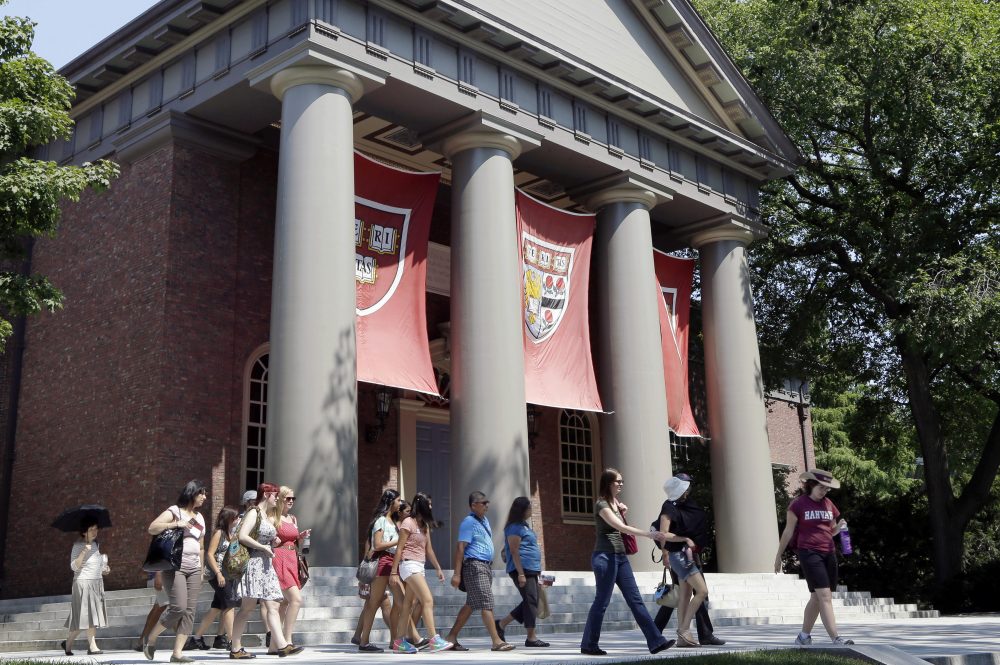 This article is more than 3 years old.
The Harvard men's soccer team is apologizing for the harm their words and actions caused members of the women's soccer team and is promising to take concrete actions to address sexism at Harvard.
The apology, which came in the form of a letter posted by the student newspaper The Harvard Crimson, comes after the university found that the team produced a so-called "scouting report" that rated players on the women's team by their appearance and sexual appeal.
The Harvard Crimson reported on the practice last week, tying it to the 2012 men's soccer team. Harvard President Drew Faust asked Harvard attorneys to investigate, and it was revealed Thursday evening that the practice had continued through this year.
As a result the school announced it was canceling the remainder of the men's soccer season. The team will forfeit its remaining games and decline any opportunity to play for the Ivy League championship or to participate in the NCAA tournament this year.
It remains to be seen whether any individual soccer players will be disciplined. That's the reason a spokeswoman for the dean of Harvard College, Rakesh Khurana, said he is declining an interview, as he sits on the board that addresses student conduct. Khurana did issue a statement calling the men's action "antithetical to Harvard's values."
First-year student Enosa Ogbeide, of Arkansas, feels bad for the younger players she believes may have been dragged into making disrespectful remarks by older teammates.
"My closest friends are on the freshman men's soccer team," Ogbeide said. "I know it's something that they would have never done just on a whim by themselves, and it being a tradition, I see how they were coerced into it. But at the same time it is something that no one here obviously condones, and so the punishment is fitting, but knowing them on a personal level, I do feel some pain for them."
Harvard Director of Athletics Bob Scalise said in an email to student athletes Thursday evening that current students taking part in the "scouting reports" were not immediately forthcoming about their involvement. And so he decided to cancel the remainder of the soccer season. He declined to be interviewed, as did coaches.
"You can't really be messing around with that kind of stuff, especially in writing," said Harvard senior Nick Nagengast, of Nebraska. "The culture on campus is pretty protective of women's rights and basically all minority rights. You gotta understand that when you do that type of thing."
Harvard President Drew Faust said in a statement she supports the athletics director's decision, as well as his decision to engage the team in a "systematic program of training" on sexual harassment.
This segment aired on November 4, 2016.