State Senate President Suggests Legislature Look For New Revenue Streams
02:53
Play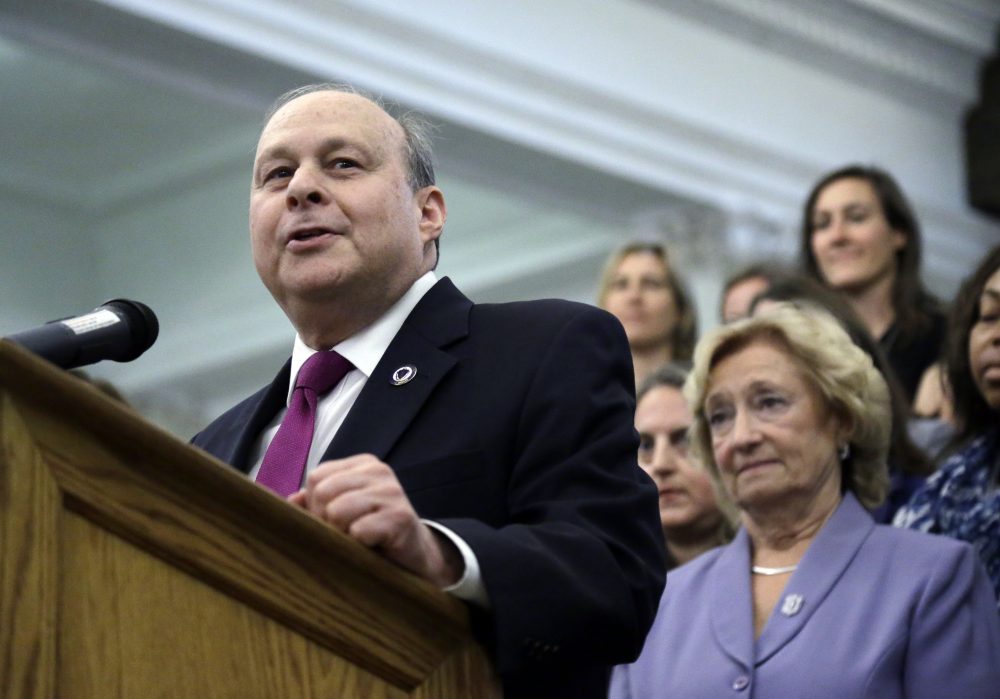 This article is more than 4 years old.
On Beacon Hill Wednesday, lawmakers returned to the State House to begin a new legislative session. While the gathering was mostly ceremonial, the debate to increase revenues started to take shape.
After being elected to his second term as Senate president, Stanley Rosenberg (D-Amherst) outlined for his 39 fellow colleagues his vision for the upcoming session. High on the list: legislation to deal with autonomous vehicles, otherwise known as "driverless cars." Other areas of note are climate change, energy, education and criminal justice.
What set Rosenberg's remarks apart are what he had to say about revenue (i.e. taxes). Rosenberg called for adopting "a truly modern approach to fiscal policy."
"We are nearly 20 years into the 21st century and we have a budget that is built on a foundation laid decades ago when Massachusetts began its campaign to shed our label as being the so-called 'Taxachusetts' state," Rosenberg said. "Virtually every credible national study says that the level of taxation in Massachusetts now puts us in the middle of the pack. Mission accomplished."
Rosenberg urged passage of the Fair Share Tax (also sometimes called the "Millionaires' Tax"), a constitutional amendment that would raise the tax rate on earnings above a million dollars, with that money earmarked for education and transportation. If approved one more time by the Legislature, the amendment would be placed on the 2018 ballot.
But Rosenberg says the Legislature should consider other sources "by looking for new revenues where we can find them, whether by taxing new services like Airbnb, which actually believes it should be taxed, or by closing loopholes that were created years ago and serve no purpose today."
A Senate move to subject short-term property rentals like Airbnb to the state hotel tax was stripped from an economic development bill approved in July, but was done so with the understanding it would be taken up in the future. While Rosenberg and the Senate seem willing to explore new revenue options, under the state constitution, money bills must originate in the House. In recent years, House Speaker Robert DeLeo (D-Winthrop) has held a no-new taxes stance, but Wednesday, after being nominated to a fifth term as speaker, DeLeo was noncommittal when asked if the no-new-tax position will remain in place during the new session.
"We're going to wait and see exactly what some of the discussions, some of the hearings, after which I will have a discussion with the chair of Ways and Means and be in a better position to answer that at that time," DeLeo said.
The speaker is expected to outline his goals for the new session in a few weeks, and Gov. Charlie Baker, who has been cool to the prospects of raising new revenues, will present his blueprint for the year when he delivers his State of the Commonwealth address on Jan. 24.
This segment aired on January 4, 2017.