Choral Groups Sing Brahms' Requiem At MIT To Comfort The Living
This article is more than 8 years old.
Boston's music community continues to offer peace, comfort and unity through song in the wake of the marathon bombings.
Sunday night, singers from 30 area choral groups came together at MIT, where police officer Sean Collier was shot Thursday. They performed Brahms' Requiem, a sweeping, emotional work that has provided condolences to the living for more than a century.
German composer Johannes Brahms wrote his Requiem in a state of profound grief after his mother died in 1865.
"Even on a good night, the Brahms Requiem is a rather emotional piece," conductor Danica Buckley said. That's why it's often performed at dark times like the ones we're experiencing now. Last Monday night, Buckley was wracked with confused feelings after the Boston Marathon bombings.
"All I could think of these people affected — and I thought, 'Wow, I wish I had other people to come sing this with me tonight.' "
Well, she found them.
Buckley conducts the Choral Art Society of the South Shore and directs the Simmons College Concert Choir. She decided to reach out to Boston singers, primarily through Facebook, hoping to attract a like-minded crowd. And she shared a famous quote from Leonard Bernstein after the assassination of President John F. Kennedy:
This will be our response to violence: to make music more intensely, more beautifully, more devotedly than ever before.
These words spoke to baritone Dan Malis, president of Masterworks Chorale. By day he's an attorney and said Buckley's pitch came at just the right time.
"I was powerless, as most of us were, watching these images and thinking, 'I have to do something.' And for many of us who love music the next thought is, 'I have to express it musically.' And in my case I have to sing," Malis said.
Malis and Buckley are not alone. Performers from 30 area choruses took part in the collective Brahms Requiem concert. Singing it is a gut-wrenching but uplifting journey, according to Buckley.
"It begins with blessing those who carry the tremendous grief, and it ends with blessing the dead," Buckley explained. "And throughout it's all about journey and peace and comfort and solace."
Unlike other requiems, Brahms wrote his as a comfort for the living. That's another reason why Buckley wanted to perform it. She said traditional requiems are based on the Latin Mass for the dead.
"One of those texts is about the day of judgment, the day of wrath. So they're beautiful pieces of music — I mean who doesn't love the Mozart Requiem? But I think that the Brahms is extra special," Buckley said. "The connection to his mother is important, and the fact that he chose the text from Luther's translation of the bible. He believed no text is in judgment of the dead."
So plans for this massive singing event were set midweek. Bill Cutter, MIT's director of choral activities, got involved and the school donated the use of its Kresge Auditorium. It was agreed that the concert's proceeds would go to support The One Fund, a charity created by the city and state for victims of the bombings.
But the performance took on even deeper meaning Thursday night after MIT security officer Sean Collier was shot and killed.
"So there was just the grief, the shock, the fear also on the streets," Buckely recalled, adding the question they were asking themselves: "Will we go forward?"
As it turns out, one of the concert's most active organizers knew Collier personally. James Liu is a baritone, but was also Collier's physician.
"When  I heard his name mentioned as the fallen officer, a pit just sort of fell in the bottom of my stomach," Liu remembered, "He was way, way too young to go down the way that he did."
So the collaborative concert became something different — a remembrance for the 26-year-old man who worked diligently at keeping the students here safe. Bill Cutter talked about Collier during the performance.
"Sean probably couldn't have imagined that he would become yet another victim of the two bombing suspects, his dream of becoming a Somerville police officer crushed in one tragic moment. The MIT community remembers Sean this evening, along with the many other victims, as we try to reconcile this senseless violence by making music together."
Between 400 and 500 singers filled the auditorium's seats. They shared sheet music and wore black. Five conductors, including Danica Buckley, took turns at the podium to lead the massive chorus.
Lisa Feretti is a singer from Somerville, but she actually chose to sit in the audience.
"When I'm really emotional I get too choked up to sing," she explained. "And I think I need to just sit and let it wash over me."
Like the rest of us, Feretti admitted she's had a rough week. She came looking for relief.
"Music reaches parts of the soul that other things don't," she mused. "There's also the idea of a lot of people coming together in community. There's been so much of that this week. A lot of people are trying to focus on the heroes and the good things that happened, as well as mourning the sad things."
And that's exactly what the Brahms Requiem does for Buckley. She translated the libretto's last words for me.
"Sayeth the spirit that they rest from the their labors and that their works follow after them," she read, then applied it to the those who perished in the marathon explosion. "And I think their works do follow after them, and I know these people won't be forgotten."
And while the Brahms Requiem is very much about acknowledging a sense of profound loss, Buckley said it's also picking ourselves up. She hopes the survivors of Monday's tragedy — and the rest of us — will be able to heal and move on.
This program aired on April 22, 2013. The audio for this program is not available.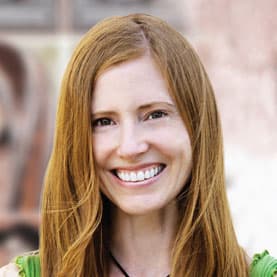 Andrea Shea Senior Arts Reporter
Andrea Shea is WBUR's arts reporter.