Wayne Shorter Brings All-Star Revelers To His 80th Birthday Party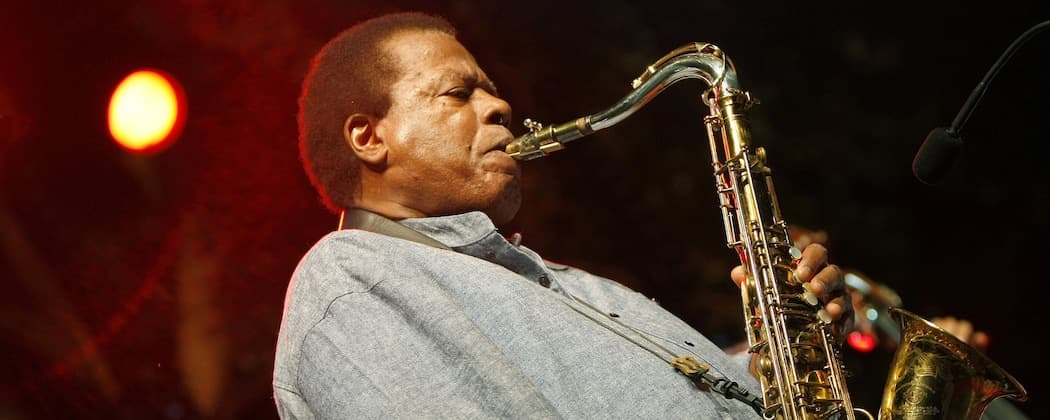 This article is more than 5 years old.
"The mystery of us is what we are trying to play. The mystery of ourselves, the mystery of the human condition." That's Wayne Shorter who at 80 continues to be an influential master of jazz.
Fortunately for us, we're invited to celebrate with him. The Wayne Shorter 80th Birthday Celebration will include performances by Shorter's Quartet (Shorter, Danilo Perez, John Patitucci, and Brian Blade), the Joe Lovano/Dave Douglas Quintet (Lovano, Douglas, Lawrence Fields, Linda Oh, and Joey Barron) and the ACS trio (Gerri Allen, Terri Lyne Carrington, and Esperanza Spalding). These groups include more seasoned players and some of the newer generation.
As Shorter says, "They're on kind of a yellow brick road path ... they want to discover things musically and all that." This all-star lineup will be at Symphony Hall Nov. 24 under the aegis of the Celebrity Series of Boston paying tribute to Shorter and performing original music as well.
Shorter was a prominent member of Art Blakey's Jazz Messengers and Weather Report and worked closely with Miles Davis and other jazz luminaries..Many of his compositions are now part of the standard jazz repertoire. His quartet, which he started in 2001, plays music that's only a little more structured than free jazz. They don't plan what songs they're going to play and everything is a conversation in the moment. "We want to play music that expresses the things and adventures of the road less traveled, least traveled in life," he says.
What he's doing now is even more interesting when you hear him philosophize about music and life. Talking to Shorter on the phone is like talking to a guru who has figured out the how and why of music. "We're trying to show in the music that being followers, the massive quantity of followers, has to cease. The singularity that we want is everyone learning to be leaders, negotiating as leaders." You're also reminded of his incredible history when he puts on his Miles voice. "If Miles Davis was sitting right here messing with the thing called existence, he would say to me 'Wayne why don't you play that.' So why don't we just try to do the impossible and have fun with it."
You get a sense of what he's talking about when you listen to Shorter and his quartet. In this video they play "Footprints," Shorter's famous composition. He starts out with a hint of the melody but quickly goes into complete improvisation. Although Shorter is the formal leader of the group, all the musicians are participating as leaders, playing their own musical ideas while responding to others in the group.
Given the special nature of what Shorter has accomplished, what he's doing with his current group and the lineup he's assmembled, this celebration should be quite the event. All the other musicians performing have been influenced by Shorter in some way and they'll all be striving to do something very important to him and to jazz: being in the moment. "In the moment to me is the DNA of eternity. One moment is equal to eternity or never-ending. Never beginning, never ending."
Claire Dickson Contributor, The ARTery
Claire Dickson is a jazz vocalist and writer studying at Harvard College.