To The Manor Borne — Chekhov In Chestnut Hill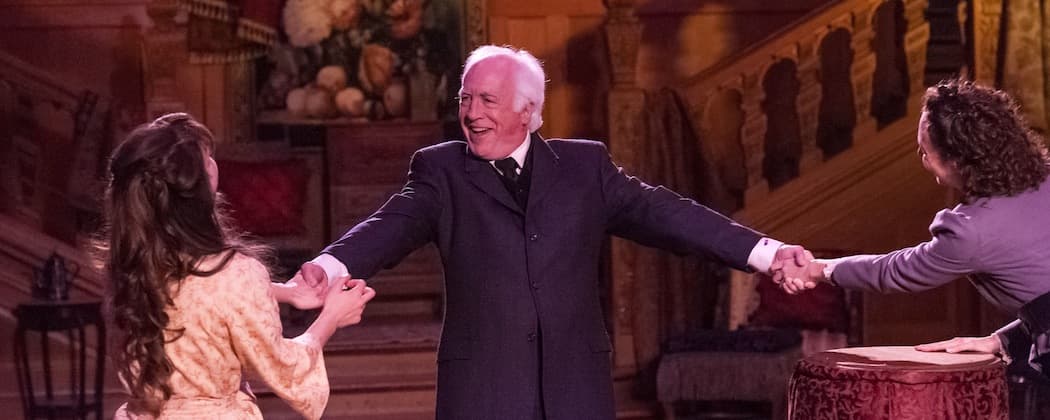 This article is more than 7 years old.
CHESTNUT HILL, Mass. – You couldn't find a better place to stage Anton Chekhov's "The Cherry Orchard" than Dane Estate at Pine Manor College. (Though you could find a warmer, easier to find locale.) As you're ushered into the large ballroom where the action takes place you might be excused for grabbing a book off the shelves or trying to order a cup of tea. Or a Stoli. And for most folks, the good vibrations carry over into Chekhov's last play as staged by the Actors' Shakespeare Project (through March 9).
Alas, I must be a nyet-sayer. Once you get past the uniqueness of the setting, and how well it fits the setting of the play — a manor with Cherry trees that might face the ax — director Melia Bensussen's adaptation is pretty stiff in the joints, indicative of the kind of production that leads people to say they don't like Chekhov. (The translation credit goes to Bensussen and "The Cherry Orchard Company.")
In fact, Chekhov is quite funny — as you might have gathered if you were lucky enough to see the recent ArtsEmerson production with Mikhail Baryshnikov. This production has its share of yuks, too, supplied mainly by Steven Barkhimer and Richard Snee, but the overly formal acting style onstage keeps the humor at bay.
Which is too bad because it's a good cast, for the most part, and there are plenty of fine, fluid Chekhov adaptations out there, by Paul Schmidt (the Huntington is doing his "Seagull"), Tom Stoppard, David Mamet, on and on.
Not all the formality is out of place. The aristocratic family who's about to lose the manor is, almost to a person, a prisoner of his or her inability to embrace change. The middle-class Lopakhin, whose father was a serf at the manor, has no such problem. He's ready to condo-ize the whole orchard if he can get his hands on it.
That, in Barkhimer's hands, he's also the most charismatic person onstage sets up an interesting dynamic in the production — you actually begin to root for the guy and against the foppish aristocrats. Methinks Chekhov was interested in spreading the love around a bit more.
I'd settle for any love. Lopakhin might be a boor, but the rest are bores. That famous Chekhovian glow that hovers over his characters is in short supply in Chestnut Hill.
Perhaps I was overly primed to love this production. My colleagues certainly did. And Bensussen and ASP did a great job with "Twelfth Night" a few years ago. Here, I just sat waiting for the developers to cut those suckers down.