Newport Folk Festival Honors Pete Seeger, With Mixed Results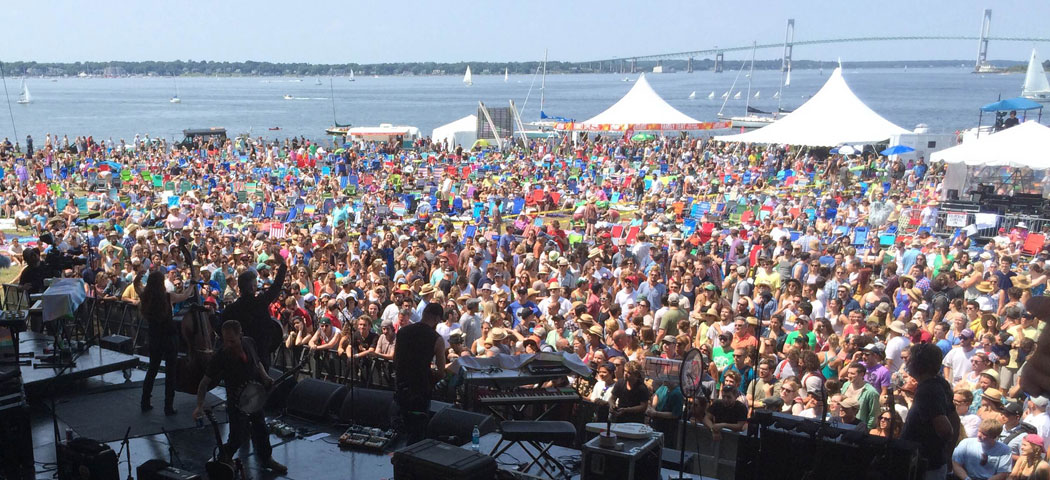 This article is more than 6 years old.
The Museum Stage at Newport Folk Festival is a long, airy room with creaky wooden floors. Last Saturday afternoon it was packed, with a line snaking out the door, when the mandolin virtuoso Chris Thile of the pop-bluegrass band Nickel Creek gave a riveting solo performance. In the midst of a wide-ranging, improvisatory offering which included Celtic marches and Bach sonatas, the mandolinist reminisced about falling in love with the music of the folksinger Pete Seeger as a boy.
"I think there was something about Pete's voice, his delivery, the way that he backed himself up, that's utterly profound," said Thile. "He was one of the only artists that really got to me at that age that wasn't sort of greased lightning all the time. I was very interested in wigglin' the old fingers. And Pete's approach, the very frank, earnest, sincere delivery of the song, was essential for me to kind of commune with for a while."
Seeger was a renowned figure in the folk revival of the '50s and '60s, a lifelong social and environmental activist, and one of the Newport Folk Festival's original board members. He is perhaps best known for his popular protest and folk songs, among them the anti-war ballad "Where Have All The Flowers Gone?" and the progressive anthem "If I Had A Hammer."
Seeger died in January at the age of 94, and this year's festival marked the launch of a new program in his honor, called "For Pete's Sake," which was presented on the small Museum Stage for several hours each day. The lineup was curated by Chris Funk of the folk-rock band the Decemberists, and consisted of performers "chosen for their dedication to the traditions of bluegrass, gospel and roots music, to which Pete and Toshi Seeger dedicated their lives," according to the festival's website.
The lineup was a hodgepodge of mostly obscure acts from across a spectrum of folk traditions, including Irish bagpipe, Scottish fiddle and old-school blues. The music was presented as an amalgam of lecture and performance, with Funk mediating the conversation from a microphone offstage. In between sets, musicians would talk, sometimes at length, about the origins of the music and the particularities of their chosen style.
It was this, more than anything, that exposed a paradox at the center of "For Pete's Sake." If folk music is something to be innovated, expanded and appreciated on large stages to large crowds—a concept for which Newport has successfully made a case over the years—then why were the musicians at the Museum Stage presented as mere conduits for traditions, rather than artists in their own right?
Since its inception in 1959, the Newport Folk Festival has had remarkable success selling the notion that folk music has a place in popular culture. It helped launch the careers of Bob Dylan and Joan Baez and bring renewed acclaim to Muddy Waters. The festival has always been about showcasing individual artistry rather than the totality of a particular tradition. Bob Dylan broke onto the scene in '63 in character as a wandering old-timey minstrel, shed that persona when he brought in a full rock band in '65, and has continued to shift, chameleon-like, through countless personalities over the course of his decades-long career. Plenty of the musicians that appeared at this year's festival have undergone evolutions of their own, as artists are wont to do.
The 2014 festival was headlined by gospel icon Mavis Staples, alt-country star Ryan Adams and garage-rocker Jack White. The supporting lineup leaned heavily in favor of indie rock, with acts like the hook-driven pop group Lucius and scorching blues-rockers Reignwolf, though there was a dash of hillbilly nostalgia thanks to artists like the bluegrass-esque The Devil Makes Three and the old-time-inflected Hurray for the Riff Raff. The festival sold out before the lineup was even announced.
"Even at the Winnipeg Folk Festival, which is huge, they always have EDM [electronic dance music] acts at night," remarked Matt Holmen, a guitarist in the Wisconsin indie-pop band Phox, after their set on Friday. "So it's like, well, it's not folk like our parents' folk, it's—folk art is whatever people make, what people have tools to make easily. So, yeah, I think EDM is folk music, too."
As the term "folk" has become ever more amorphous, Newport has shrewdly explored its relevance throughout a range of genres, rightly recognizing that folk music is alive, capable of transformation, and inevitably inflected by the commercial and technological realities of American modernity.
Yet even as Newport has cultivated mainstream appeal, offbeat folk festivals of a different type have proliferated across the country. Many, like the Appalachian String Band Festival in Clifftop, West Virginia, and the South Louisiana Blackpot Festival and Cookoff in Lafayette, are popular as much for their concert lineups as for the opportunity for festival-goers to make music together, participate in contests and workshops, and party long into the night.
"It's easier to connect to other musicians than an industry apparatus," remarked the guitarist Jefferson Hamer, who appeared at Newport with the singer-songwriter Anais Mitchell but also has a foot in the traditional Irish and American old-time scenes. "For Pete's Sake" offers a glimpse of these communal, jamming-oriented subcultures, all of which have produced extraordinary performers of their own.
Yet, ultimately, "For Pete's Sake" fell short of its potential. The lineup felt a bit like it had been curated by Google: what happens when you type "hurdy-gurdy" into the search bar? The Newport Folk Festival's great strength lies in its thoughtfully devised bills, which allow interesting, often exceptional, indie artists to reap the exposure brought by famous headliners. The same might be done with so-called "traditional" musicians presented by "For Pete's Sake." Of course, Newport would have to free up a bigger budget.
At one point during her set at Saturday's "For Pete's Sake," the Scottish-style fiddler Katie McNally, who lives in Somerville, remarked, "Something I wanted to emphasize on this stage today is that this is a living tradition. There are constantly new tunes being written." She then launched into a medley of contemporary tunes, one in an off-kilter, seven-beat time signature and another written to a Samba riff.
McNally, like the musicians with which she shared the stage, is the product of a rich musical subculture, one based in, but not limited by, traditional idioms. Scottish music in America has its own celebrities—Alasdair Fraser, perhaps the greatest Scottish fiddler alive, resides in California—and a vast network of independent musicians eager to break into bigger arenas. The same goes for any genre that might qualify as "traditional:" gospel, Irish, blues, old-time, Cajun, French Canadian.
Seeger, as Thile made clear, was beloved as much for his deeply individual artistry as his efforts to celebrate folk music. It is unclear what Newport plans to do with "For Pete's Sake" down the road, but if the stage returns next year, the festival's organizers would do well to curate it with the same care and respect as they do everything else. The resulting lineup would no doubt draw bigger crowds, and perhaps produce some legendary performances of its own.