Hundreds Of Watergun-Slingers Meet To Shoot It Out Tomorrow—And You're Invited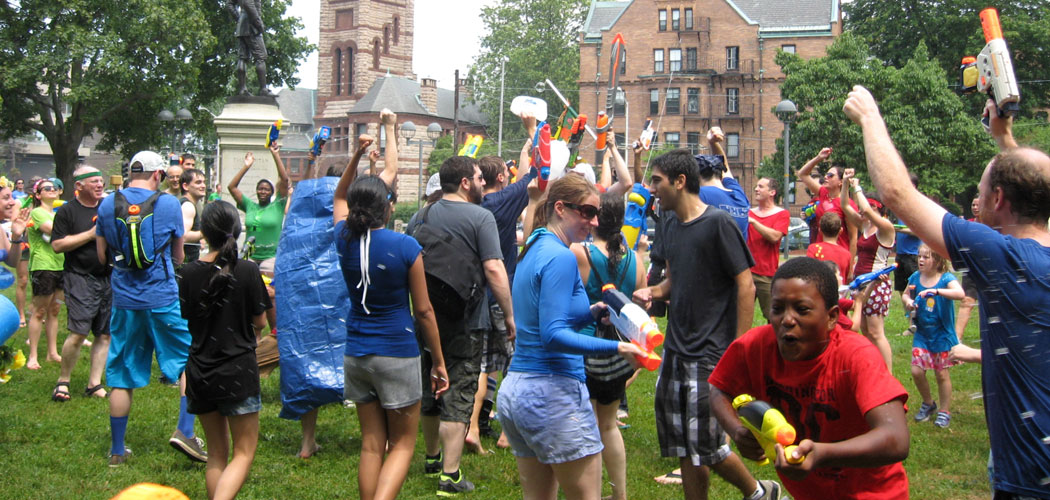 This article is more than 6 years old.
If you've got a Super Soaker or squirt pistol and some water, you're cordially invited to join a couple hundred, um, friends converging on a local park at 2 p.m. tomorrow for a giant watergun shootout.
"We'll throw the party, you've just got to show up," says a fellow going by the nom de guerre Bandito E. He's part of Banditos Misteriosos, the group organizing the free, flash-mob-style, aquatic shenanigans. (As part of the Banditos's mystery, they keep the location of events secret until just before they happen.) "It started as a desire for more free, publicly-accessible fun in Boston that utilized Boston public spaces. The message is Boston as a playground."
From its humble beginnings, in which the group attracted some 150 people to Boston Common for an epic, public pillow fight in 2007, Banditos Misteriosos has grown into something of an institution. This would be their seventh annual watergun party, beginning with 2008's "Revolutionary Watergun Battle," in which around 400 participants met on Boston's Esplanade for a soggy reenactment of the Revolutionary War with colonists garbed in blue and the British clad in, of course, red.
The watergun battle and the annual mob pillow fight are the group's two premiere events, with as many as 200 to 300 people participating. They've also organized scavenger hunts, snow sculpting, holiday gift swaps, sand sculpting, a trivia contest, and choose your own adventures in Boston, Cambridge and Somerville.
"There is a loose collection of Banditos scattered throughout the Boston area. It fluctuates from anywhere from seven to 15 [members] depending on the moment," Bandito E says. "The big secret is that we're kind of coming from all walks of life. There are some artsy fartsy types. There are some more serious engineer types. It's really a desire to have fun."
The Banditos plan to announce the location of tomorrow's watergun battle tonight via their email newsletter and their Facebook page. (Cambridge Common has been the battleground in recent years.)
"This year Banditos are jumping on the 'Game of Thrones' bandwagon," Bandito E explains. The group's website declares: "Water is coming."
Basically this means "wonderful, wonderful puns" are on offer. For example, participants will be part of teams: "Red: SomerVale;
Yellow: Dornechester;
Blue: Freymouth;
Orange: BackBaelish;
Green: Brooklinister;
Grey: DreadFort Point."
"You pick your geographic location or the color you have the most of in your closet," Bandito E says. Then bring your waterguns and water for reloading. "No waterballoons this year because they are difficult to clean up and a strain on city resources," Bandito E declares.
"It is intense. It is a trial of endurance as much as accuracy," Bandito E says. The shootout usually lasts an hour to an hour and a half. "When every last man, woman and child has reached full saturation, then the watergun fight ends."
[Photo at top of Banditos Misteriosos's 2013 watergun fight on Cambridge Common by Matt Towler.]
Greg Cook is co-founder of ARTery. Follow him on Twitter @AestheticResear and discuss mysterious shenanigans with him on Facebook.
This article was originally published on August 02, 2014.