'Girls' Meets 'Golden Girls' in '4000 Miles' At Gloucester Stage Company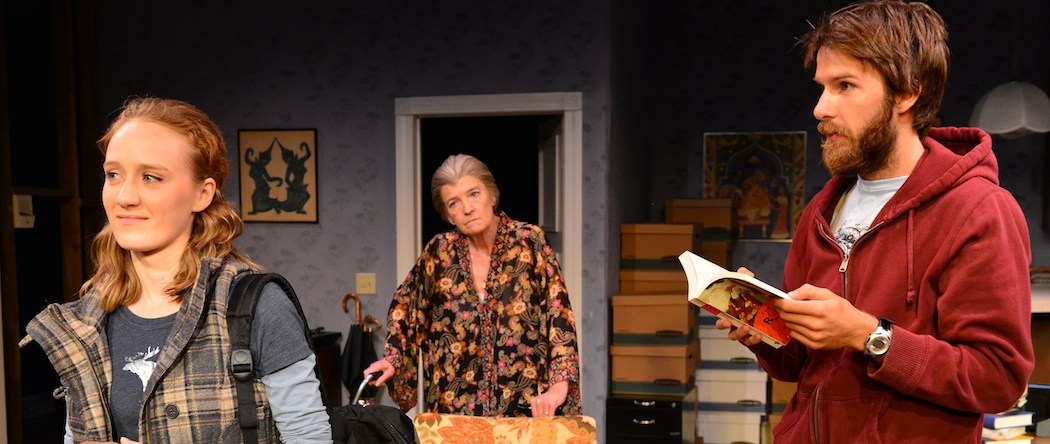 This article is more than 6 years old.
They don't make OBIE winners like they used to. The award, administered by the Village Voice, goes to off-Broadway and off-off-Broadway plays which, one would think, have more to say than your average Tony-nominated Broadway play. (Only Broadway plays are eligible for Tonys.)
But Amy Herzog's 2012 Obie winner, "4000 Miles," is an utterly conventional play about a neo-hippie young man from Seattle visiting his retro-lefty grandmother in Manhattan after a coast-to-coast bike ride. It's now receiving a seemingly solid production at Gloucester Stage Company (through Aug. 17).
If you've got an intergenerational hot button to push, "4000 Miles" is there to push it. Political correctness among the young? Memory loss among the old? Along with the requisite hugs between the two generations and the anger at one's lot in life, whether it's growing old and deaf or feeling that life isn't breaking the way the hippie handbook led you to believe it would.
I say "seemingly solid production" because the play has gotten rapturous reviews elsewhere, so is there something missing in Eric Engel's production? Nancy J. Carroll as Vera, the grandmother, is as delightful as ever. Tom Rash's acting as Leo, the grandson, was fine, even if the character is tedious beyond belief, as are the two women he's pursuing. A more accurate title might be "Vera and the Insufferables."
I'm blaming Herzog. The New York production looks every bit as dreary, if more understated, at a glance.
Herzog is part of the same thirtysomething generation of playwrights as Annie Baker. Coincidentally, Herzog is married to Sam Gold, who directed many of Baker's plays in New York. But Baker draws us into the lives of her fascinating characters. Her plays are theatrical to the bone; you can't find narratives like hers anywhere but in the theater.
I don't see that Herzog gets past Hallmark Movie clichés in "4000 Miles," which was also a Pulitzer Prize finalist. It's like Adam Driver from "Girls" meets Estelle Getty from "Golden Girls." Though less funny than such a meeting would have been.
In fairness, Herzog isn't after cheap laughs (though she didn't get more than a few chuckles out of me). There are cute exchanges. Leo pours his heart out to Vera, only to find that she doesn't have her hearing aid in. Leo dresses for a funeral (not Vera's) in a sharp suit but ridiculous-looking vegan belt and sandals. Vera has a sharp exchange with Leo's PC ex-girlfriend who, in Vera's mind used to be "chubby."
But Herzog never gets past cute repartee or cheap transformations, such as Leo becoming an adult. (Please.) Or getting Granny stoned. At best, "4000 Miles" is Annie Baker lite. (Baker was on the 2012 Obie committee, incidentally. Her latest play, "The Flick," won last year's Obie and Pulitzer.)
And any vehicle for Nancy Carroll can't be shrugged off, though Carroll could do this part in her sleep — why is she so often cast these days as dotty old women? She's a serious, vital actor as well as a gifted comedian.
Her Vera is, of course, grateful for this grandmother-and-child reunion. Personally, I think she was better off on her own.