Searching For The Real America In The Paintings Of Jamie Wyeth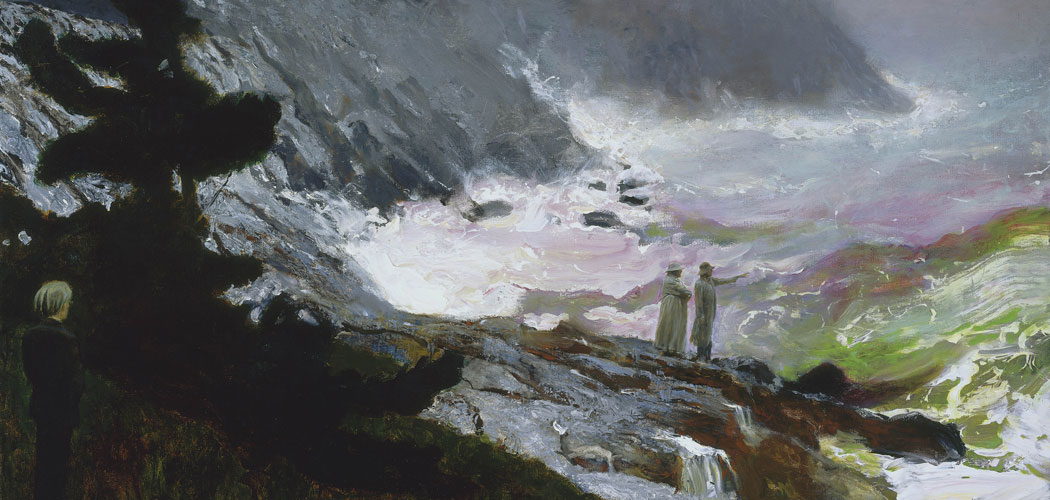 This article is more than 6 years old.
After the Sept. 11 attacks, the painter Jamie Wyeth drove around the Brandywine River Valley between Chadds Ford, Pennsylvania, and Wilmington, Delaware. And he spotted a white barn with a giant American flag painted on its broadside sitting atop the curve of a green hill. A pond in front reflected its red, white and blue. He decided to paint it with an end of day mood.
"I felt I had to record this stirring image," he's quoted saying in his retrospective exhibition "Jamie Wyeth" at Boston's Museum of Fine Arts through Dec. 28. The museum describes this 2001 watercolor "Patriot's Barn" as "speaking to the feeling of vulnerability so pervasive in the nation at the time."
"I look at myself as just a recorder," Wyeth is quoted saying in a video screening in the exhibition. "I'm doing a diary."
But that's not really true—or, at most, only describes part of what he's up to. Wyeth is an expert painter of handsome, realist portraits and landscapes in honeyed earth tones, but his ultimate goal is to describe an authentic America, what some might call the real America. It's a celebration—in vivid fact slathered with plenty of myth-making fantasy—of an East Coast Yankee vision of a Marlboro Man United States.
That mythologizing extends to Jamie Wyeth's own place in one of the most storied creative American families. "Wyeth was born in 1946 to a family of artists famous for their distinctive and imaginative realism," the first lines of the first sign of the exhibit read. Wyeth's grandfather N.C. (Newell Convers) Wyeth (1882-1945) was a top illustrator who painted swashbuckling pirates, noble Plymouth Pilgrims, and cowboys and Indians of the Wild West. His father Andrew Wyeth (1917-2009) was renowned for painting flinty scenes, frequently seasoned with a dash of surrealism, depicting hardscrabble life in rural Pennsylvania and coastal Maine, people and places that seemed sandpapered down by the elements.
Jamie Wyeth learned the family trade from an aunt and his father. His 1963 oil "Portrait of Shorty" depicts a worn down Chadds Ford, Pennsylvania, neighbor with a stubbly chin and wearing a grimy tank top. Painted when Wyeth was just 17, this vividly realistic picture reads as a masterpiece in the old sense of the term—works crafted by apprentices to prove they had achieved the skill of master artists.
Wyeth's obvious talents, family connections and his 1968 marriage to the Du Pont descendent Phyllis Mills, opened doors to the top of American society—portraits of the Kennedys and involvement in NASA's 1969 "Eyewitness to Space" art program aimed at bolstering support for moon voyages (when polls showed a majority of Americans opposed space spending). The exhibit includes a little 2005 ink sketch of President George W. Bush's dogs and cat on White House stationary—with a curatorial note explaining that Wyeth has painted Christmas cards for presidents Ronald Reagan, George H.W. Bush and Bill Clinton.
Professionally, Jamie Wyeth has stuck close to the family's stomping grounds of coastal Maine and the Brandywine River Valley. In Maine, he has studios on Monhegan Island, which he purchased at age 22 with earnings from his first solo art exhibition, and in a lighthouse on Southern Island, off the coast of Tenants Harbor near Rockland, which he's used since 1991. At these places, he paints landscapes in a closely observed realist style close to his father's work, which describes both their charm and points to the difficulty he's had in emerging from his dad's giant shadow.
Jamie Wyeth arrived on the scene decades after realism had gone out of style in favor of various abstractions. His father's conservative approach was so rigorous that it read as crotchety, lived-in, gravitas. But Jamie has just seemed conservative—even as contemporaries like David Hockney, Chuck Close and other artists at the top of the fine art game began to make realism cool again in the 1960s and '70s. The "Richard Estes' Realism" retrospective exhibition at the Portland Museum of Art in Maine through Sept. 7 is another example. Those paintings look like time capsules today because these artists so faithfully reproduced the fashions and technologies of their era. A celebrated exception to this style among realists who emerged in that era is Lucian Freud, who ensconced himself in his studio to dissect the meat of his nude models with brushwork so rich and a gaze so intense that it read as soul.
The subjects of Jamie Wyeth's Maine paintings are stacks of firewood, lobster traps, lighthouses, gulls, white clapboard churches, a curly-haired ram, a whale jawbone, a giant propeller left over from a shipwreck. In Pennsylvania, he paints chickens, hay bales, pigs, goats, angus cattle, horses, barns. He paints his wife—a "champion equestrian" before she was crippled in an auto accident when she was 21—standing in doorways brooding or sitting on benches dressed in prim 19th century dresses (or perhaps 1970s hippie prairie gowns?) or driving carriages pulled by white Welsh ponies through the dark woods of the Brandywine Valley.
There's always been a bit of showiness in Jamie's painting that's become more pronounced as he's aged. This sweet tooth for fantasy can lead him astray—as in his Maine cornball idea to portray the "Seven Deadly Sins" using seagulls, including "Pride" represented by a bird with a red lobster in its beak.
"The danger with Maine is that it is so anecdotal and emblematic in terms of pretty houses, pretty lobster traps—'quaint' things," Wyeth has said. "Maine is not that way. Maine has a lot of edge, a lot of angst."
Wyeth's landscapes are all rustic Americana, a cozy, misty-eyed vision of some imagined respectable, pastoral 19th century U.S. golden age. In that, his paintings stand as a sort of counter to the urban, industrial, diverse America that his images so carefully ignore.
Well, that he ignores except for time he spent in New York City in the 1960s and '70s hobnobbing with the top of the 1970s gay New York art world—though the MFA can't bring itself to mention any sexuality here. One room of the show offers portraits of critic and ballet impresario Lincoln Kirstein, ballet dancer Rudolf Nureyev, and pop artist Andy Warhol.
MFA curator Elliot Bostwick Davis, who organized the exhibition, reports in the catalogue that Wyeth painted the full frontal nude here of the star dancer in 1977 "in an effort to become even closer to Nureyev." Warhol, the MFA winkingly notes, appreciated Wyeth's talent, artistic lineage and "cuteness."
The male eroticism continues in a shirtless 1969 self-portrait, a 1977 rendering of a topless Arnold Schwarzenegger flexing his body builder bicep, and a 1990 full-body nude of a Maine teenage boy sitting on a chest, discreetly observed from the side, emphasizing his slender adolescent frame. The MFA exhibition makes no comment about how this engagement with part of contemporary America contrasts with the old time, "traditional" ways of life represented in Wyeth's better-known landscapes.
Perhaps acknowledging it would distract from Wyeth's main subject—alluring nostalgia for some imagined American past. In his signature Northeast landscapes, nobody is seen farming or fishing. The trappings of these invisible labors become picturesque background decor for rural estates and seaside summer cottages. The grinding work has been tidied away. Wyeth paints so beautifully, so seductively that it's easy to not notice that he's painting clichés—Maine and Pennsylvania as old timey, rustic "vacation land."
Greg Cook is co-founder of ARTery. Follow him on Twitter @AestheticResear and be his friend on Facebook.
This article was originally published on August 10, 2014.