Students Take The Stage At The Strand Theatre, Thanks To 826 Boston And A.R.T.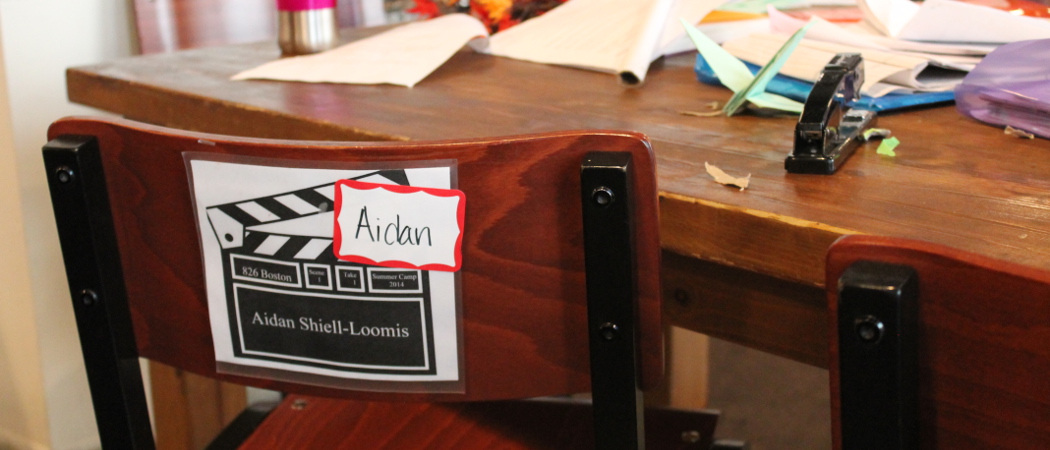 This article is more than 6 years old.
"Can I see you cowering in fear at your dictator?" calls a director as an 11-year-old girl in pink pants and braids points her finger at three other middle school students shaking on their knees. All are holding scripts full of highlighter marks and notes in their hands as they rehearse for their upcoming performance.
The scripts the kids are holding are a product of their own writing and imagination over the past five weeks through a theater camp created by the collaboration of 826 Boston, a nonprofit youth writing center, and the American Repertory Theater (A.R.T.).
In a quick five week scramble that would make for excellent reality television, a group of 20 students from ages 10 to 14 write, design and act in their own play — culminating in a performance at the Strand Theatre on Friday, Aug. 15.
The show Friday night draws inspiration from the themes of world building and imagination in "Finding Neverland," which the students saw at the A.R.T. on a field trip.
They wrote their play by creating four different worlds with their own fables that use some of the things they like, but also amplify some of the problems they perceive, says Brendan Shea, the education and community program manager at the A.R.T.
"These kids are exploring some of the big ideas of utopias and dystopias that they would have, or already have, gotten to in school," says Shea. "They're exploring big ideas in their communities."
This summer camp, the second in partnership with the A.R.T., focuses on strengthening literacy skills for underserved youth in the Roxbury and Dorchester neighborhoods.
"It's a way of tricking kids into learning and using their minds in creative ways in the summer. We consider it an added 'bonus' of literacy training and cultural experiences," says Daniel Johnson, executive director of 826 Boston.
With a storefront called The Greater Boston Bigfoot Research Institute full of jars of eyeballs, an 8-foot-tall Bigfoot statue, tarantulas and other fantastical items, the organization does a good job of incentivizing curious kids. The back wall of the storefront, covered in newspaper clippings and information on Bigfoot sightings, slides away to reveal a classroom and open space lined with Magic Tree House and Beverly Cleary books, tables, chalkboards and colorful rugs.
The middle schoolers sit at chairs that have their names on directors' clapperboards pasted on the back. They raise their hands and give feedback to their fellow actors who just finished rehearsal.
Aidan Shiell-Loomis, a tall 14-year-old boy entering the ninth grade who began going to 826 Boston reluctantly because of his mother's insistence, is now back for his second summer theater camp.
"I'm not nervous for the show," he says, with a year of experience under his belt from last year's performance that focused on finding the Boston origin story. "The hardest part is to get people to focus. I used to be like that — just goofing around — but I realized you have to focus to get a good show done."
The stage at the Strand Theatre belongs to Aidan and his peers for the night — a stage they have been to a few times now. On the first day of camp, they were brought to the stage with blindfolds on, setting them up face-to-face with the not yet existent audience.
"We took the blindfolds off, and their mouths just dropped open," says Johnson. "We told them, 'You're going to be here in five weeks presenting your own original work.' Half the kids haven't done anything like this before."
It all started last year because of one of Johnson's writing prompts at 826 Boston. He asked the students to interview a professional — which led to one speaking with an actor at the A.R.T. Since then, they have been collaborating to accomplish their unique missions through the same project.
The summer camp, which provides free writing and educational opportunities to students in the underserved communities of Boston, also exposes them to theater and helps them accomplish high-level productions with the help of experts from the A.R.T.
"So often, kids come in here and say they hate writing or they hate reading," says Johnson, who used to be a fifth and sixth grade teacher. "This [theater camp] is a way for us to breathe life back into education and exploration."