Don't Let Their Mass. Roots Fool You—The Novel Ideas Are Straight Up Country-Folk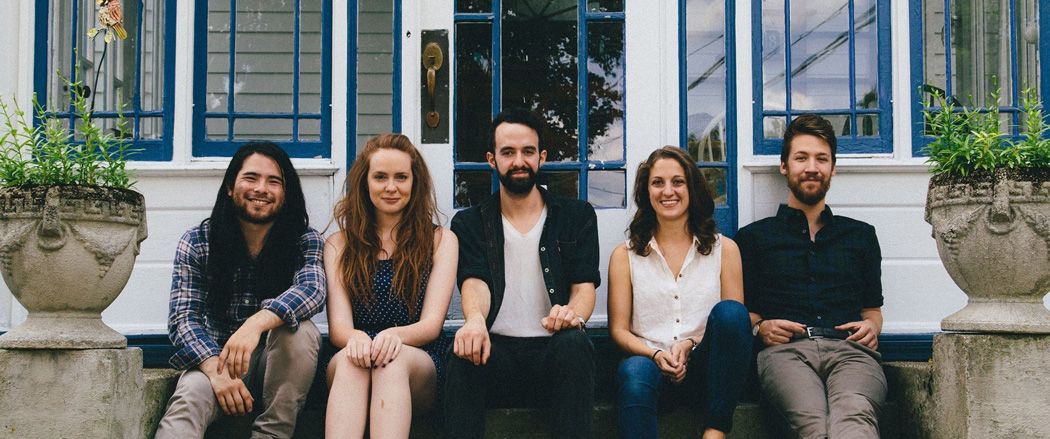 This article is more than 6 years old.
The country-folk band The Novel Ideas has come a long way since lead singer and guitarist Daniel Radin teamed up in 2012 with childhood friend Danny Hoshino, who sings, plays guitar and pedal steel. The band has survived several iterations, roaming members, side projects and thousands of miles of touring to arrive at the level of success they've achieved now.
With the addition of bassist James Parkington on their last album and now singer Sarah Grella and drummer Elena Bonomo, plus a new album in the works, The Novel Ideas are readying themselves for primetime. They'll be playing Great Scott in Boston on Aug. 22 and the Fresh Grass Festival at the Massachusetts Museum of Contemporary Art in North Adams on Sept. 20.
Many of the band members live in the Brighton house that they share with members of two more Massachusetts bands—Magic Man (which Radin left in order to focus on The Novel Ideas) and Photocomfort. The house is brimming with music. If guitars aren't being toyed with in someone's hands, they are sitting propped up against a couch close-by. Drumsticks rest on shelves and recording equipment is always in view. It isn't just where musicians live—it is like stepping into an inventor's home, where trinkets and gadgets are replaced by musical ephemera. It's quaint and practical.
Which is part of why there is such a peaceful familiarity in The Novel Ideas' music. It feels accessible; not quite nostalgia, yet just as intimate. It was true on their 2012 album "Home" and it's true on their latest EP, "Lost On The Road," for which they just released a music video for the album's title track.
It begins with Grella's airy voice. "I want to know/What I don't understand/The wants of a man/And the places we go," she croons with an emotional earnestness over slow-plucked acoustic guitar in the song "Lost on the Road." The strength in her voice is almost jarring juxtaposed with the uncertainty expressed in the lyrics. The words are about moving ardently forward, undeterred but grieving over what must be left behind—externally and internally.
"Those are the themes that I gravitate towards," Grella says. "A lot of the lyrics that I write ... I'm singing about trying to figure things out."
The EP signals a maturation from "Home," an album where the lyrics focused mainly on missing the people and places you love. Radin co-wrote that album with Hoshino while he was studying in Italy and Hoshino was re-acclimating to living at home post-grad.
Since then, the band has released three new songs—all dealing with trudging forward in their lives, hoping for—though not necessarily expecting—something better. "Old Ways," the first song they released after "Home," seemed to be a herald of what was to come. "Goodbye to the old ways/the old ways are gone/I'm waiting for daybreak/And the morning light to come," the song begins. It was a prefect re-entry as a fully-formed band. We were introduced to Grella as a booming, leading voice, and the all-band harmony seemed to symbolize their rebirth.
But while most of the new songs highlight the singing prowess of Grella, the new single "Montana," which debuted on InterviewMagazine.com in April, features the vocals of Radin, who often sings in a style that complements the yearning in his lyrics. His voice swims low through each verse—"'Cause things won't be the way they were/It's the one thing that I'll say for sure"—and cracks the more impassioned the song becomes—"Now our lives are moving in reverse/But it's your turn now I spoke up first/Go on make it hurt." At the last stanza, Radin's voice shakes. It's imploring and desperate, yet sure of itself.
"It's one of the most lyrically concrete songs I've written," he says. "I've talked to the person who it's about and told her that it's about her, and she laughed. ... That song is a very specific situation"—unrequited, cross-country love—"that I sort of found myself in, or that I allowed myself to be in."
There's a lot of honesty in the album. When listening to "Montana," one gets the distinct impression that Radin unabashedly lays everything out bare, unobstructed. In his own words, "I don't like singing anything that isn't true for me."
Radin, along with Grella and Hoshino are the main lyricists of The Novel Ideas, and it's no surprise that self-doubt and uncertainty has worked its way into the lyrical themes of their new stuff. Many of the band members have left full-time employment to make time for nailing down their album and touring more.
"Our lives are in a big transition point," says Hoshino. "And there is a lot of uncertainty. There's a lot of excitement and hope there, but there's any number of roads you could go down."
For years, the band—with and without its most recent additions—has worked diligently to gain a loyal fan base by touring across the U.S. To date, they've made tour stops in the Northeast, the Midwest and the South. It's hard work, they say, but an important part of helping to define who they are as a band, and the music they want to create.
"It's about being very deliberate about what we're doing," Hoshino says. "Not just being like, 'OK, well, we're going to show up and play the shows and we have a profile picture so we're all set.' We really think and deliberate about every little thing that goes into the band. Whether it's the online presence, or something that goes into a song. I think that level of being that meticulous with everything has gotten us to where we are, and will hopefully continue to help us to grow."
That kind of consideration comes as a refreshing change of pace in a world of viral pop sensations and overnight superstars. The members of The Novel Ideas have spent the better part of their 20s developing and honing their musical style, and the band as it stands now is the result of the long and arduous process of incorporating members whose musical styles are distinct enough to offer something new to the table, yet similar enough to sound cohesive.
While the music from their previous album, "Home," might have been described as indie or folk-rock with "a hint of country," with the release of "Lost On The Road," the band seems to have made a strong commitment to the country genre. The drums are softer, the harmonies often live close to one another, and the twang of the pedal steel pervades the downbeats.
"I think that now as our own musical taste matured, our music reflects that too," Parkington says. "We're more comfortable kind of delving into that space."
In a word, the band has evolved. Each song they've released has featured more of what's worked in the past, and a stronger foothold in the genres in which they excel. It's what's seemed to give the band such momentum—their style always seems to be progressing.
"Sometimes we work on songs for months, and finally finish them and bring them to the band, and then it changes again," Radin says. "But sometimes it just comes about really organically."
"It's hard work, but it's satisfying," Parkington adds.
It seems like a tall order: a young band from New England competing in a musical genre rooted in the South. But they do. Delightfully, at that. Still, it's hard to argue that their lyrical themes connect with modern country's working-class subject matter, but they do home in on a feeling that seems to resonate with a post-recession middle class—a group more united by their experiences of loss, doubt and uncertainty than by their regional pride. The Novel Ideas are, after all, a product of their own generation. But it's the way they bridge those sentiments—loss, self-doubt, uncertainty—with the classic country sound of the '60s and '70s that truly sets them apart.
"I've been thinking lately about authenticity in music," Radin tells me over the phone from inside "Vanny," their tour van, "and how country and folk are genres where it's constantly asked whether what you're doing is authentic. ... So what I gravitate towards in country music is that aspect that doing something honest is valued along with being authentic and genuine. And I hope that we are seen as that when we play it."
This article was originally published on August 20, 2014.