From Growls To Canine Gait, A.R.T. Actor Embraces His Animal Role
04:13
Play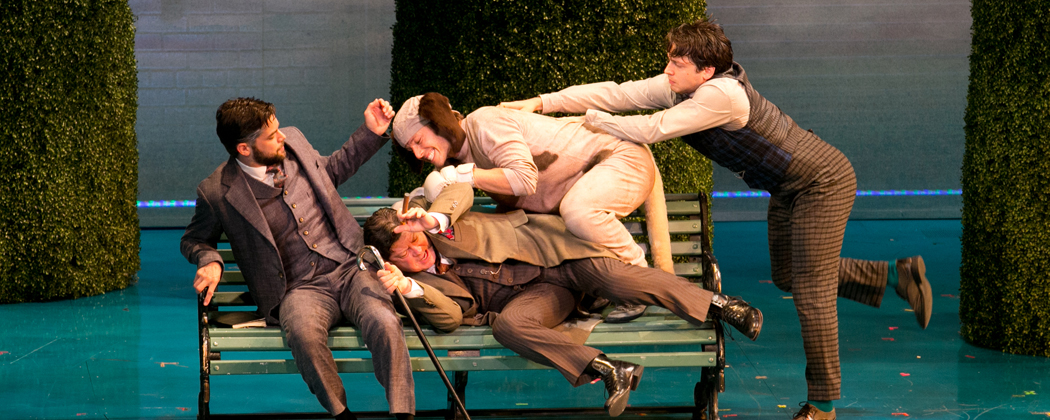 This article is more than 6 years old.
Actors are routinely asked to take on roles outside their comfort zones or very different from who they are in everyday life. Thayne Jasperson is taking that challenge even further: He's transforming on stage from a human into a furry, four-legged animal.
Jasperson plays the family dog Porthos in the new musical "Finding Neverland" at the American Repertory Theater. His costume isn't particularly elaborate, just a fuzzy body suit and a hat with ears. But Jasperson has fully embraced the role, from his growls to his canine gait.
Even when he sat down with WBUR, Jasperson would cock his head to one side and move his hand upward as if he were about to lick a paw. If he had had a tail, it would have been wagging the entire time.
---
Thayne Jasperson: I think in my past life I was a dog. It seems so natural to just come in and have my tongue out and feel happy and be like, 'What do you want to do? Want to play? Let's go throw the ball! Come on! Throw me the ball!' I don't know — it feels natural.
Did you have any hesitation about taking this part?
You know what? I did. The very first time that they told me I think they said, 'Thayne, you're going to be playing the dog,' and my first thought was like, 'Oh, man, that means I'm going to be sitting around doing nothing while everybody else is singing and dancing and acting and I'm just walking around like a dog.' My first thought was kind of not negative, but I definitely wasn't as excited — until I got into it and then I thought: this is actually the coolest thing ever. And I love the challenge of, as an actor, diving into a dog and what are the ticks and what are the antics that they do?
So it's a huge artistic, theatrical challenge?
Oh yeah. Yes. Literally, whenever I'm on the train or anywhere and I see dogs, I sit there and stare at them and I'm like, 'what are they doing? I've got to add that.'
You really do? You study dogs?
I really do. Any time. I was in the offices and one of the dogs was just stretching and doing some other things and I was like, 'yeah, I need to add some of those stretches and some of the ways he's chewing on his bone.'
What's going through your mind when you're on stage? Are you trying to think like a dog, so if there's food on stage you are trained on that food? What's the thought process?
It feels so natural to just switch into this mode where any kind of little movement or things that are flying or rolling on the stage catch my attention, and suddenly I want to play with them and then suddenly, I see something else. There's a moment where we're on stage and there's a bunch of peas on stage after the dinner, and they're rolling all over. And I'm just crawling around looking for them and finding them and playing with them, and if somebody kicks them at me then it catches my attention, and I go towards the peas. My attention span has become shorter!
I can see as you're telling me this that you're kind of doing those darting movements like a real dog would, so you've really adopted the whole psyche and demeanor.
Yeah, I definitely have. Like itches or mites that will bite on my arm.
That you're imagining?
Yeah, that I'm imagining. Or if I do feel anything that itches or scratches then I definitely attack it, just like a dog would.
What have you come to think of as your trademark canine sounds?
I love growling [he mimics growling], and I do a lot of the sneezing and the sounds where they do that with their nose [he mimics sniffing]. I like to do that a lot. And with the barking I like to add inflection as I go along. Like when my owner comes in at first, there's a moment he comes to the window and I don't know who it is, so I'm barking aggressively, of course, because I'm trying to protect [he mimics barking aggressively] and then as soon as I see him [he mimics joyful yelping]. I also do a lot of panting with the tongue.
Anyone who's come home to a happy dog can identify with that.
Right? It's fun!
I noticed in some of your Tumblr and Instagram photos online that when you pose with people now, your tongue is lolling out, so you go into dog mode even when you're posing with other humans.
I do, I do. My tongue, I feel like now it's out more than ever. If I look at somebody and I want to show them appreciation or happiness, I stick my tongue out.
You can see the musical "Finding Neverland" at the American Repertory Theater through September 28.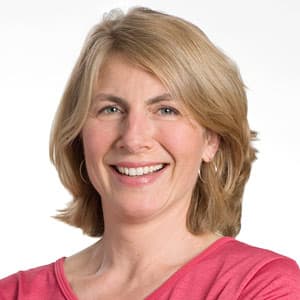 Sacha Pfeiffer Host, All Things Considered
Sacha Pfeiffer was formerly the host of WBUR's All Things Considered.