20 Years After The Riot Grrrl Movement, This Is How Feminist Punk Rock Roars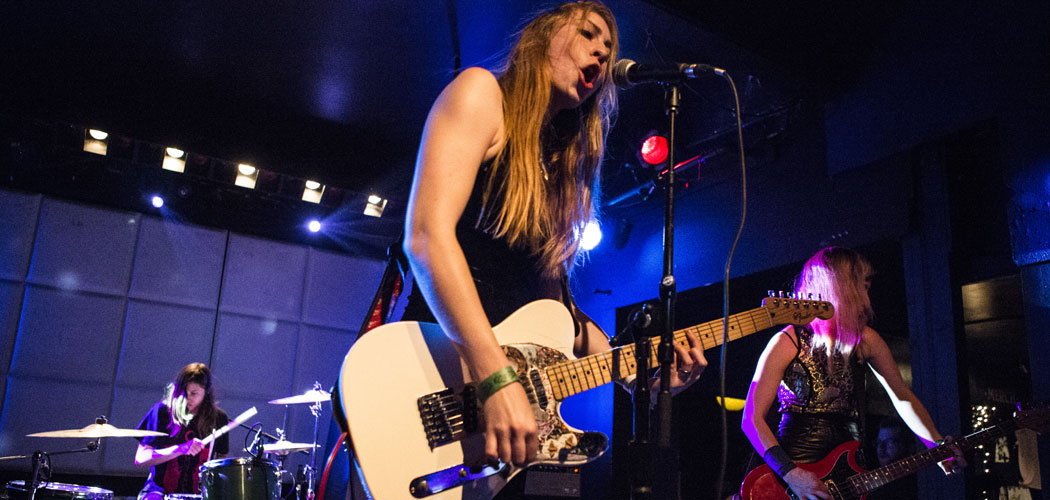 This article is more than 6 years old.
When Meredith Graves sings, she shouts. When she talks, she curses. When she performs, she gives everything.
On recordings, the lead singer of the Syracuse-based noise-punk outfit Perfect Pussy fights a swirling slipstream of screaming distortion, her voice subsumed in the racket. But onstage, flanked by guys on drums, bass, keyboard, and guitar all intently thrashing away, it is clear she is the band's beating heart. Emphasis on the beating.
Though women have been screaming themselves hoarse at the helms of punk bands since the '70s, there is something about Perfect Pussy that is nerve-rattlingly radical. Perhaps it is the contrast between Graves's furious performance style and the sweet figure she strikes, in a blonde pixie cut and vintage knee-length frock, even as she shreds her vocal chords onstage. It might be her lyrics, blunt and excruciating psychic expeditions: "You've realized that I'll let you hurt me/ And now you want to do it all of the time/ No bruise is permanent, neither am I/ But you're welcome to try and try." Or it could be the name, "Perfect Pussy:" a pointed subversion of an oft-slung slur, chosen as much for its shock value as its whimsical, percussive poetry.
On Aug. 27, Perfect Pussy will headline at the Sinclair in Cambridge along with Welsh noise-pop group Joanna Gruesome and opening acts Potty Mouth, from Northampton, and Love of Everything, from Chicago. Like Perfect Pussy, Joanna Gruesome is helmed by a magnetic female vocalist, Alanna McArdle, backed by dudes, while the pop-punk Potty Mouth features a lineup of all women. As such, the bill is an appealing sampling of the ongoing, still-fertile collision of feminism and punk rock.
Groups like Perfect Pussy, Joanna Gruesome and Potty Mouth frequently invoke comparisons, apt or otherwise, to the Riot Grrrl movement that began in the early '90s. Riot Grrrl was a loose collection of women-driven bands born of a thriving do-it-yourself, activist punk subculture that directly addressed third-wave feminist concerns, like sexual autonomy and violence against women, in their music. Kathleen Hanna of the Olympia, Washington-born Bikini Kill is widely viewed as the movement's trailblazer, paving the way for today's punk women with her fierce charisma and politically-charged lyricism. Popular songs include "Rebel Girl," "White Boy" and "Don't Need You."
You'd be hard pressed to find a true Riot Grrrl group these days; explicitly feminist punk anthems are not exactly in vogue. Today's bands are more likely to reveal their radical politics in interviews. Graves has taken aim at racist, misogynist and politically apathetic musicians in both the pop and hardcore scenes. In an article published on the website Drowned in Sound in May, McArdle challenged the use of the label "twee" to describe Joanna Gruesome, neatly unpacking its sexist implications: "It basically boils down to being a really sexist and dismissive way of defining indiepop by people who are too lazy and elitist to try and perceive the genre as anything that could have the potential to be taken marginally seriously. It's a label that's mainly lumped on bands with female singers and it just feeds this notion that there's some automatically implied fragility and whimsy to anything remotely feminine and that's just bulls--t."
For Potty Mouth (pictured at top in a photo by Carl Pocket), who sing deadpan, grungy, punk-inflected indie rock, feminism has always been a core concept, although it is rarely addressed directly in their songs. Bassist Ally Einbinder describes the impulse to recruit an all-female lineup as a dovetailing of personal and political desires.
"We started Potty Mouth right after I had graduated from Smith College, and so I had just come out of this really intense and important experience that had a lot to do with the fact that I had formed the strongest female friendships that I had ever formed in my life," she explained in a recent phone interview. "And outside of Smith, in my life, I felt like I was just around dudes all the time, basically because I grew up in a punk world, where it was all these white, cis[-gendered] men and not a lot of representation of—I never saw many women actually playing instruments."
What Potty Mouth and their ilk make clear is how especially well-suited the punk aesthetic is to subverting gendered expectations around musical performance. There is still something powerful, all these years later, about a woman screaming at the top of her lungs into a mic, as both Graves and McArdle regularly do. Lyrically, too, they use punk brashness and aggression as a form of radical self-expression. "I'll make you talk if you don't wanna," McArdle cries in the catchy, furious "Secret Surprise." "Have I shown enough to you/ You want me so much you can't breathe/ I dream of pulling out your teeth!" Niceness is not her concern, but rather violent, deep-down truth.
Yet a feminist reading can, at times, work against itself. Though punk's do-it-yourself ethic has made it accessible to the musically marginalized—the working class, those without conventional musical training, and women—the members of Potty Mouth say that too much focus has been paid to their relative greenness when they started the band.
"Just to put it into context: nobody would ask a group of male musicians, 'So, when did you first start playing music' or 'So you didn't really know how to play guitar when you first started,'" says lead singer and guitarist Abby Weems. "For some reason that is just irrelevant when it comes to male musicians. It's such a narrative for us that because we're women: it's unusual that we're playing instruments, so it's important for people to know, 'This is an unusual thing.'"
It's a peculiar conundrum. Though the members of Potty Mouth want to acknowledge a feminist agenda, they are all too aware of its limitations within a musical context. For punk-minded feminists, limitations have been there from the beginning: Riot Grrrl has been widely criticized for overwhelmingly reflecting the concerns of an affluent, white demographic. (Graves is among its critics.) Similarly, Potty Mouth find themselves tasked with articulating a feminist philosophy for all women in music, when, increasingly, they find themselves yearning for a post-feminist conversation.
"Why in the first place, if we're an all-female band, do we have to be asked why we chose to be that?" wonders Weems. "But there are feminist reasons for why it happened, so it's kind of a weird paradox."
Luckily, Potty Mouth and their contemporaries are at home in contradiction. Joanna Gruesome harnesses it most adeptly, careening from silky pop harmonies to battering discord. "I've been waiting/ To crush your f--king skull," purrs McArdle, her delicate soprano doubled with guitarist Owen Williams' soft tenor, lending it a curious androgynous quality.
The line is sweet, terrifying, and utterly strange. It's these vertiginous moments that are the most profound. And it's then, too, that the music's practitioners are most unapologetically themselves.