Jewish Culture, Rye and Greenwich Village: The 2014 Boston Jewish Film Festival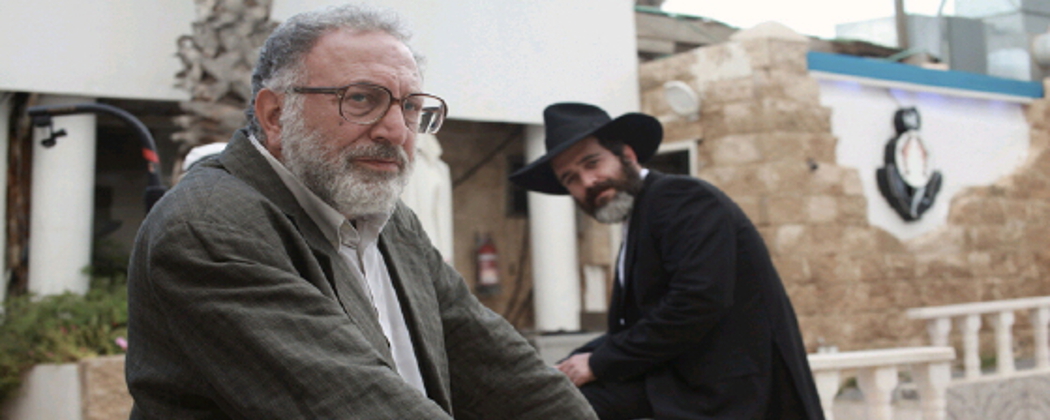 This article is more than 5 years old.
The November chill is on its way and so is the annual Boston Jewish Film Festival, a good reason to stay warm and dry inside a theater.
The 26th annual Jewish-themed cinematic smorgasbord begins on Nov. 5 and runs through Nov. 17, with screenings and events taking place close within the Hub's nucleus (Brattle Theatre, Coolidge Corner Theatre, Institute of Contemporary Art, Museum of Fine Arts and Somerville Theatre) as well as on its crescent (AMC Framingham, AMC Liberty Tree Mall 20 and Showcase Cinema de Lux Patriot Place) and the West Newton Cinema.
This year's program includes forty-one films from 14 countries including Cuba, Greece, Morocco and the Philippines, with the lion-share coming from Israel and the United States. Seventeen of the films are New England premieres.
The diverse line up features a pair of sports films. Most intriguing is "Touchdown Israel" (Nov. 15 at Belmont Studio Cinema), a documentary about amateur pigskin football that's played in Israel on soccer fields and puts Arabs, Christians and religious settlers together on the same team.
A pre-festival event on Oct. 29 applauded Patriots owner, Robert Kraft, who helps support the Israeli football league. Also the festival will honor the life of visionary director Paul Mazursky ("An Unmarried Woman," "Down and Out in Beverly Hills" and the envelope-pushing and free-love embracing comedy "Bob & Carol & Ted & Alice") who passed away earlier this year.
Over his decades-long career, Mazursky was nominated for five Academy Awards. As part of the BJFF Mazurky's autobiographical "Next Stop Greenwich Village" (1976) will be shown on Nov. 16 at the ICA with an introduction by local film critic and film historian, Gerald Peary.
The 2014 BJFF will feature the thematic Fifth Commandment Series (Honor Thy Father and Thy Mother), something Artistic Director Amy Geller said "just emerged as I was curating the festival." The nine films all deal with matters between parents and children.
Most enveloping may be "Little White Lie," the story of a biracial woman (black and Caucasian/Jewish) who grew up in a family that pretended her "dark" features were from Sicilian ancestry. Of course there's a closeted affair in there that eventually makes its way to the fore, but it's the exploration of racial identity, clan and trustable bond with one's parents that provokes. "Little White Lie" plays on Nov. 15 at the Brattle Theatre and Nov. 17 at the Arlington Capitol Theatre.
"Next Stop Greenwich Village" is also on the slate as part of the Fifth Commandment Series as is "Magic Men" (Nov. 11 at the West Newton Cinema and Nov. 13 at Coolidge Corner Theatre) which explores the relationship between an elderly Greek patriarch (Makram Khory) and his Hasidic rapping son (Zohar Shtrauss) on an unlikely sojourn.
Then there's "Deli Man," the third documentary installment of Erick Greenberg Anjou's in-your-face Jewish Culture series, about a third generation delicatessen owner in Houston.
The raucous film's as much about defining what it is to be a Jew in America today as much as it is about quality of good rye, mustard and lox. The epicurean-themed social commentary makes its world premiere at the festival on Nov. 12 at the Coolidge Corner Theatre. Anjou and pastrami slinging deli owner, Ziggy Gruber will be in attendance. Three to one says the guys from Zaftigs make a showing.
Last year the BJFF set a record for tickets sold and sell out shows, Geller hopes to top that this year. For more information and a complete list of films and other special events, see the festival's website.
Tom Meek is a writer living in Cambridge, MA. His reviews, essays, short stories and articles have appeared in The Boston Phoenix, Paste Magazine, The Rumpus, Thieves Jargon, Charleston City Paper and SLAB literary journal. Tom is also a member of the Boston Society of Film Critics and rides his bike everywhere. You can follow Tom on Twitter @TBMeek3 and read more at TBMeek3.wordpress.com.