Boston Playwrights' Theatre Gives Birth To 'Chosen Child'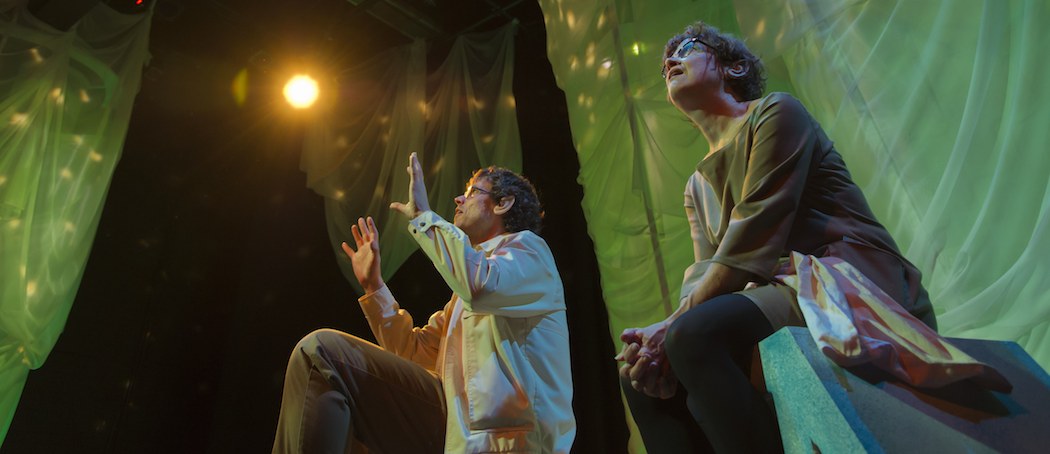 This article is more than 6 years old.
"Chosen Child" revisits the sins of the mother — in triplicate. Monica Bauer's new play, rooted in her own unusual "origin story" and seen here in a strong workshop production by Boston Playwrights' Theatre, is one more proof that truth is stranger — and sometimes less plausible — than fiction. Not that the events of the play are unbelievable: Anyone who has seen a movie-magazine diagram of Jack Nicholson's family tree can vouch for that. The flaw of "Chosen Child" is not its admittedly absorbing soap-opera plot but that its central character, despite having earned a PhD in psychology amid a lifetime of other relevant knowledge, has never let go of the vindictive, childish fury a parent's rejection triggered in her as a teen. Surely some time clocked on a psychiatrist's couch would have tempered her hurt and hatred — or at least caused it to be more enlightened and maturely expressed.
That said, Bauer's tale is touchingly and lyrically told in "Chosen Child," which stretches from New York to Nebraska to the cosmos Thornton Wilder dubbed "the Mind of God." It begins in Manhattan at the Port Authority, where a schizophrenic man in his 50s is nervously reading old letters and trying to buy a bus ticket to Omaha. His journey is interconnected with those of three women whose secrets and lies are revealed in a chain of flashbacks ranging from yesterday to 1946, with a quartet of neutrally costumed adult actors playing their entangled characters at various ages. A fifth actor plays several people called Anne or some variant thereon, including a social worker, a kindly if sassy Port Authority employee whose phonemes hail from the Bronx, and a teen in search of her roots.
We first meet Donna, probably the character closest to Bauer (who has also mined her biography for a one-woman show called "The Year I Was Gifted"), in a New York hospital, where the social worker has summoned her to take charge of her just-deceased "mother" and mentally ill "brother." But Donna, a 60-year-old Columbia University professor, is having none of it. These people are neither her relations nor her responsibility, she insists — adding, however, that she will pay for the older woman's cremation. "The thought of her going into all that flame. I might actually show up for that." Clearly this is a woman with issues, and in the course of the play we find out why.
When next we see Donna, she is 15 and in the midst of dismissing her adoptive mother, Lee — a nice Auntie Em type almost always depicted with laundry. Goaded, Lee is also happy to air the family's metaphoric laundry too: the woman Donna has been told is her "big sister," Claudia — an earlier adoptee escaped to the glamorous environs of New York and due to visit for the first time with her 10-year-old son — is actually her birth mother coming to dump yet another child on salt-of-the-earth Lee and her husband, an unseen figure called "Pops," who is Claudia's biological dad. Got all that?
Donna and half-brother David do indeed connect. It's Halloween and both sport the ears of Spock (the Vulcan, not the parenting guru). It's also 1968 and both, enthralled by the Apollo launches, long to be astronauts. His dream is to become the first Jew in space (his abandoning dad is Jewish), hers to be the first female. But pressed, Claudia moms up and takes David, the "chosen child," back with her to New York, and the symbiotic siblings are lost to each other, separated by time, space, myriad manipulations and misunderstandings, and the bright if confused David's descent into mental illness.
But Bauer tells her lurid tale, at least partially taken from her life ("Chosen Child" began as a memoir), with restraint and a modicum of poesy. Moreover, as the play moves forward and backward in time, you do not see what you might call the original sin coming. And at BPT, director Megan Schy Gleeson drapes the work in a gauzy, quirky sadness that tempers the melodrama. It also nicely matches the set by Anthony R. Phelps, an arguably clunky set of white blocks and draped pillars that are effectively transformed by David Wilson's lighting. And the performances — by a cast that includes two artistic directors of area theaters — are well modulated and credible.
Underground Railway Theater honcho Debra Wise is a determinedly waspish Donna, whose vulnerabilities we see effectively hardened in the flashbacks. Lee Mikeska Gardner, recently minted head of Nora Theatre Company, is a little more glamorous but no less damaged as the wayward Claudia. As the troubled David, Lewis D. Wheeler eschews any hint of hamboning, instead making boyishness and paranoia seem the most likely of bedfellows. (His David also consults with an imaginary rabbi, putting me in mind of a fabled review of "Harvey" in which a typo resulted in Elwood P. Dowd's doing the same.) Margaret Ann Brady is all Midwestern drabness masking hidden agenda as Lee, and Melissa Jesser hops among roles with agility and freshness. If Bauer could just file a bit of the cranky, childish vendetta off of Donna, she might have a decent play, however spun from the straw of her starlit Heartland past.