Sallie Ford Recruits Women, Adds A Keyboard, Seizes Her Rock 'N' Roll Destiny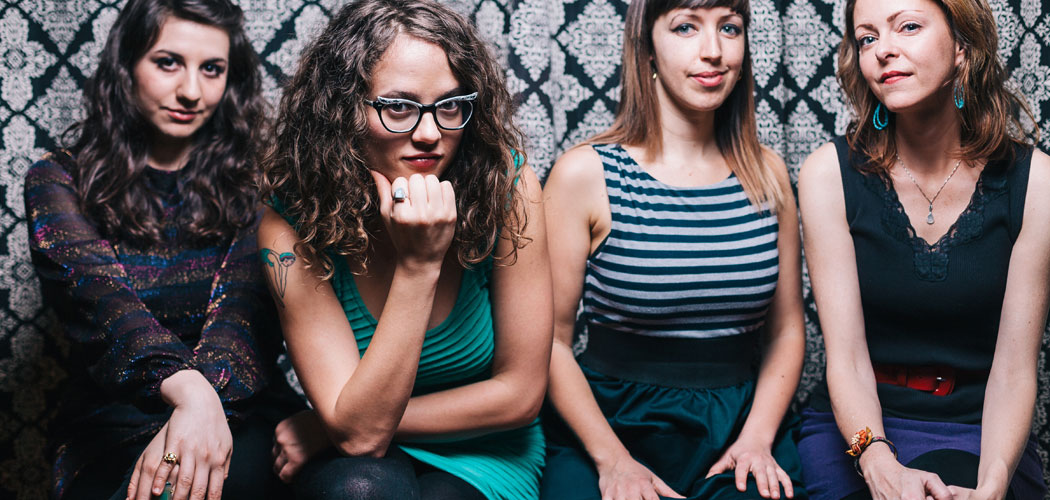 This article is more than 5 years old.
"I want it to huuuu-uuurt/ I want it." So goes the chorus to "Dive In," a fuzzed-out, upbeat little number off of Sallie Ford's new album "Slap Back." Bathed in distortion and a synthesized organ squeal, she sounds triumphant, soaring. No melancholy urge towards self-destruction is this, but an affirmation.
That's Ford, the same woman who brought us songs like "Bad Boys," from the 2013 album "Untamed Beast" with her former band the Sound Outside: "I can f---/ I can drink/ And I don't care what you think/ You can say/ I'm just a girl/ But I've had a lady or two/ Bet she'd prefer me to you." Mincing words has never been her style. But according to the Portland, Oregon, singer-songwriter—who performs at Great Scott in Allston on Nov. 12—"Slap Back" is even more straightforward than usual.
"The way I wrote before, maybe I was trying to channel Tom Waits or something," explains Ford, who grew up in Asheville, North Carolina. "And make metaphors that were more fantastical, whereas this was not that at all. ... I just want to almost talk to people, instead of sing lyrics."
"Slap Back" may be as characteristically direct as ever, but in many ways it represents a new beginning. In December of 2013, Ford announced the dissolution of her old band, a lineup billed as Sallie Ford and the Sound Outside. The group gained national attention in 2011 with the release of their first full-length album "Dirty Radio," making their television debut on "The Late Show With David Letterman" that same year. Ford was lauded for her bruised, uninhibited vocal delivery, and her band for their jaunty, stripped-down aesthetic, which reminded many a reviewer of rockabilly, honky-tonk, and the attendant hipster-ish fashion associations.
"I think a lot of it is my glasses," says Ford, who wears distinctive cat-eye frames. "I remember the first big show I played was with the Avett Brothers, and they were saying stuff about Buddy Holly, and I was like, 'That is only because of my glasses, I swear.'"
"Slap Back," which was produced by Chris Funk of the Decemberists, is not a major departure for Ford, but it does take a firm step away from the '50s, skipping delightedly into punk, garage, and psychedelic territory. Ford still writes catchy three-chord songs with bluesy inflection and a heavy backbeat. Only now, the watery reverb so reminiscent of early rock 'n' roll—the album's title is a nod to the "slapback" effect pioneered by Elvis Presley's producer Sam Phillips—has morphed into a scuzzy psych snarl. Though Ford still errs against sonic clutter, the addition of synths and a keyboard bring a bit of fizz to the concoction.
Perhaps most noticeably, the new lineup—Cristina Cano on keys, Anita Lee Elliott on bass, and Amanda Spring on drums—is all women. Ford describes the choice as a "daydream," not a statement so much as the simple fulfillment of a wish to make music with other women.
"Now I feel a little silly about it because that's all people are talking about. That we're all girls," admits Ford. "And I think it especially gets on the nerves of the girl musicians I'm playing with because I think they've [each] been struggling their whole music careers to be labeled as just 'a musician who is really awesome,' and not just because they're a girl."
The decision is nevertheless fitting for the forthright Ford, who has always managed to strike a slyly subversive stance amidst a male-dominated milieu. On her last album, "Untamed Beast," there were songs like "Bad Boys" and "Party Kids," which bluntly posited Ford as a tough guy—emphasis on the "guy." "Yeah I like bad boys/ But I'm like a bad boy as well," she smirks in the "Bad Boys" refrain. "You may think of me as just a little girl ... But I am here to prove you wrong."
On "Slap Back," Ford once again upends romantic paradigms. The tracks "Hey Girl" and "An Ending" particularly stand out: both sound like love songs, but were in fact written about friendship, which Ford says is the album's central theme.
"I think people place a lot of importance on writing about romance," she explains. "For me, a lot of my friendships have been like romances, because they're so important to me. ... I just wanted to shine importance on those kind of relationships—that they're enough to write songs about."
"Hey Girl" is an ode to Ford's best friend, with whom she describes having a "very domestic relationship." The song is part declaration of love, part commiseration, part pep talk: "You're strong as any man/ But when you think you can't, you can/ Life is messed up/ But I'll be your coffee if you be my cup."
She adopts a more wistful tone on "An Ending," which she wrote about the Sound Outside's breakup. The decision, according to Ford, was a mutual one, the result of exhaustion from touring and creative fatigue. The song bares a messier, more ambivalent side: "But lines were crossed/ 'Cause I was lost/ Saw me at my worst/ This guilt I feel, you know it hurts."
That vulnerability, as much as her strength, is Ford's trademark. The best moments on "Slap Back" occur when she manages to mash them together, higgledy-piggledy in their contradictions yet somehow clear as day. The album's prologue, simply titled "Intro," is an especially elegant expression of that kind of untidiness, and the discomfiting intersection of loneliness and desire. It was recorded in Ford's bedroom on a four-track recorder; the sound distorts gratingly whenever she sings too loudly, as she channels Janis Joplin in that iconic a cappella rendition of "Mercedes Benz."
"Intro," which is just a minute and change, begins with a characteristically blunt Sallie Ford lyric: "Oh baby won't you let me have you/ Like I had you last night." It is unadorned but for a basic drum loop and some overdubs of Ford's own voice, which lope along in swooping counterpoint to a wonky almost-waltz. It isn't much, but it doesn't have to be. You can picture it, vividly: Ford alone in her room, head bowed in concentration, singing her own private disorder to herself. "Intro" ends with an affirmation, the kind that's true but somehow melancholy anyway: "I'm happy, I'm spoiled, I'm fine."