Did Pilgrims Bathe?—Asking About The First Thanksgiving At Plimoth Plantation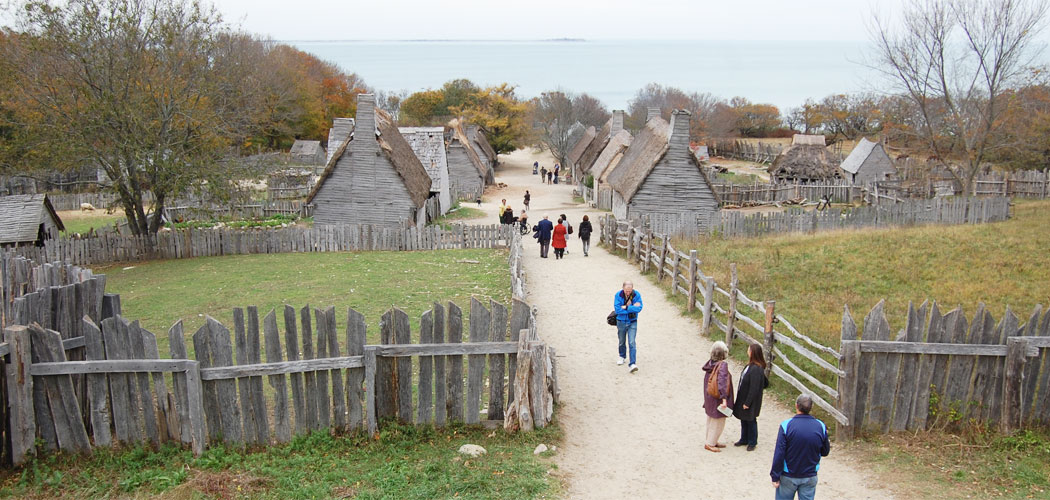 This article is more than 5 years old.
"Welcome to the 17th Century," a sign greets you on the dirt path to the recreated 1627 English colonial village at Plimoth Plantation in Plymouth, where each day costumed reenactors play Pilgrims.
And like thousands of others each fall, I paid a visit recently to think about the first Thanksgiving of the English Pilgrims in the fall of 1621 as I wandered the English town and followed the trails to the Wampanoag homesite, where native staff demonstrate traditional ways, and traveled off the site, to the Plymouth waterfront, where the museum's full-scale reproduction of the Mayflower ship is moored.
Then I spoke with Richard Pickering, the museum's deputy director, about the first Thanksgiving, about how it was different from how we celebrate the holiday now (did Pilgrims bathe?), about the food that brought the English and Wampanoags together that famous fall, but also factored into the bloody war their children would fight just one generation later.
Richard Pickering: "Nanepashemet—who was for many years the director of the Wampanoag indigenous program at the museum, and we lost Nane at the age of 41, he was so young when he died—Nane always said we need to remember when we're looking at the event that's called the first Thanksgiving, neither one of those communities knew what was coming, and frequently there is a shadow of darkness placed over the harvest feast of 1621 because we know what will happen 55 years later. But in that event in the fall of 1621, Nane said you have two peoples coming together, and while, yes, there may have been some trepidation on the part of native people regarding English muskets and English armaments, he said, it's also likely they're also standing there saying, 'Look who belongs to us,' because [Wampanoag sachem] Massasoit has been the first to go to the English therefore he's getting their alliance in war and he's getting their new technology."
Pickering: "The original harvest feast in 1621 was the 48 survivors of the first winter. Governor [William] Bradford, because their first harvest was so good, declared days for refreshment. Hunting parties went out. They got a lot of wild fowl, a lot of fish. While they're feasting, Massasoit, the sachem of the Wampanoag community 40 miles away arrives with 95 of his men. So the classic interpretation of this event has usually been one long table jammed with Pilgrims with a few native people at the end of it or a few native people sitting on the ground near the table, where at a minimum it's two-to-one native people to English people."
Pickering: "We are not sure, but it's possible that the sachem was traveling with his men for diplomatic reasons. We really don't know if an invitation was sent. Sachems tended to travel after the harvest was gotten in because it was when they could pay calls on their related communities. Massasoit had agreed to a treaty with Plymouth in March of that year, so this was a way of reaffirming that."
Pickering: "Nane said what frequently gets missed is what a tremendous realpolitik leader Massasoit was. That this was a man who knew how to coordinate community relations for the defense of his people. He knew how to play on an international scale."
Pickering: "One of the things to think about is these people couldn't talk to each other. So while they might be dining together and playing games together, they can't talk to each other except through the few translators who are there, like Hobbamock and Tisquantum."
How was the First Thanksgiving different from how we celebrate it now? For example, did people wash their hair? Pickering: "Native people bathed regularly, the English did not. But an English person would have washed his hands and face before every meal—hands and face upon arriving in the morning, hands and face because of the fact that they're farmers. So they're working in the dirt all the day, they're handling animals, they're mucking out barns. There is a real understanding of cleanliness that's needed before dining. Most housewives they would have a warm basin of water there by the door with soap or some kind of scour that the family that's been out working in the fields, or doing whatever kind of work, can come to the dinner table with a clean face and clean hands."
Pickering: "Food becomes one of the key trade items, especially as more English are sent without Bradford knowing they're coming. Repeatedly the Plymouth colonists get in their harvest, they think they're going to do well, only to have another ship sent by the merchants. The newly arrived come with no supply and now the harvest has to be divided yet again to get them through. So people are having to go on small rations. So trading in corn becomes a key relation between the English people and the native people from Maine right down to Cape Cod, Wampanoag communities, Massachusett communities and Abenaki communities."
Pickering: "King Philip's War is 55 years later. Metacom [also known as Philip] is believed to be the younger son of Massasoit. With the rising numbers of English—because between 1630 and 1642 demographers believe that 18,000 to 25,000 English men, women and children came to southern New England—you now have native people surrounded. Philip reaches out to the Rhode Island government saying, 'Massachusetts isn't listening. Plymouth isn't listening. Will you mediate for us?' One of the things Philip says is, 'Do you remember when you first came here and you were as weak as children and that's the way we treated you when you were weak. But now when we are as children, you do not treat us the way that we treated you.' So there is a real recognition that with English cattle on the land, English pigs in the clam flats, Wampanoag people not putting up fences so that their cornfields are defenseless [from loose English livestock] and the English just saying you need to learn to do that, food is key. In fact when, Miantonomo comes through southern New England attempting to create a confederacy to drive the English off the land one of the things he says is recounting all the natural splendors that they had before the English came and mowed down our grass and their pigs ate our clam beds and if we do not drive them off the land we will all be starved."
Pickering: "What happened in those few days in the fall [of 1621] had such potential that is utterly squandered. For me, what's most poignant about the first Thanksgiving is you have two peoples, two communities that have experienced death in ways that most moderns can't conceive. The English have seen half of the community die in two and a half months. The Wampanoags, from the plague of 1616 to 1618, in some communities they've lost 90 percent of the population in less than two years. Here you have two communities that have experienced incredible demographic shock coming together and each offering the other stability. Had Tisquantum not been living among the English, they wouldn't have known how to plant the corn. English corns—which are peas, beans, barley, oats, wheat or rye—those a man or woman working in the field would have had in a big canvas sack and just broadcast sow them over the ground and lightly rake them in. Indian corn isn't like that, Indian corn needs to be buried deeply, it needs to be fertilized with fish if a field is older. So had that native man not have been there—they clearly recognized that the corn that they found was grain, but they would have brought a different technology to how they planted it the following spring and it would have come to nothing."
Pickering: "For many people, Thanksgiving creates the continuity in the American experience emotionally that might not be there historically. There was a study done on the meaning of history to the average American, not looking on what it means in the academy. The two researchers were speaking to a Mexican-American woman in Texas and she said her favorite holiday was Thanksgiving because she was a Pilgrim too. The holiday is so bound up with the Mayflower and the immigrant experience that it has meaning for many people. A lot of new Americans come to Plimoth Plantation on the first Thanksgiving that they've received citizenship and just say, 'I wanted to be here because this is where it all started.' You can see how the popular notion of American history is that it begins with Plymouth, not necessarily in the real chronological priority of Spanish settlements in the deep South and then in the West and then Virginia. But there's something that we as Americans connect to that solitary ship crossing as emblematic of the journey that we've made ourselves or that the first person in our family made themselves."
Pickering: "The Pilgrims don't become associated with the Thanksgiving holiday until the 19th century. A pamphlet that was printed in London in the winter of 1622 contained the letter by Edward Winslow that's the sole eyewitness account of the harvest feast that fall of 1621. In 1839, an antiquarian by the name of Alexander Young brings out 'Chronicles of the Pilgrim Fathers," and for the first time the pamphlet is back in print. As he does his notations on Edward Winslow's letter, the section that describes the harvest feast, he puts an asterisks and he says, 'This is the first Thanksgiving, the very beginnings of that grand old New England tradition.' It's in that moment that there becomes a strict association between Thanksgiving and Plymouth, where prior to that it had been the New England autumnal holiday where after harvest is in families were able to get together because their agricultural work was done."
Pickering: "Sarah Josepha Hale, who was essentially the Martha Stewart of her day, she was the editor of Godey's Lady's Book, and she was a New Englander and she took all of the fall issues of her magazine and she was teaching all of America to celebrate Thanksgiving as New Englanders did. And it's Sarah Josepha Hale that's pressuring the presidents to declare a national day of Thanksgiving. In 1863, Abraham Lincoln declares two Thanksgivings and then every president thereafter annually declared Thanksgiving."
Greg Cook is co-founder of WBUR's ARTery. Be his friend on Twitter @AestheticResear and on the Facebook.
This article was originally published on November 14, 2014.