Second Identities Hide Beneath Several Masterpieces At The New Harvard Art Museums
05:43
Play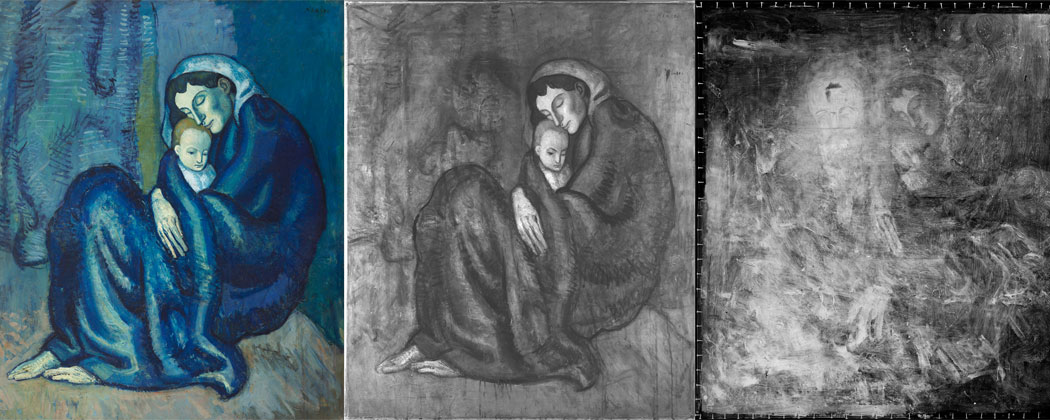 This article is more than 6 years old.
Part 2 of 3 on the Harvard Art Museums' reopening
CAMBRIDGE, Mass. — Before the Harvard Art Museums could be renovated, every work of art — including masterpieces by Matisse, Cezanne, Degas, van Gogh, Picasso and Gauguin — had to be removed.
"We didn't simply add a wing to the old building, we literally took everything apart and put it back together again," said director Tom Lentz, who oversaw the massive project.
And while the art was down, curators and conservators discovered some hidden secrets.
Paintings With Double Identities 
With a slightly dramatic flourish, curator Stephan Wolohojian removed a large swath of protective paper from a loaned red chalk drawing by Renoir hanging near the entrance to the Wertheim Gallery. He heads the Harvard Art Museums division of European and American art and he's giddy that this new space, which reopens to the public Sunday, allows for light sensitive works like this to be displayed safely.
But the museums' rehab also gave conservators and curators like Wolohojian the rare chance to rethink and rediscover one of the museums' most important collections. Maurice Wertheim, a big-time New York banker, donated his 43 pieces in 1950.
"And his stipulation in this generous gift to Harvard was that his collection remain together," Wolohojian explained.
Wertheim's trove is made up of works by a slew of impressionist and post-impressionist heavy-hitters. There's Manet's "Skating," double-sided Picasso, van Gogh's self-portrait and his "Three Pair of Shoes," which is one of curator Elizabeth Rudy's favorites. During the renovation, she said, the work got even more intriguing.
"This has been a really exciting moment because my colleagues and I have been able to take a close and focused look at all of these objects"
Rudy has been working with conservators to study the Wertheim collection. They X-rayed, analyzed and researched every object. Conservator Teri Hensick said it's kind of like sleuthing because a few of them, including the van Gogh, have double identities.
"This painting is actually painted over a vase of flowers," she told me.
Hensick says they've known for a long time that van Gogh's "Three Pairs of Shoes" is a "hidden" or "double painting." But new X-rays and digital imaging technology have provided a clearer picture of the different flowers and colors underneath the black boots on the surface. Hensick's peer Kate Smith says it was like a gift to be given the time to learn more about van Gogh.
"When we looked through the microscope, anywhere there was a gap in the surface layer of paint that it depicts the shoes, you could get tiny glimpses — microscopic glimpses — of the colors below that never correspond to the shoes because it's an entirely different palette and entirely different composition," she recalled. "It's a little glimpse into what he was up to and it just feels like a secret."
And they'll be sharing a bunch of secrets with the public once the museums re-open and launch digital art and science tours online. The behind-the-scenes work conservators do can seem kind of mysterious. And, as it turns out, there are more than one "hidden paintings" in the Wertheim collection, including Picasso's bright blue "Mother and Child."
"Discovering something underneath a painting is kind of like discovering suddenly that your house is built over some kind of archaeological find or something," Hensick mused. "You don't see it, but you see evidence. In the case of the Picasso, you can look at it from down below and you start to see sort of the arc of some eyebrows."
The eyebrows belong to Picasso's friend, poet Max Jacob. This painting was first x-rayed in the 1970s, and Hensick relished the chance to dig deeper.
But one of the works in the Wertheim collection had never been X-rayed before — and it surprised the conservators. Gauguin's "Poemes Barbares" depicts a Tahitian angel with a monkey on the surface. Hensick compared the unexpected discovery of what lies beneath to playing "Where's Waldo?".
"It wasn't until we layered it digitally and could look at the image back and forth between the visual image and the X-ray enough that we started to see evidence of a landscape. And then I think I saw a head, and Kate said, 'Oh, that looks like a horse's head.'" Hensick recalled. "And we started looking further and we saw another horse, and it was really exciting to be able to figure out that there's a whole landscape with two riders underneath."
"It's always an exciting moment," curator Stephan Wolohojian admitted with a little laugh. "It's always a pick up the phone and someone says, 'Run upstairs, we think we've seen something!'"
Wolohojian says these discoveries always raise questions about why artists paint over their work. In the case of Picasso, he probably couldn't afford new materials. It could also be that the hidden work didn't sell. And the curator said people can be fickle.
"Even portraits often get new heads," he said. "There are various reasons, and each one tells a marvelously different tale as this Gaugin will certainly do."
More Coverage Of The New Harvard Art Museums: