Frances Cone Jumps Genres With Grace—And You Wouldn't Want It Any Other Way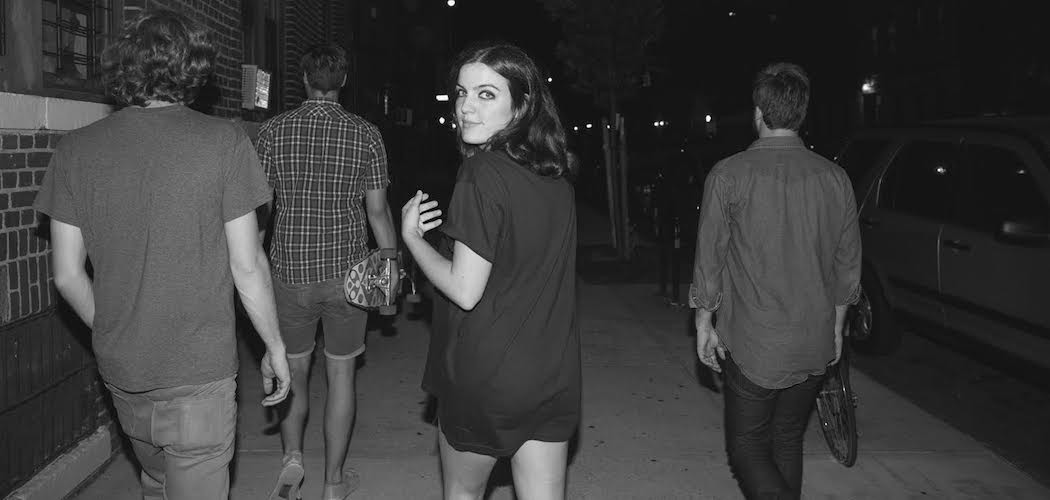 This article is more than 6 years old.
The first time you hit play on Frances Cone's self-titled EP, you think you've got their sound figured out. There's the building synth, the muted guitar, cooing vocals and, soon enough, the harmonies. It has all the ingredients of a splendid indie pop album—and, in a lot of ways, it is. But the deeper you get into their four-track EP, the more you begin to realize something just doesn't feel right lumping them into that broad a category.
For one, there's a particular soulfulness to lead singer Christina Cone's vocals. "I forgot to tell you / how the sun will bleed through / all the times I met you," Cone croons in "June," the album's introductory track. Her voice is beckoning, yet ephemeral, and its full character is revealed as it swims through the lows and reaches for the highs. They're playing at Brighton Music Hall on Nov. 20.
As the daughter of a Baptist preacher from South Carolina, Cone knows a thing or two about singing from the soul. Her Sundays would often be spent singing hymns at church alongside her father's congregation. (Her father's name is Francis, and is the inspiration behind the band's name.)
"I don't necessarily believe in those things anymore, but I'm really appreciative of the spirit of it," she says. "The melodies of old hymns I think are the most beautiful music I've ever heard and I hope that influences me."
Indeed, a certain church-going influence does come out in her music, especially on 2013's "Come Back," where she straddles the line skillfully between folk Americana and soulful indie rock. At times there's almost a biblical undertone to her lyrics: "Our mother / If she had discovered / he couldn't walk on water / she couldn't love another." Her voice alternates between defiantly raspy and crystalline soprano, and sounds almost far away, like it were being played from a pulpit several rows up. That's sort of how the album goes. It's got a stripped down feel to it—a perfect choice for an album largely about a broken relationship. And Cone's voice—over ooh wah's and beautiful harmonies—is the main attraction.
But as impressive as their debut album is, it did seem like it was yearning to do more. The band, which differs from the current lineup, seemed to play a bit too quiet of a role, at times seeming almost restrained.
"It didn't have as much guts as I wanted it to," Cone says.
But with the release of their new EP, and the addition of guitarist Jeff Malinowski, bassist Andy Doherty and drummer Alex Baron, their sound seems more cohesive. The instrumentation is more confident, and because of their commitment to each other as musicians, they're more comfortable taking risks.
"I'm so lucky to have those guys," Cone says of her bandmates who joined after 2013's "Come Back" was released. "We're just all in it, the four of us, and our chemistry is so good."
They call it chemistry; I call it a sonic maturation. And it's turned heads. Not only among music listeners, but major TV networks as well. To date, their music has been featured on MTV, VH1, FOX and ABC Family. They were also featured on Twitter's now-defunct #Music platform.
The band's maturation extends far beyond their sound, however, and stretches into the themes they tackle in their lyrics. The current EP is loaded with songs about independence, growth and death.
"I think things broadened up in my brain, and I became more interested in how people grow independently instead of within the context of a relationship," Cone says.
The EP culminates in "85," a triumphant anthem about recognizing the beauty of life through death. "When she was 45 / They gave her 40 years, 40 years to die," the song begins. It's macabre, and as we reach the chorus—"Too soon to die / We'll need more time / We're 85"— it becomes devastating.
The song was inspired by a woman named Jane Lotter from Washington state who penned her own obituary in the The Seattle Times as she was dying from endometrial cancer. She took her own life in 2013 using Washington's "Death with Dignity Act."
"It ruined me for months," Cone says. "I just couldn't get it out of my head until I wrote that song—but not in a decisive way. It just came out."
As the song continues, the music swells. The muted guitar that introduced the song transforms into powerful, distorted chords, and combined with the intensity of the bass and drums, the arrangement seems almost ethereal. In the face of such dark subject matter, the band allows us to experience it as a hopeful story. That was deliberate, Cone says, drawing influence from her brother, a filmmaker in Chicago.
"He makes really honest movies about religion and sexuality. And they can be dark in the way humans can be dark, but they are so hopeful and I've always really admired that."
In "85," the musical narrative mimics the obituary, which begins with haunting prescience as Lotter introduces her prognosis, and her decision to end her life. But as the obituary continues—just as in the song—there is a sense of peace. Finally, the obituary ends: "Beautiful day, happy to have been here."
There's that same sense of peace in "85." While the first mention of the song's plea for "more time" seems heartbreaking, by the end, with warm harmonies and eager instrumentals, the refrain becomes comforting.
The song is a powerful one—perhaps their best—and it's a tremendous example of how far Frances Cone have come since their 2013 debut. And if the EP's climax is any indication of how they'll pick up their next album, count me in as among the first to get it.
This article was originally published on November 19, 2014.