The 'Instagram Your Food' Craze Inspires Local Curators
04:18
Play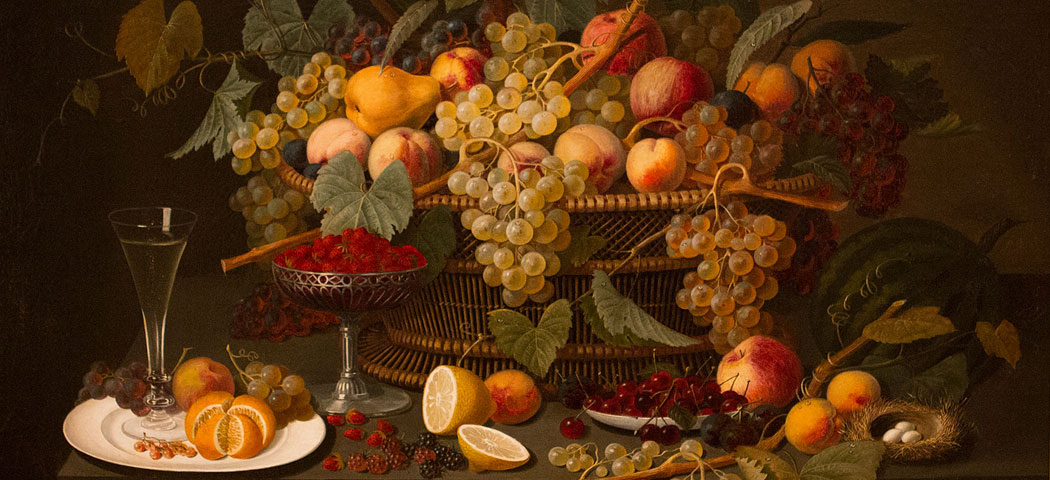 This article is more than 5 years old.
Thanksgiving is Thursday, and there's a good chance many of you will sit down among family at the dinner table, slide your napkin onto your lap — then pull out your phones to take pictures of the bird and post them on Instagram. Sixty million photos are uploaded to that social media site each day — and a ton of them are food shots.
While digital food-sharing is a newer trend, attempts to capture the aesthetic charms of edible things are not. I checked out two local exhibitions that celebrate food in art, and Liz Gardner, public programs specialist at Wellesley College's Davis Museum, had a confession.
"I'm also one of those people who can't eat anything until I've taken my picture and I've put it up on Instagram," she admitted with a laugh.
That popular (and sometimes despised) social media trend inspired the curators behind the new, aptly titled show called, "Feast Your Eyes."
Gardner says the food photo frenzy caused them to reflect on the fact that artists have been doing this kind of thing for centuries. So they sifted through the museum's 11,000-piece permanent collection and pulled out 33 food-oriented works, including examples of that iconic form: the still life.
"This genre really popped up in the 17th century," Gardner explained. "This is when artists started looking at food specifically as the sole subject of the work."
Food has figured into cave paintings, ancient Roman and Greek mosaics and Biblical art from the Middle Ages. But as Gardner showed me a work by Dutch artist Pieter de Ring, she said the carefully composed still life genre really hit its stride during the Renaissance.
"And the Dutch made some of the most famous still lifes that came about in the 17th century," she said, listing the items in the work, like crab and shellfish, delicately balanced on a silver plate.
In the same gallery you'll find a Spanish still life conservators found and cleaned up. It's by Alonzo De Escobar, is called "Still Life with Side of Beef" and it shows a freshly split carcass hanging from a hook. It's flanked by innards, and hiding in the shadows is a pet.
"I've just been calling it, 'Spanish Beef with Creepy Cat,' " Dave Becker, chef/owner of Juniper in Wellesley and Sweet Basil in Needham, said laughing. He also contributed to the "Feast Your Eyes" show by bringing his own recipes to the opening. Becker used the cleaned-up Spanish "Still Life with Beef" as loose inspiration for a dish of grated squash latkes with seared sirloin. (You can find the recipe below.)
Becker says he understands why artists are inspired by what they eat.
"If you can develop the thoughts of shelter, food, reproduction and death — those are all the biggest inspirations for pretty much everything there is," he said. "So the one that's easy to see, because you have three inspirations a day, would be food."
As it turns out, Becker and a photographer drew from the Dutch still life legacy for their cookbook, "Stewed." The chef pointed to an image they assembled for a creamy turkey with wild rice recipe. In it you can see how they artfully arranged turkey legs, wild rice, a little pewter pot, onions, fennel and different pears.
"I think pears always make for a good photograph or painting," he said.
Pears, apples and all manner of veggies play a part in another food-themed show featuring work from the Boston Printmakers, a group founded in 1947. Board member David Thomas helped organize the exhibition, "Palate to Plate" at the Newport Museum, along with a cookbook-catalog that pairs artworks in it with recipes by the artists.
Thomas contributed a stir-fry, even though his print features bananas.
"We often think of making prints as cooking," he told me in his kitchen while slicing up a green pepper. "You're using different materials — acids and water and neutralizing agents and asphaltum — so it's a whole series of chemicals, nothing you could eat, but we're always making a soup to etch the plates."
It's natural for printmakers to celebrate food in their work, Thomas says. And he's looking forward to cooking on Thanksgiving — but this artist won't be taking any pictures of the turkey, because he says he'd rather focus on his family.
"Feast Your Eyes" runs through Dec. 21. "Palate to Plate" runs through Jan. 4, 2015.
Correction: An earlier version of this story misstated the artist of the Dutch still life painting being discussed. It is Pieter de Ring. We regret the error.
[sidebar title="Recipe: Dave Becker's squash latkes with seared sirloin:" width="" align="none"]
1/2 peeled butternut squash
1/2 Spanish onion
2 eggs
2 scallions (sliced)
1/4 cup of flour
1/4 cup of breadcrumbs
1 cup of feta cheese (crumbled)
1/4 of a teaspoon of Nigella or caraway seeds
Salt and black pepper to taste
2 tablespoons of olive oil
Use a box grater to shred the squash and onion. Use your hands to squeeze out the liquid from the squash and onion — kind of like packing a tight snowball. (You may want to use some rubber gloves because of the onion.) Add the scallions. They're optional, but they add green and another flavor. Add the eggs. Next add the flour, breadcrumbs and Nigella seeds. If you use caraway seeds, you might want to grind them using a spice/coffee grinder. When adding the flour, sift it slowly from a height to avoid lumps. Then fold it all together. Add the crumbled feta and then season to taste. Heat a cast-iron skillet and then cook them like you would pancakes (brown on both sides). You can cook these a couple of days ahead of time and then reheat them in the oven for a few minutes at 200 degrees.
At Juniper we grill a sirloin to whatever temperature and then slice and fan it over the latke. We also serve them with tatziki. - Dave Becker
[/sidebar]