Local Or National? The Boston Music Awards' Perpetual Identity Crisis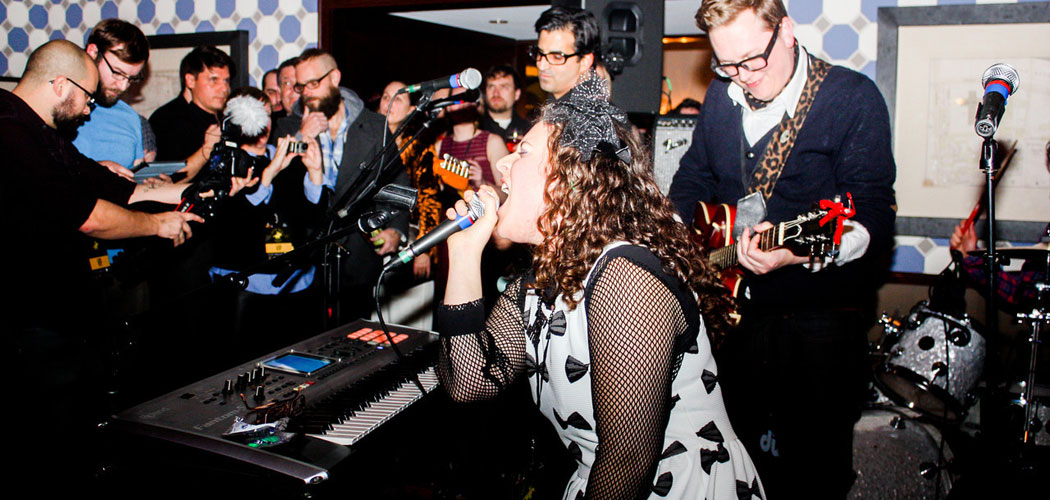 This article is more than 5 years old.
Back in 2008, the Boston Music Awards split the nominees for Act of the Year, Album of the Year, Male and Female Vocalist of the Year and Best Song of the Year into "local" and "national" categories. The "national" nominees included art-rock celebrity Amanda Palmer, a graying group of New Kids on the Block, the singer-songwriter Lori McKenna and the rapper Termanology. The "local" artist category featured the likes of indie rock legend Thalia Zedek and the underground emcee Akrobatik.
Needless to say, the local/national segregation didn't last, and it's easy to see why. Just as an artist can experience a precipitous rise, so, too, can she fall back into relative obscurity. In 2008, Lori McKenna may have seemed like country star material after a tour with Faith Hill and Tim McGraw, but now her nomination for Singer-Songwriter of the Year feels more like a deserved nod to a New England stalwart. Similarly, the Pitchfork-reviewed Termanology is back on a local label, comfortably ensconced in the hip-hop underground. Yet the impulse to divide indie artists from major is understandable, if only because it underscores a central tension of the Boston Music Awards (scheduled this year for Dec. 14 at The Revere Hotel): fealty to the city's small, thriving local subcultures versus a desire to prove Boston's relevance in the mainstream.
Last year, that identity crisis seemed to come to a head. [The 2013 Boston Music Awards are pictured at top.] The Internet uproar at the nominations of big, yet culturally passé names like Aerosmith and The Mighty Mighty Bosstones was apparently enough to prompt someone from the Boston Music Awards to pen a defensive Facebook post, which was later taken down. This year, the committee has at last recognized that gratuitous attention to celebrities pulls the spotlight away from the city's hardworking independent musicians. In general, the 2014 nominations do a better job of identifying Boston-affiliated artists—such as Michael Christmas, Marissa Nadler, Quilt, Speedy Ortiz and STL GLD—who have produced noteworthy work in the past year.
At the same time, the current collection of nominees seems heavy on generic indie-pop outfits striving for the Top 40, however unlikely they are to get there. (I'm looking at you, Eli "Paperboy" Reed, The Color and Sound and Air Traffic Controller.) That choice, in this critic's humble and totally unsolicited opinion, is folly. Don't get me wrong—I love a good pop song—but excellence in pop music is as hard to come by as in any genre. Rather than trying to identify the next Karmin, the committee would do better to look for the next Lake Street Dive or Speedy Ortiz—critically-acclaimed nominees with devoted fan bases who truly stand out among their peers. Candidates for this category, which I just invented, include garage-pop outfit Vundabar and Northampton folk-rockers The Sun Parade. (Then again, maybe I'm just a snob.)
Though the Boston Music Awards committee refrained this year from yet again nominating Amanda Palmer in a transparent bid to prove Boston's coolness, they could go further in taking seriously the implications of her success: that weirdo art-rock has a place in popular culture. As it stands, the Boston Music Awards' rock and pop categories play towards mainstream tastes, while the fringe categories—like metal/hardcore, punk and jazz—are too narrow for more genre-defying artists. (Not to mention the fact that when such artists are nominated in niche categories, they leave fewer slots for musicians actually working in those idioms.) Diversified rock and pop nominations would make room for avant-pop-rock—Jaggery, Bent Knee and Color Channel come to mind—and some of the more out-there garage, psych, and surf groups, like The Monsieurs, Abadabad or Krill, instead of trying to sneak them into the punk category (*cough* Creaturos). A more expansive approach to some of the fringe genres could yield interesting results as well; for example, we have yet to see the city's vibrant bluegrass scene represented in the folk bracket, which leans towards singer-songwriters (for which there exists a separate category).
That's not to say there aren't some delightfully eccentric and spectacularly talented artists nominated this year. Below are just a few of my favorites. Through Dec. 2 at 11:59 p.m., you can vote for your own at the Boston Music Awards website, where the public's ballots are weighted 1/3 to the committee's 2/3.
Quilt, "Held in Splendor:" Album/EP of the Year
Guerilla Toss: Punk Artist of the Year
Speedy Ortiz: Artist of the Year, Rock Artist of the Year
John Powhida International Airport, "Cover Me I'm Going For Milk:" Song of the Year
Evolfo: International Artist of the Year
Michael Christmas: Hip-Hop Artist of the Year