It's OK To Love 'The Nutcracker' — It Really Is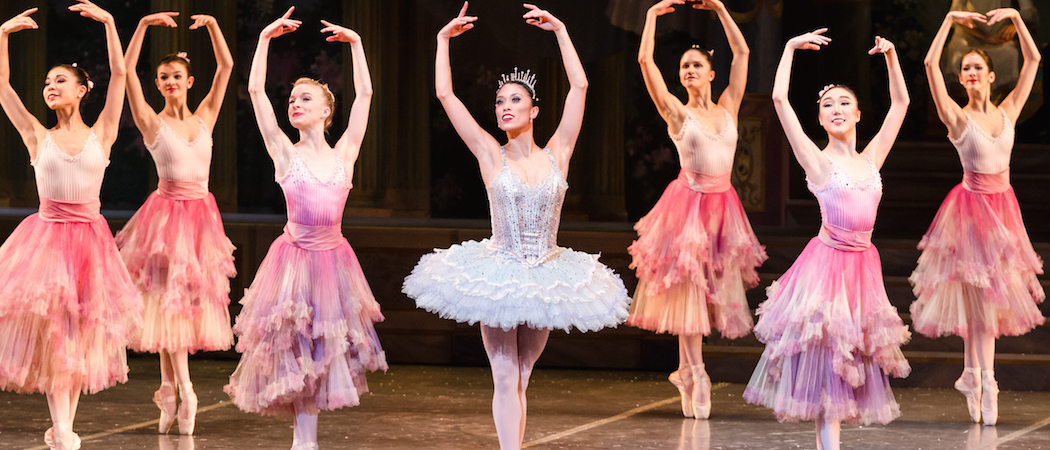 This article is more than 5 years old.
Do you secretly love "The Nutcracker," but fear that your friends will laugh and jeer if they find out you're into waltzing snowflakes, mice battling toy soldiers and a sugar plum fairy? Well, come on out into the light. This ballet is nothing to be embarrassed about.
"The Nutcracker" was a favorite of perhaps the most sophisticated choreographer who ever lived. George Balanchine wrote "I have liked this ballet since I first danced it as a boy." In early 20th century Russia, Balanchine played the Mouse King, and later, danced the role of the Nutcracker Prince at the Maryinsky Theater in St. Petersburg. That's where the Marius Petipa-Lev Ivanov ballet, based on a story by E.T.A Hoffman, with its now-so-familiar score by Pyotr Ilyich Tchaikovsky, had premiered, to nasty reviews, in 1892. Recalling the enchantment of "The Nutcracker" when he came to America, Balanchine created his version for his own company, the New York City Ballet, in 1954. It's been a mainstay of the company's seasons, and its earned income, ever since. With Balanchine's choreography the model for most of America's major companies, Nutcracker productions have bloomed and grown in every direction for the last 60 years, becoming the financial backbone of ballet troupes from coast to coast.
The Boston Ballet performs "The Nutcracker" at The Boston Opera House from Nov. 28 through Dec. 31. And since anyone with ambition and hard work can play this game, the region is rich with productions of "The Nutcracker."
It's not just box office gold; it's the vehicle that drives talent to dance. "The Nutcracker" grabs youngsters' imaginations. Little children fall in love with ballet and begin studying a vocabulary of movements that soon take many onto the Nutcracker stage. Describing the most important criterion for auditions, the Boston Ballet's founder, E. Virginia Williams, would laugh when she said that she simply looked for students who'd fit Nutcracker costumes. Even the youngest ballet students can learn simple steps and charm audiences as miniature reindeer, bunnies, toy dolls and soldiers. The sounds of Tchaikovsky's most famous composition fill ballet rehearsal studios from September through the fall, culminating with four or five weeks of holiday performances.
When they're older, the best and most determined ballet students, who earn a place on the roster of professional companies, feel the grind of the relentless holiday ballet. They describe the rigors of the weeks'-long run, the competition for featured roles, and the toll Nutcracker takes in injuries. But it's not all gritted teeth and overwhelmed limbs. There's backstage comedy as well, with leagues of little dancers rolling and giggling through the halls.
Boston-area native Sophie Flack began her onstage career at age 8, with the Boston Ballet, as a lamb in the "Marzipan" dance. Author of the young adult novel "Bunheads," Flack wrote about her later Nutcracker years as a corps member of the New York City Ballet: "The 'Snow' dance didn't quite have the same glamour that I remembered as a kid: I quickly discovered that the paper snow is treated with fire retardant that makes it taste like permanent marker. Stagehands wearing protective gear swept the stage and dumped the snow into barrels to be recycled for the next performance. By the end of the run, lost earrings and even pompoms pelted down on us. And whenever a dancer ran offstage into the wing, the first thing she did was spit the snow out of her mouth."
There are many versions of "The Nutcracker," and the Boston Ballet's has always ranked among the best. Its most recent incarnation, choreographed two years ago by the company's Artistic Director Mikko Nissinen, features early-19th century, Jane Austen-era, sets and costumes by Robert Perdziola. This critically acclaimed production sets its magic early, in the Christmas Eve party scene, where young Clara Silberhaus treasures the gift of a toy nutcracker. When the party guests leave, Clara's dream adventure begins. As it memorably does in most ballet renditions, the Christmas tree rises up to breathtaking proportions; in the Boston Ballet's version, the tree stretches to 42 miraculous feet high, shining with fiber optic lights, and resplendent with 600 ornaments. That's when toy soldiers march and fight against treacherous mice, snowflakes dance, and a sugar plum fairy reigns.
This holiday classic tale has been set in the U.S. by many dance creators. San Francisco Ballet's founder William Christensen led the pack ten years before Balanchine, in 1944, followed by countless others, well-known and not: Rudolf Nureyev (1963), Mikhil Baryshnikov (1976) and, notably, Mark Morris set his version, "The Hard Nut," in 1991. It's not just ballet companies that tell this tale--the Nutcracker story has unfolded in animated films (Disney's "Fantasia"), and TV. There's a DVD version of "Barbie in The Nutcracker" in 2001, and a 2007 video entitled "Tom and Jerry: A Nutcracker Tale." Need I mention that there's a 2012 computer game from Bigfish Games as well? It's called Christmas Stories: The Nutcracker.
Another staple of the holiday season is, of course, a story told by Charles Dickens. He begins by telling us we have to accept that Marley is dead; otherwise it's not worth reading "A Christmas Carol," which depends on the reader's belief in this ghostly presence. "Marley was dead, to begin with ... This must be distinctly understood, or nothing wonderful can come of the story I am going to relate."
Think of the same spirit applied to classical dance. If we want ballet companies and all they deliver throughout each season, we must believe in "The Nutcracker." It makes everything else possible.
Sharon Basco is a journalist, critic and public radio producer.
---
Boston area productions of "The Nutcracker":
Boston Ballet, Nov. 28 – Dec. 31. (Boston)

Commonwealth Ballet, Nov. 28 - Dec. 14. (Acton-Boxborough, Weston)

Jose Mateo Ballet Theatre, Nov. 28 – Dec. 21. (Cambridge, Dorchester, Duxbury)

MetroWest Ballet, Nov. 29. (Sudbury)

Ballet Arts Worcester, Nov 28-30. (Worcester)

Dance Prism, Nov. 30 – Dec. 21. (Fall River, Sudbury, Littleton, Worcester, Andover)

International Ballet Academy of Norwell, Dec. 6-7. (Hingham)

Northeast Youth Ballet, Dec 12-14. (Andover)

Urban Nutcracker, Dec. 12 – 28. (Boston)

Brookline Ballet School, Dec. 13-14. (Wellesley)

New England Movement Arts, Dec. 13-14. (Burlington)

New England Ballet Ensemble, Dec. 20. (Marblehead)

Dance Workshop of Hanover, Dec. 20-21. (Whitman)

And if you're looking for a completely different rendition of "The Nutcracker":

The Slutcracker, Dec. 5-14. (Somerville)
Sharon Basco Contributor, The ARTery
Sharon Basco is a a journalist, critic and public radio producer.