Family First, Always, At Boston's First Night (Aside From The Burlesque Show)
05:04
Play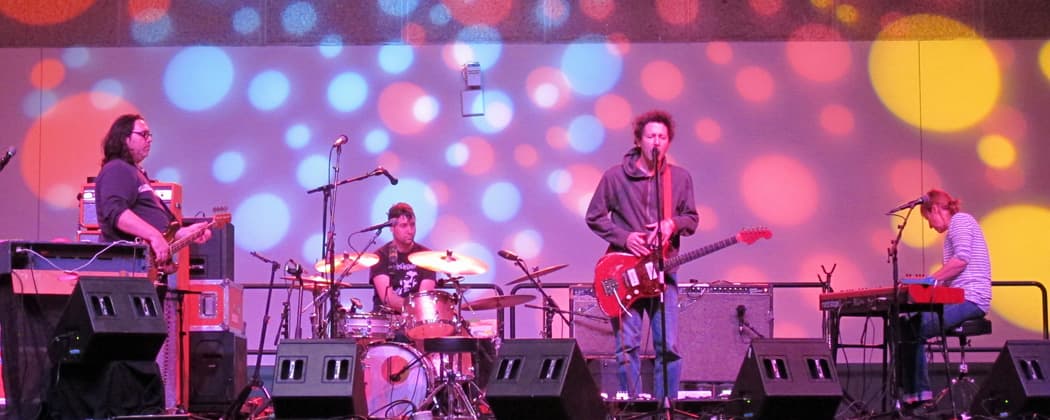 This article is more than 4 years old.
The city becomes a stage at First Night Boston, with everything from the iconic ice sculptures in Copley Square to outdoor performances, art installations, concerts and fireworks on Boston Common. But the epicenter of family activity is at Hynes Convention Center.
First Night is the country's premiere, family-friendly New Year's celebration. Artist Clara Wainwright founded it with her husband Bill 39 years ago as an alternative to the alcohol-drenched parties that dominate the holiday.
The Haffey family from Duxbury decided to drive to First Night Boston this year.
"We've evolved to be not big New Year's Eve type people," Mrs. Haffey said, "so this is a very sort of wholesome and healthy way to spend the afternoon and evening."
Families paid $10 for access to the more than 200 artist groups and performers in the convention center and at other venues around the city. There were puppet shows, circus workshops, trivia games, a drum circle. One auditorium was packed for a performance by a trampoline group called the Sky Riders who've attended for 18 years.
Maximum Velocity, a bike and skateboard stunt team, traveled down from New Hampshire.
In the hallway, 16 year-old Connie Chau explained that she was born in Boston but lives in California now. She came to First Night with her mom and brother.
"I used to go here when I was a kid, and so I wanted to come and see again. I just love all the events the fact that there's a lot of arts and I'm a huge arts person," she said.
Lisa Wegner Dewyker-Slooth brought her nephew and her son.
"We're trying to support it so it stays, and so that people keep coming to it and it stays family friendly," she said.
First Night almost went dark last year when the organization that sustained it went bankrupt. But former Mayor Thomas Menino took control and now it's overseen by the city.
Boston's new Mayor Marty Walsh showed up to lead the annual procession down Boylston Street. Marching with him — cultural and musical groups including the Hot Tamale Brass Band, where Mark Chenevert plays the saxophone.
"This is our 10th, 12th year doing it. It's always a blast," he said, "and I often say it's the most people I play for all year long because the route is lined with people four deep."
Before the parade began Mayor Walsh cut the First Night ribbon for the first time, and the bundled-up crowd made its way to Boston Common for the family-friendly — meaning early — fireworks.
The 'big kids' who stuck around after the families went home, took in some more adult fare — including musicians and bands like Patty Larkin, the Boston punk band Street Dogs, the experimental Hoboken, New Jersey noise pop trio Yo La Tengo and a Burlesque Striptease show that does not include full nudity — just pasties and panties. Next winter's First Night will be Boston's 40th.