Journalist Greg O'Brien Wrestles With Alzheimer's — And Writing About It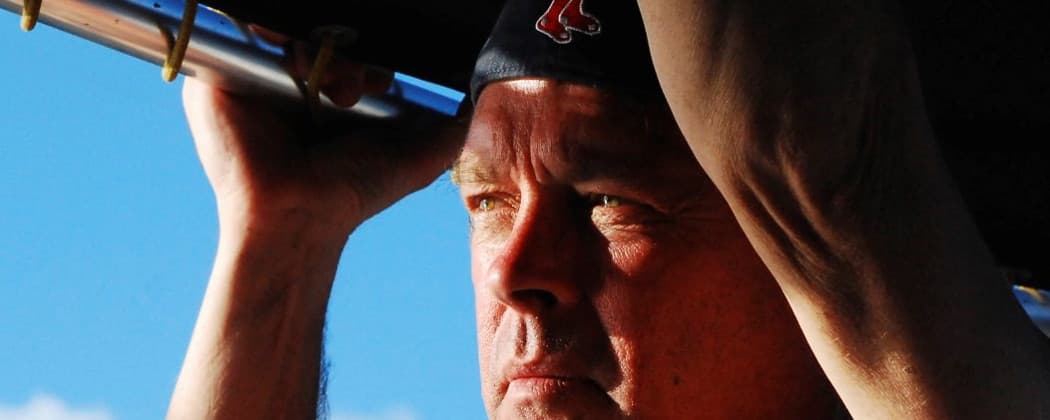 This article is more than 6 years old.
Here's what Cape Cod-based journalist Greg O'Brien did over the Christmas holiday. He traveled to his old hometown of Rye, New York, with his wife, Mary Catherine, and their two grown sons, Brendan and Conor, to visit members of his extended family.
One day, O'Brien left the house. That day, he says, "I parked my car in back of the store and went in to get a cup of coffee. It took me three minutes. I came out of the store, walked to a car in front of the store that was not my car and got in it because my mind told me that was my car. I'm wrestling with the keys, thinking 'How am I going to get home?' I'm all confused and then finally my mind said, 'That ain't your car, pal.'
"I feel comfortable in Rye and know the territory well," he continues, "except when it comes to getting into someone else's car. I describe the early stages of Alzheimer's as a loose plug in a socket. Sometimes the light flickers; sometimes the plug falls out. The plug fell out that day. That's the curse of this disease."
Five years ago, O'Brien was diagnosed with early-onset Alzheimer's. He was 59.
It wasn't a complete shock; his mother and grandmother had both died from Alzheimer's. He'd been manifesting signs himself for several years. "Horrific symptoms of short-term memory loss, not recognizing where I was in familiar places, not recognizing familiar people," O'Brien says, on the phone from his Brewster, Massachusetts, home.
But it got much worse after his bicycle accident. "I had a horrific head injury," says O'Brien, "and the doctor said it 'unmasked' a disease in the making. A head injury will not cause dementia, but if you're predisposed to have it, it can unmask it or bring it on early."
His neurologist strongly urged him to read Lisa Genova's novel, "Still Alice,"—now a film starring Julianne Moore that opens Oct. 23—to better understand what was called "the journey."
"I'll never forget his chilling words: 'I'm speaking to you as if you're terminal. Do you get it? You need to read this book!'"
"I was in typical Irish denial," O'Brien continues, "and at the time figuratively needed a piece of granite whacked between my ears to get my attention. 'Still Alice' did. My fear was that if I held 'Still Alice' in my hand, it would seal my fate with this disease that shaves a sliver of your brain every day."
As the fictional Alice Howland copes with her early-onset Alzheimer's in "Still Alice," so does O'Brien in real life.
He read the book, saw himself on every page and emailed Genova, also based on the Cape, and a friendship developed. She wrote the intro to O'Brien's book, "On Pluto: Inside the Mind of Alzheimer's," which in many ways parallels Genova's novel. "I'm Alice without the dress," O'Brien says. (He will be reading from "On Pluto" on Thursday, Jan. 8 at 6:15 p.m. at the Alzheimer's Association office in Watertown.)
After the head injury, but before the formal diagnosis, his journalistic instincts kicked in. O'Brien, who has written for the Cape Cod Times, Providence Journal, Huffington Post and Boston Magazine, as a senior writer, began taking notes. Those notes and their subsequent expansion became "On Pluto." (The faraway former planet is how O'Brien references where his mind can be with Alzheimer's.)
"I wasn't sure where it was going," O'Brien says, "but my doctor said, 'You need to write about this. …You have something to say and it will be therapeutic.'
"I don't see my book as a memoir," O'Brien says. "I see my book as a window. I use my experience as a window." He says he couldn't have done it without Genova's input: "She's been a good inspiration and editor. I have always sought her counsel."
O'Brien is planning another book, tentatively titled "Beyond Pluto: Journey from the Mind to the Heart," dealing not just with his fate, but with that of others dealing with potentially fatal illnesses. O'Brien's illnesses comprising of not just Alzheimer's, but also prostate cancer, for which he has suspended treatment.
"We're realizing there's a light at the end of the tunnel," he says. "It's that journey we all take. There's that journey from the mind to the heart and how do you get there. It's not a book to proselytize; it's a book to awaken people to the journey we all take."
He recently got an app on his iPhone, which he semi-jokingly considers "belling the cat." It enables him to be located should he wander away.
O'Brien attempted suicide once—"a botched attempt at suicide, with Alzheimer's I couldn't even do that right"—and had an auto accident he miraculously walked away from not long ago.
A key factor Alice wrestles with in Genova's novel is if and when to end her life.
O'Brien looks at his future this way, and candidly talks about what he calls an exit strategy: "I'm keeping my options open. I'm Irish-Catholic so I'm flushed with all kinds of guilt about that. Do I really want to be around? Do I want to stay on this planet? The Lord has me on a pitch count right now. I have two strikes on me. The Lord is saying, 'Look pal, we got some stuff for you to do or you can go home right now if you want.'"
O'Brien believes he has three or four "good" years left. "I fear the day when I put my fingers on the keyboard and not know what to do," he says. "That is the day I begin checking out."
"But let me give you the positive side: I'm going to make the next four years of my life the best years of my life. I'm going to do my best writing and I'm going to continue to get in other people's cars. I'm going to continue to go into tremendous rages and see things that are not there and not recognize people that I know, but I'm going to make these next four years the best years of my life, because I'm not sure what happens after that.
"I also carry the shame that one day my children or their children could be afflicted with Alzheimer's. The fear of that, as a father, cuts to the heart. I work hard to combat Alzheimer's with hope and faith in God, Irish humor to smile when it hurts, and the hope that all is not lost when it appears to be."
O'Brien will read "On Pluto" Thursday, Jan. 8 at 6:15 p.m at the Alzheimer's Association office at 480 Pleasant St., Watertown.
Jim Sullivan is a former Boston Globe arts and music staff writer who pens the arts-events website jimsullivanink.com and contributes to various publications, TV and radio outlets.