Bringing Alzheimer's To The Public Eye: Lisa Genova's 'Still Alice' Hits Theaters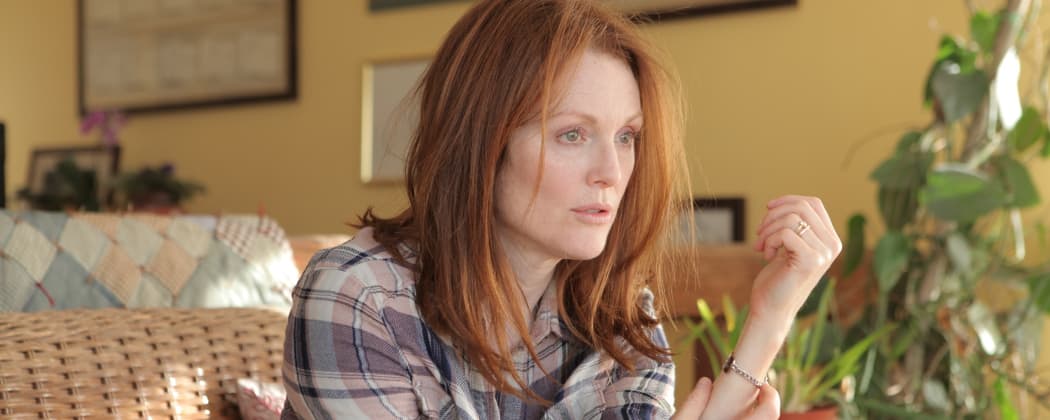 This article is more than 6 years old.
Lisa Genova is musing about what might unfold beginning Jan. 23. On that day, "Still Alice," a film based upon her novel of the same name, hits theaters in the Boston area.
"I don't know how many people will see the movie versus reading the book," Genova says. "I just know it's going to be a lot more and it's wonderful. It's got a broader spotlight on it now."
"It" is Alzheimer's disease, particularly the rare and especially cruel early-onset Alzheimer's.
"Still Alice" concerns the fate of Alice Howland, an accomplished, 50-year-old linguistics professor at Harvard who is diagnosed with the disease.
Genova self-published the novel in 2007; it was picked up two years later by Simon & Schuster in a fierce bidding war and became a New York Times best-seller.
Some of the advance raves about "Still Alice" focus on the acting of Julianne Moore, whose complex portrayal of the struggling Alice has snagged her a Golden Globe and an Academy Award nomination as well. Kristen Stewart portrays her daughter, Lydia, and Alec Baldwin plays her husband biologist, John.
Genova, 44, is a former Harvard neuroscientist who now lives on Cape Cod. "I did as much research as I could and then I leapt into fiction," she says, "and I think Julianne did a thorough level of research and then let that inform the decisions she made as an actor. She came to know people with early-onset Alzheimer's and spent time with them.
"You're in Julianne's skin through this film and I think that's why the emotional response has been so powerful," continues Genova. "What happens is we're forced to put ourselves in Alice's shoes. It's so uncomfortable because most people don't want to think about what it would feel like to have Alzheimer's. It's kind of terrifying. [The film-makers] visually do that in such an extraordinary way."
In accepting the Golden Globe for Best Actress in a Motion Picture on Jan. 11, Moore said, "When Lisa Genova wrote this book, she told me that no one wanted to make it into a movie because no one wanted to see a movie about a middle-aged woman."
The book is set in Cambridge (mostly Harvard University) and on the Cape, but for the film locations switched to Manhattan (and Columbia University) and Lido Beach, N.Y.
The movie, made for an approximate $4 million, was shot last March in under a month, during a break Moore had from "The Hunger Games: Mockingjay—Part 1." Moore wanted to shoot in New York to be closer to her family. Genova met with co-writer-directors Richard Glatzer and Wash Westmoreland for dinner in Boston's North End and agreed the change in locale made sense considering the circumstances.
As to their screenplay, Genova says, "The movie does not follow the book exactly and that's OK. I consulted on the script and I was aware of the changes that had been made. They were very respectful of the story and the perspective of the book—through Alice's point of view."
While Genova wrote the book in the third person, she puts you inside Alice's mind as her jumbled thoughts, crashed memories and delusions begin to overtake reality and clarity.
"Choosing to write the story in Alice's point of view was a really powerful choice," Genova says, "and that's what's missing on most of the literature on Alzheimer's. We have things written by the caregivers, by the doctors, by the social workers, but what about the person that has it? Staying with her perspective as she becomes less and less a reliable source of what's actually happening because her cognition is becoming more and more compromised."
In the movie, there's much less of Alice's internal dialogue. But through Moore, we see and feel Alice's anger and frustration as her mind deteriorates. One key element, in both book and movie, is the list of five personal questions Alice makes for herself before the disease has kicked in hard. When she can't answer those questions, Alice tells herself, she'll know it's time to go.
Says Genova: "I knew from talking to all the people that I came to know, a young crowd who have all been dealt Alzheimer's, every single one of them wrestled with the idea: 'Should I plan my own suicide or not?'"
It would spoil too much to say what Alice decides, but Genova says, "There's heated debate from people who disagree with Alice's choice. What I was left with was not a judgment about who's right or who's wrong or what I think should happen or should not happen. What I was left with was the understanding that this is what the disease forces you to do. They all contemplated it, so I knew that Alice would. If I'm trying to write the truth under these imagined circumstances I thought that it was important to have her wrestle with that as well."
"Alice has placed her worth and identity in her intellect. When that was stripped away, the Alice before Alzheimer's would imagine that her life would have no meaning and no value, and so I made the choice that she would, of course, plan to end it."
One issue that's confronted head-on in "Still Alice" is the perception of Alzheimer's in the public eye, that shame and humiliation are concomitant with the disease. The struggle with Alzheimer's is not like the noble fight against an invasive cancer.
Genova says, however, that was once the case with cancer, long before the days of pink ribbons and charity runs. With "Still Alice," Genova says, her hope is that it will help "stamp out the stigma and shame and alienation, which families who live with Alzheimer's have. The general public is very afraid of it and there's a sense of awkwardness.
"Hopefully, one of the things this film will do in a huge way is give people a very vivid example of someone struggling to live with Alzheimer's and so people can look to this movie and the book and say, 'Oh my God, I'm not alone. I don't have to be ashamed saying 'My dad has this, my wife has this, my brother has this'.'"
"The lesson for me was what living with Alzheimer's looks like and that it is not 24-hours-a-day, seven-days-a-week doom-and-gloom, the grim reaper hanging on your shoulder making your life miserable every second. It's incredibly challenging and heartbreaking at times. There are real losses and they're unfair and horrible. I have a friend with Alzheimer's. His name is James Smith and he was diagnosed when he was 47 and he's said to me, 'There are gifts that come with this disease if you choose to open them.' So, I don't mean to romanticize this or minimize the problems that come with this, but I'm not afraid of it."
Jim Sullivan is a former Boston Globe arts and music staff writer who pens the arts-events website jimsullivanink.com and contributes to various publications, TV and radio outlets.
Earlier: After Alzheimer's Diagnosis, Journalist Greg O'Brien Started Taking Notes