Ira Glass And Friends Dance Their Way Into Boston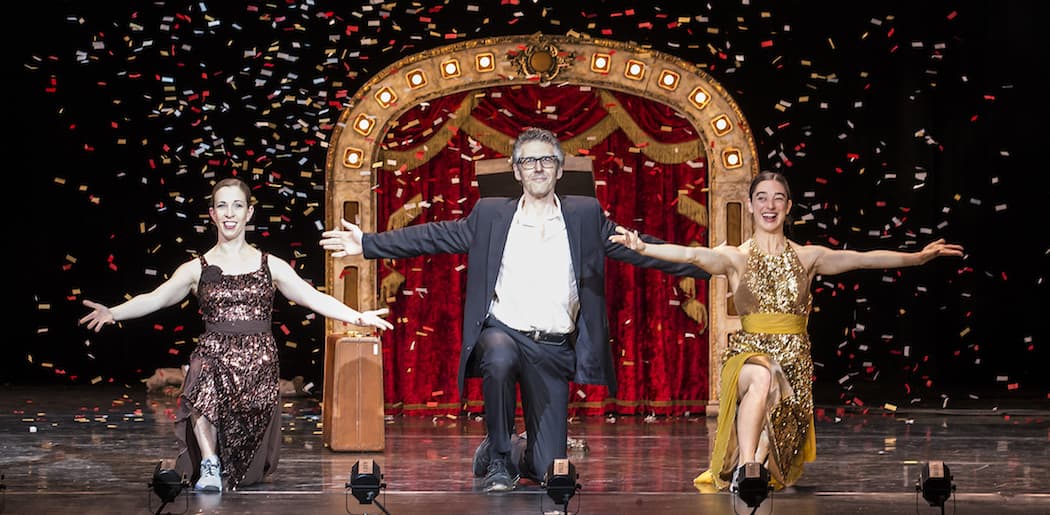 This article is more than 6 years old.
"Nobody listens to my radio show thinking, 'Ya know what this needs is some dancers.' And nobody sits through a dance show thinking, 'Ya know what this needs is a guy talking and playing clips of audio.' But we brought down the house at Carnegie Hall. This, I'll be completely sincere, is one of my favorite things I have ever been part of."
That's Ira Glass, host of "This American Life," in a video describing his performance piece, "Three Acts, Two Dancers, One Radio Host." The show comes to the Citi Shubert Theater in Boston, Jan. 24 and 25, under the auspices of the Celebrity Series of Boston.

Ira Glass is not a huge fan of dance. His involvement with the art began when he was a contestant on a spoof of "Dancing with the Stars" in 2011. That's where he met dancer/choreographer Monica Bill Barnes, and began collaborating with her on story-telling projects that culminated in a 90-minute theater piece. I spoke to him on the phone recently, and he elaborated on "Three Acts," talking about being a Pollyanna, wearing sequins (or not), inventing his own weight-loss diet, and more.
Here are some highlights of our conversation.
Sharon Basco: Why are you doing this dance piece?
For fun, for fun. The honest answer is that I saw these dancers' work, and it was really special. The aesthetic they were working with, what they were doing reminded me of what we're trying to do on the radio show. They're out there for fun. They're out there as entertainers. And when people hear our radio show it's clear that it's a show out to entertain. It's journalism, but it's clearly out for entertainment value.
And the other thing is that they do something very documentary-like. They were trying to capture these small human moments in a way that seemed very real and emotional and sometimes funny.
I tell stories and the dancers dance. Anybody who comes expecting me to dance will be disappointed. I'm absolutely not trying to take over for Baryshnikov. He's a better dancer, sure, but he also has a better voice than I do.
You've said that you lost 30 pounds in course of putting show together.
I lost 30 pounds because I knew I was going to be on stage with trained, good-looking athletes. And they do have me move around the stage here and there. I have cues to hit that coordinate with what they're doing. And even with the simple stuff I felt like I was oafishly plodding my way around the stage like a rhino, compared to the way that they move. And I thought 'This is going to go better if I lose a little weight. So I can move a little better.' So I set out to lose weight, and I lost weight.
This is the Ira Glass diet?
Yes, that's exactly what it is. For me, I suggest that the way to lose weight is to a) know that you're going to have to go on television, or b) stand on stage with trained dancers. (laughs.) Fear is a really powerful force.
You have a hectic schedule producing and hosting "The American Life". [Also, "Serial," one of the year's biggest audio hits — the podcast reported and hosted by TAL producer Sarah Koenig — is a production of "The American Life."] How do you do it all?
I like working. (Laughs.) I like editing. I like writing. I get to work with really wonderful people. And I like sitting on an airplane. And I like being on stage. So every part of it is a pleasure. It sounds very Pollyanna-ish, to put it this way. Ya know, lots of people don't have a job they like, but I have luckily landed in a situation where I do. And so I'm happy with the way this worked out.
I'm 55. And 55 years of age is definitely an advanced age to join a professional dance troupe and start touring the country. I will admit that. But I like to believe that the people of Boston are an open-minded and fair-minded people, and they still may want to come out [and see the show].
Bostonians have a history of being challenged to be open-minded and fair. When Isadora Duncan danced here in the early 1920s, she waved a red scarf, tore the top of her costume off, and yelled 'This is red and so am I!'
In case people are hoping for that at our show, that will not, will not be part of our show. I can just put that out there now. I have one or two little costume changes. I wish I could wear sequins! When I was a teenager I did magic tricks at children's parties and you can take the boy out of the magician's cape, but you cannot take the magician's cape out of the boy. If I could have worn a sequined outfit, that would have been perfectly fine with me. I would have worn it for my regular work.
What's the essential message you'd like to give fans of "The American Life" about this theater piece?
It would be lovely if you could get across the idea that although it's dance, non-dance people won't find it intimidating or frightening or boring. And if people have heard our radio show, what it's like, it feels like an episode of our radio show. A very well-put-together one. It's funny, it's emotional and there are stories. There's one story after another in a way that's very satisfying. And also dancing.
Going around the country with this show, combining radio and dance is just a dreadful marketing problem because whenever you say that's what the show is, there's this sense of dread. I hate to say it in one sentence, but: it's not awful. In fact, it's hard to know how to convey that to people.
Sharon Basco Contributor, The ARTery
Sharon Basco is a a journalist, critic and public radio producer.