Postponed: 'The Defiant Requiem' — A Soul-Saving Musical Event At Symphony Hall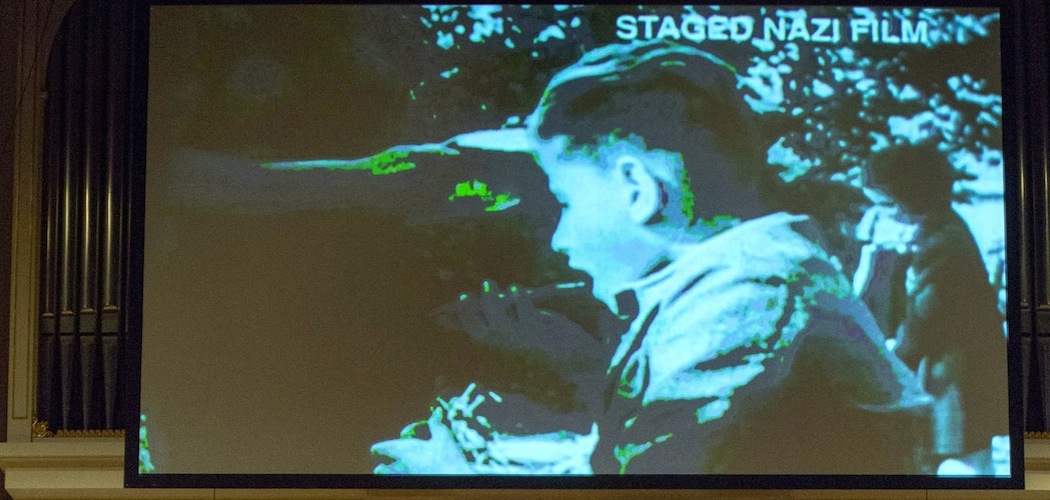 This article is more than 6 years old.
Except for two Boston Symphony Orchestra programs led by its new music director Andris Nelsons, about whom the jury is still out, January's musical offerings are a little skimpy. But one event that caught my eye and seems worth looking into is the Boston premiere of "Defiant Requiem," a mixed media event that consists of a complete live performance of the Verdi Requiem combined with live actors "embedded" in the orchestra and clips from an Emmy-nominated documentary about the 16 performances at the Theresienstadt Concentration Camp led by the conductor/composer Rafael Schächter, accompanied on a legless piano. This spiritual and theatrical masterpiece was an act of pure and life-affirming defiance and startling ecumenicism on the part of hundreds of enfeebled Jewish prisoners facing certain extinction. Adolf Eichmann attended one of these performances. Also shown will be clips of the original newsreels the Nazis filmed at Theresienstadt as propaganda to show how well treated the prisoners were.
The documentary, inspired by Joseph Bor's semifictional memoir "The Terezin Requiem," is narrated by Bebe Neuwirth and includes interviews with Terezin survivors who actually participated in the performances of the Requiem. Among them are Newton resident Edgar Krasa, to whom, along with his wife Hana, this live performance will be dedicated. He was Schächter's barracks-mate and sang in all 16 performances.
At Symphony Hall, the Orchestra of Terezin Remembrance will be conducted by Murry Sidlin, the Ordinary Professor of Conducting at Washington's Catholic University, and features Polish-born soprano Aga Mikolaj, whom I've never heard in person, but who was recently praised by veteran Chicago Tribune music critic John von Rhein for her Donna Elvira in "Don Giovanni" (there are some terrific videos of her on YouTube—see below; she will be in the area again singing Strauss's "Four Last Songs" and the last movement of Mahler's Symphony No. 4 with the Boston Philharmonic Orchestra under Benjamin Zander at Sanders Theatre, Mechanics Hall in Worcester, and Jordan Hall, Feb. 19-22.)
The Verdi tenor is Chad Shelton, whom I admired as Erik in the Boston Lyric Opera's recent production of Wagner's "The Flying Dutchman." (If I were a tenor, I might think twice about quoting the following review on my website: "Chad Shelton, who played the insensitive Pinkerton, performed so well that it seemed the audience, no doubt familiar with many opera villains, seemed to want to hold back on applauding him.").
Joining Mikolaj and Shelton are mezzo-soprano Ann McMahon Quintero, who was also excellent in "Dutchman" as Mary, and the young bass Nathan Stark. The star of the evening, though, is most likely to be John Oliver's Tanglewood Festival Chorus, which, to judge by recent performances with the BSO, is at the top of its considerable game.
Given that the live performance will be interrupted by the video testimonies and live actors (the admirable Will LeBow as Schächter and Jerremiah Kissel as "The Lecturer"), this may not be an event for musical purists. But it sounds as if it might be a moving lesson in history and the power of music.
Here's a trailer for the documentary:
And here are a couple of YouTube clips of Aga Mikolaj's superb Mozart in Munich in 2010:
UPDATE: "Defiant Requiem: Verdi at Terezin" has been postponed. It was scheduled to come to Boston, as part of a national tour, on Tuesday, Jan. 27 at Symphony Hall. The producers say a new date will be announced shortly.
Lloyd Schwartz is the music critic for NPR's Fresh Air and senior editor of classical music for New York Arts (www.newyorkarts.net). Longtime classical music editor of The Boston Phoenix, he was awarded the Pulitzer Prize for criticism in 1994. He is the Frederick S. Troy Professor of English at the University of Massachusetts Boston. Follow him on Twitter @LloydSchwartz.