Punk Rock Aerobics—The Exercise Class For People Who Hate Exercise—Is Back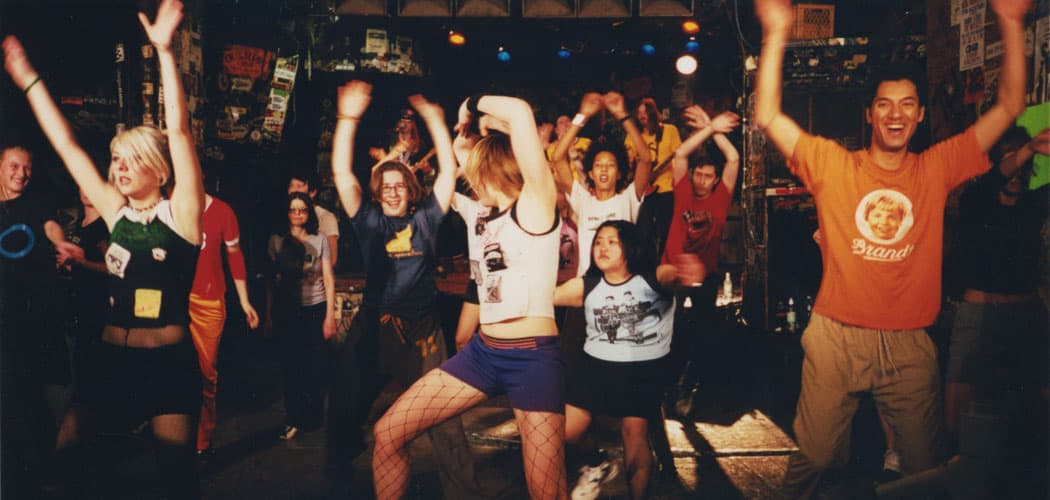 This article is more than 6 years old.
Punk Rock Aerobics is one of those genius ideas—and part of its genius is that it seems inevitable that someone would crash the loud anti-social-ness of punk into the whole disgustingly perky fitness world.
But it wasn't inevitable. It began around 2000. And it began here, launched at the Middle East nightclub in Cambridge by Hilken Mancini, then best known as the lead guitarist in the indie rock outfit Fuzzy, and Maura Jasper, a video artist who had designed album covers for SubPop and Atlantic Records.
"The whole point of the exercise class was that it was for the misfit," says Mancini, who actually got certified as an aerobics instructor when they began the thing. "There's no mirrors, dark lighting, you don't have to bring anything. We give you bricks for weights. It's for the anti-exercise kind of person, or someone who just would never do this. But they'll do it because they get to jump up and down to the Ramones or Eater or something."
Punk Rock Aerobics is pretty much what it sounds like—a bunch of people in a beer-stinking club bouncing, kicking and punching the air as the Ramones' "Beat on the Brat" blasts out of speakers.
"It's amazing to see people exercising and smiling at the same time," notable curmudgeon J Mascis of the band Dinosaur Jr. told Rolling Stone magazine back then. "The class is a total freak party."
"You actually get a very good workout," Mancini says. "The only thing that's different about it is that it's in a rock club. We would never, ever do them anywhere else. We would never do them in a gym, never do them in front of a mirror. We did it at CBGB's. We did it at the Parkside in New York." [Pictured at top: Punk Rock Aerobics at CBGB in New York in March 2002.]
Articles ensued in Spin, People, The New York Times. Jasper and Mancini appeared on MTV. When they published a DIY "Punk Rock Aerobics" book in 2004, notable rock 'n' roll critic Greil Marcus proclaimed on the back: "Better than the last Sex Pistols reunion. Hilarious and wonderfully done."
Jasper and Mancini were talking with Universal about recording a video, but getting rights to use the original punk songs proved prohibitively expensive.
"We had been doing the classes and not really making any money," Mancini says. "The project just never got rolling and Maura and I were getting really burned out. And she wanted to go back to school. We just never made the video."
So Punk Rock Aerobics just sort of faded out. "We just sort of fell apart," Mancini says.
But a couple weeks back an invitation started floating around the Internets: "Punk Rock Aerobics is back!" The Sinclair in Cambridge would be hosting a $15, all-ages class ("Come to class / feel better fast") at 10 a.m. Jan. 31 as a fundraiser for Girls Rock Campaign Boston, a program of week-long summer workshops in Jamaica Plain that aims to foster girls' self-esteem by having them create and play extremely loud rock music. It turned out that Punk Rock Aerobics may have gone to ground, but it never really went away.
What happened was that around 2005, or maybe it was 2007, after Punk Rock Aerobics kind of, sort of broke up, Mancini volunteered at Rock 'n' Roll Camp for Girls in Portland, Oregon. Started in 2001, it's the founding mother of all the girls rock camps that have spread across the universe.
"I went there and did it and it blew my mind," Mancini says. "I never saw so many women being so supportive to each other. And it was such a bubble of such amazing and talented, supportive women. I was like, 'There should be something like this in Boston. Why isn't there?' At that point, I'd been playing music in Boston since I was, like, 18. I knew so many rad women. I started Fuzzy, which was a band I was in in the '90s with another woman. I had toured with Belly. Juliana Hatfield. Thalia Zedek. There were so many awesome women artists who I had played shows with or that lived here."
"I was lucky enough to meet this woman who was volunteering there" at the Oregon camp, Mancini says. "Her name was Nora [Allen-Wiles]. She was a lot younger than me and she was from Somerville, Massachusetts. She was working as an intern there. We just talked about a possible fantasy of wouldn't it be great if we could do one in Boston. But we were like, 'That's too hard. It's too crazy. We couldn't do that.' We went our separate ways. But by 2010, we had reconnected and we were like, 'You know what, let's do it.' So Nora and I basically started it here."
Girls Rock Campaign Boston launched five years ago. Allen-Wiles is executive director. Mancini is program director and volunteer coordinator. Their motto: "Ending rocklessness in Boston's girls forever."
At Girls Rock camp, Mancini says, "Every morning we do one Punk Rock Aerobics song to get people energized for the day. … A lot of people like doing Punk Rock Aerobics at the camp."
So an idea came into focus: How about doing a Punk Rock Aerobics class to help raise funds for Girls Rock?
"It's actually really fun and you kind of don't know you're exercising," Mancini says of Punk Rock Aerobics. "Because the other concept was that it was just like a punk rock song with three chords. That basic dumbed-down idea. There's three moves to each song. You show them and then you do them. The moves are all based off of looking at old videos of punk rock."
Mancini goes on, "That way someone can feel like, 'I can do this. I don't have to feel like I have two left feet. I'm just going to Pogo, Skank and then Mosh.' Or whatever. But in realty, we're doing some very basic aerobics moves. It's not very novel when you look at it from an exercise or like a physiological angle. It's not like it's a groundbreaking workout that's going to get you toned with great abs. We do sit-ups."
Might this one Punk Rock Aerobics class lead to a full-on relaunch of the exercise class for people who hate exercise?
"I also own a vintage clothing store"—40 South St. in Boston—"and I'm in a rock band"—actually two: The Monsieurs and Shepherdess —"so I can't do one more thing," Mancini says. "But if like 30 people after the class come up to me and go 'Oh, my God' and if we can find a space where no one really has to pay and we can jump up and down one day a week. Honestly, getting ready for this class has been really fun. I've been holding mock classes with Nora and some hardcore volunteers of Rock Camp. We've been having a lot of fun. So who knows."
Greg Cook is co-founder of ARTery. Follow him on Twitter @AestheticResear and be his friend on the Facebook.