'Breath And Imagination' Gives Majestic New Voice To Roland Hayes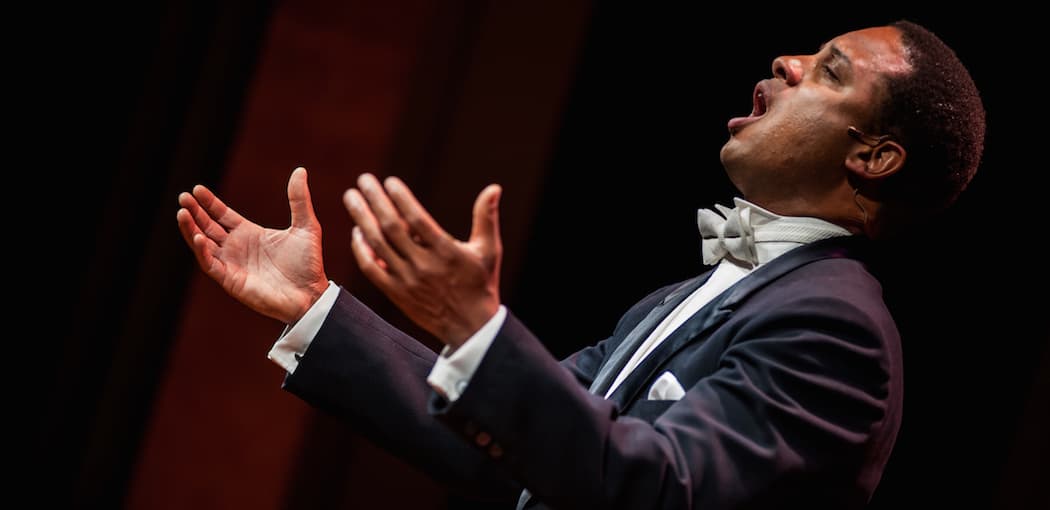 This article is more than 6 years old.
Why has history relegated the illustrious life of singer Roland Hayes to the shadows? In the 1920s, he was one of the highest paid male recitalists in the world. The son of former slaves, his talents would propel him around the globe — from Boston's Symphony Hall, where he became its first African-American soloist, to a command performance before the King and Queen of England at Buckingham Palace. An expressive interpreter of French arias, German art songs, and Negro spirituals, Hayes blazed an indelible trail for African-American opera singers such as Marian Anderson, Leontyne Price and, more recently, Eric Owens and Noah Stewart.
With Daniel Beaty's superb "Breath and Imagination," Hayes's name should be unspoken no more. Produced by ArtsEmerson at the Paramount Center Mainstage in Boston, this is less a traditional biography than curated snapshots of Hayes's life and career set to music. Played with boundless charm by Elijah Rock, Hayes is a man sturdy in spirit and resolve. He beams with an inner glow, and that makes his moments of frustration and anger at the stifling racism he often encounters in Jim Crow America that much more cutting. As the play begins, Hayes is explaining his difficult decision to shut down the music school in his native Georgia — a school he has founded on land where his mother once toiled as a slave. He has had enough of Southern racism, the last straw being the arrest of his wife and daughter for sitting in the "white" section of a shoe store. (Hayes's now 81-year-old daughter, Afrika Hayes, a retired Boston public school music teacher, was in attendance for the play's opening night Thursday.)
Living under segregation's heel is all Hayes and his parents know yet even as it affects their lives, it does not infect their souls. After his father is killed in a factory accident, Hayes, only 11, abandons school to help support his mother, Angel Mo', who is determined to keep meaning and purpose in her young son's life. Rock, always wearing white tie and tales, convincingly plays Hayes at various ages. Without make-up, he imbues the role with so much heart, one quickly forgets that it's a grown man portraying a restless child, then a rash teenager who wants only to become an artist.
One of the few props on the spare, but elegant, amber-lit stage is a Victrola where Hayes first hears the famed Italian tenor Enrico Caruso singing the plaintive aria "Una furtiva lagrima," from the Donizetti's opera "L'elisir d'amore." He is enchanted, and wants to learn these songs in languages he does not yet know or understand. And he is undaunted as he strives to do so, reaching heights no black opera singer had ever before attempted.
Angel Mo' encourages his singing — "It's a sin to sit on your gift," she tells him — but questions whether a black man, even her profoundly gifted son, will be allowed to make a living with it. At first, Angel Mo' seems yet another in an endless line of long-suffering, Bible-thumping black mothers. Yet as fiercely embodied by Harriett D. Foy, she is vulnerable, full of tough grace, and to borrow from an old gospel standard, "no ways tired." When Hayes, without her permission, uses a treasured family heirloom to pay for music lessons, her reaction is explosive, and one can feel her corrosive anger and disappointment.
Many of the play's pivotal moments are gorgeous duets between mother and son. Both Rock and Foy have plummy, emotive voices that work each song for all its worth, while never overpowering them. Though Hayes was a tenor, Rock's plush baritone is a thing of beauty whether he's singing the traditional spiritual, "Were You There (When They Crucified My Lord)" or French composer Gabriel Fauré's "Les Berceaux."
Except for musical director and pianist Jonathan Mastro, the only other cast member is Nehal Joshi, a chameleon of a performer who sings and plays more than a half-dozen characters — from Hayes's doomed father to a female vocal teacher at Fisk University where Hayes was a soloist for the famed Fisk Jubilee Singers. (He even provides sound effects such as an old horse's heavy clomp.) At one point, Joshi evokes multiple flashbacks, ripping through a bevy of accents and impersonations with a surgical precision that would have made the late Robin Williams smile in admiration.
"Breath and Imagination" seeks to rectify the capricious nature of history, and bring the great Roland Hayes, who died in Boston on New Year's Day 1977, back into cultural reverence and relevance. (There's a Roland Hayes School of Music in Boston's Roxbury section.) In his one-act, 90-minute play, Beaty achieves that, as he lovingly restores the performer's artistic luster with this winning, inspirational story of a man who never bowed to his nation's entrenched bigotry, and found his freedom in song.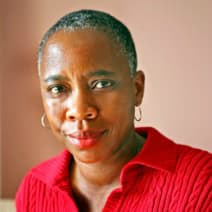 Renee Graham Contributor
Renee Graham is pop culture correspondent for WBUR's Here & Now and The ARTery, and was a longtime arts writer and pop culture columnist for The Boston Globe.