Punch Brothers Find Rock 'N' Roll Release In Intricate Avant-Bluegrass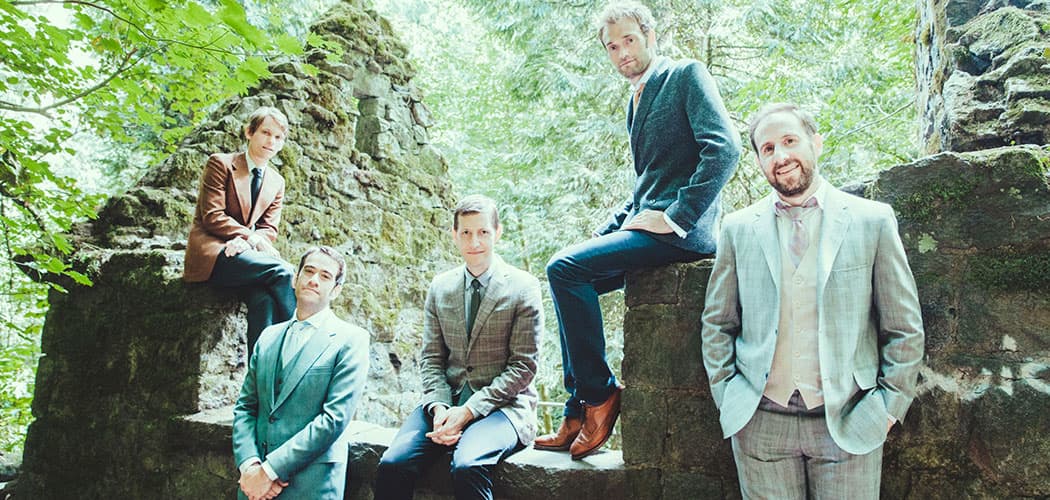 This article is more than 5 years old.
"Julep," the second track of Punch Brothers' new album, "Phosphorescent Blues," is a sweet, intricately orchestrated song about discovering love in an ordinary moment. It is pretty, albeit typical fare from the band, which has made its reputation with complex, modern-minded material bent on exploding the boundaries of a traditional bluegrass quintet.
But when the final strains of "Julep" fade, the album makes a turn. What follows is not an up-tempo bluegrass riff, nor a propulsive indie rock melody. It is, instead, the nimble intro to the fourth movement of Debussy's famous piano suite, "Suite bergamasque," rendered impossibly light on the standup bass. The moment is at once deft and unexpected, and exemplifies the group's newfound sense of abandon.
A passive listener might not notice anything unusual, so delicately is the piece executed by the five Punch Brothers: guitarist Chris Eldridge, fiddler Gabe Witcher, banjoist Noam Pikelny, bassist Paul Kowert, and the band's frontman, mandolin virtuoso Chris Thile. Individually, their pedigree is impressive. Pikelny, for instance, was recently nominated for a Grammy for his 2013 solo album "Noam Pikelny Plays Kenny Baker Plays Bill Monroe." And the McArthur "Genius" Grant-winning Thile, since rising to fame with the pop-bluegrass trio Nickel Creek, has emerged as one of the most revered and influential mandolinists alive. But in the years since their 2008 debut, Punch Brothers have combined their individual talents into a rare kind of chemical synthesis. (They play the House of Blues in Boston on March 6.)
Punch Brothers have long grappled with the vast range of possibilities granted by both astounding musicianship and eclectic taste. Their first album, "Punch," was most notable for Thile's four-movement, through-composed breakup suite, "The Blind Leaving the Blind," which defined the group's cerebral-yet-sensitive amalgam of chamber music and bluegrass. Their two subsequent albums, 2010's "Antifogmatic" and 2012's "Who's Feeling Young Now?," edged closer to the indie rock sensibility epitomized in "Julep."
"I personally was craving the music becoming a little bit more rich," says Eldridge. "Really retaining some of the visceral side of things that we kind of discovered and were digging into and trying to get better at on 'Who's Feeling Young Now?' but trying to take that, and without losing any of it, unite it with some of the more rich stuff from 'Punch' or 'Antifogmatic.' Those records had an abundance of the head and not much of the heart, so to speak. They're a little out of balance. So on this record the goal was to unite those two things."
"Phosphorescent Blues" is not so much concerned with high-concept cohesion as it is confident that the band's dynamic, verging-on-telepathic musical rapport will carry them through. The album contains a three-part ode to love in the digital era, a cover of the fiddle tune "Boll Weevil," two classical pieces, several exceptional pop songs, and for the first time in Punch Brothers history, drums and electric guitar (deployed sparingly). It is their most diverse and joyously inventive album to date.
"Phosphorescent Blues" was produced by T Bone Burnett, who supplied the electric guitar and suggested the addition of the drums. Though the percussion is subtle, it helps the band open up in some of its more dramatic moments. It is perhaps most effective during the rueful "I Blew It Off," which begins with a stately bowed bass part and swells blissfully with the help of Jay Bellerose's exquisitely tasteful drumming. Yet the band wrings as much emotion, if not more, from gentle acoustic sections, like the fluttering "Suite bergamasque" or the rippling instrumental interludes in "Between First And A."
"Phosphorescent Blues" opens with "Familiarity," a 10-minute-long rumination, in three parts, on the perils and pleasures of relationships in the age of smartphones and social media. It's a theme that Thile, who writes all of Punch Brothers' lyrics (the group composes together), takes up repeatedly throughout "Phosphorescent Blues."
"Everybody I know is wrestling with that question, of 'What does it mean to me that I have 3,000 friends on Facebook?' ... And I personally certainly have anxiety about that," admits Eldridge. "I tend to not think it's a good thing. That said, the record doesn't take that hard of a stand. Because, who knows, I mean we're all just trying to figure it out. And I think the idea of being preachy about something like this when we're just kind of in the middle of it ... just didn't feel right to us."
Thile is most successful with this ambitious motif when he writes simply and small. "I Blew It Off" is particularly affecting in its picture of technology-enabled alienation: "Your trouble vibrates the table, interrupts my reverie/ I blow it off/ I blow it off/ 'Cause if it's that bad, it ain't getting better face to face with me."
"Phosphorescent Blues" concludes with "Little Lights," a rapturous waltz that begins as a lullaby and transforms into a prayer. The song culminates in a vast chorus of voices, which the band crowd-sourced from their fans on Twitter. The idea, says Eldridge, was to "use social media to actually create something. To actually make something real. ... Those [voices] are a really important part of the climax of that song."
It is gratifying to hear Punch Brothers uncover something beautiful through an exercise in chance. Their music, so often, requires an acrobatic degree of balance, even at its most exhilarating. On "Phosphorescent Blues," they find out what it's like to let go.