Stoneham Theatre And Gloucester Stage Company Host The Apple Family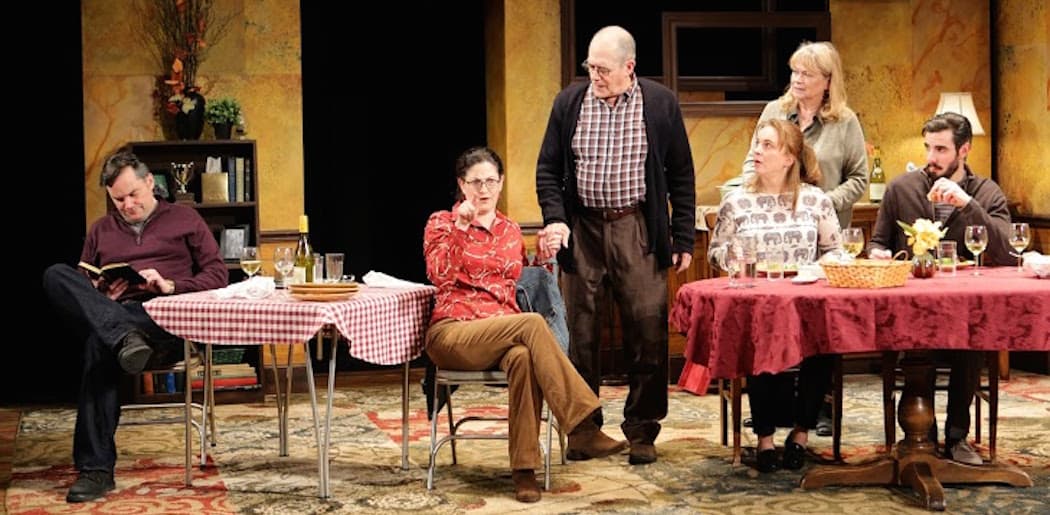 This article is more than 5 years old.
Meet the Apple family of Rhinebeck, New York. As the saying goes, the apple does not fall far from the tree, in this case one with deep Democratic roots. But a few of these orbs are starting to roll, as becomes evident in "That Hopey Changey Thing," a timely if somewhat tepid play seen here in its area premiere by Stoneham Theatre (now until March 15) and Gloucester Stage Company.
The play, by Tony and Obie Award-winner Richard Nelson, is the first of a quartet known as "The Apple Family Plays." Each is connected to an election or significant national anniversary and premiered at New York's Public Theater at the time of its setting. This one, which debuted in 2010, takes place on Election Day of that year as the Dems are being hammered in a midterm election.
Revving up for the returns, the four late-middle-aged Apple siblings and their elderly, amnesiac uncle gather in set designer Crystal Tiala's cozy, gold-hued dining room to share a potluck with plenty of ideological flavoring. Stoneham honcho Weylin Symes, who will direct all four plays over the course of two seasons (half at Stoneham, half in Gloucester), is at the helm of the sharply acted, convincingly familial event.
The play's title, of course, is taken from Sarah Palin's disparaging assessment, based on his own words, of Barack Obama's early presidency. Indeed Palin's name is a devil buzzword here: when brother Richard mischievously utters it, sister Marian, the most Party faithful of the lot, drops her pumpkin pie. But that's late in the evening, after the clan has quaffed a lot of wine, eaten its fill of ameliorative oldest sib Barbara's chicken and thorny Marian's bean salad, and burped up a fair amount of disillusion.
Like Richard, who works for the state of New York, non-fiction writer Jane, with actor boyfriend Tim, is visiting from (sorry) the Big Apple. Barbara, who is a teacher as well as caregiver to the forgetful uncle, and Marian have remained in leafy Rhinebeck (scene of Chelsea Clinton's wedding). The dinner conversation among the six is laced with political debate as well as with encroaching political doubt — though only Richard has a truly treacherous bombshell to drop.
Playwright Nelson has referred to "The Apple Family Plays" as "disposable" because each is so intimately connected to its moment in time. But based on this first outing, the works would seem to be a curious amalgam of the political zeitgeist with the personal dynamics of one particular liberal and well-educated clan. "That Hopey Changey Thing" is as centered on whether Uncle Benjamin's amnesia (an after effect of a heart attack) is a pitiable or a liberating thing as it is on our increasingly divisive national discussion. And it's sometimes hard to discern how the themes of memory and politics fit together.
Successful stage actor Benjamin, in the person of Joel Colodner, a more quizzical than Lear-like presence (despite the play's Shakespearean as well as Chekhovian allusions), speaks eloquently of how his disability has freed him as a performer. He also returns from the polls announcing that he has no idea whom he voted for.
Does this mean it really doesn't matter? Certainly that is the growing suspicion of both Richard and Jane (whose in-progress tome is about American manners), who have come to wonder whether, although the Republicans are polarizing creeps, their own team is much better. And like so many who felt passionately about Obama, they are having trouble connecting the candidate to the President who reversed himself on campaign financing and turned hawkish on Afghanistan. Is winning truly all that counts?
I find myself interested though not compelled to take in the rest of the "Apple" plays, which premiered between 2010 and 2013 and are set, after this one, on the 10th anniversary of 9/11, Election Day 2012, and the 50th anniversary of the Kennedy assassination. I suspect that the plays' power is accumulative because this one, taken on its own, is somewhat diffuse and overly polite: Every time things threaten to heat up, we are distracted by old songs from childhood or hints of a dark family secret that has gone the way of Benjamin's memory. Or the talk turns from our national hurtle to hell in a hand basket to the intestinal indiscretions of an offstage dog.
But whatever you make of the play, Director Symes has put together a winning ticket of actors (who will continue their roles in the upcoming productions). Colodner's turn as the once tense, now benign Benjamin is perhaps too gentle but touching and funny nonetheless. Bill Mootos is a cheerfully passive-aggressive Richard, Laura Latreille a brainy Jane whose family baggage intrudes intriguingly on her composure. Sarah Newhouse's Marian is aptly prickly but earnest. As outsider Tim, Paul Melendy is deferential but holds his own. And anchoring it all is the superb Karen MacDonald, whose Barbara is both the prim peacemaker and the tough adhesive of the clan. I didn't always care what these evening-long nibblers were so articulately going on about. But the keenly felt yet deceptively casual performances made me care about them.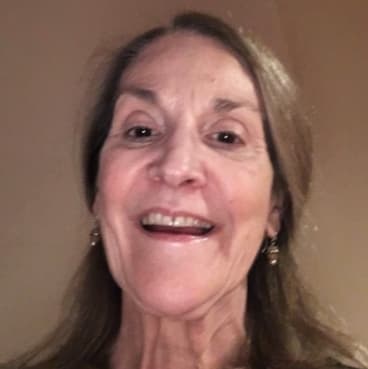 Carolyn Clay Theater Critic
Carolyn Clay, a theater critic for The ARTery, was for many years theater editor and chief drama critic for the Boston Phoenix.