Sleeping Weazel's Festival Celebrates Female Playwrights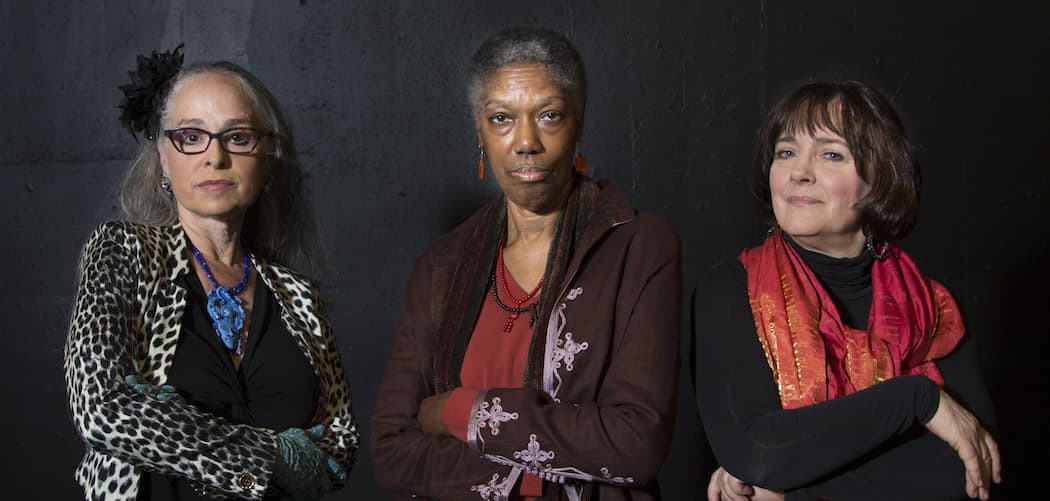 This article is more than 5 years old.
The name of the upcoming Sleeping Weazel festival, "Badass," refers to the female artists behind the featured works. These are Magdalena Gómez, Robbie McCauley and Kate Snodgrass, women in their 60s and 70s who have devoted their lives to art, theater and teaching.
"These three women are not only stellar, award-winning theater artists, but they're also teaching role models," says Sleeping Weazel artistic director Charlotte Meehan. "For me, it's really badass that they've lasted, and that they've continued to make really original work."
Meehan brought these women together to showcase new pieces — a one-act play, a reading, and a performance meditation — for the occasion of Women's History Month. They were delighted to participate.
"They are fans of each other," says Meehan. "They were instantly all thrilled about it.
Snodgrass is the artistic director of Boston Playwrights' Theatre (where "Badass" will be performed) and a playwriting professor at Boston University. She has written such award-winning plays as "Haiku," "The Glider" and "Observatory." Her play in "Badass" is "The Tempest (Or Bark's Dream): A Storm In One Act," which explores Shakespeare alongside themes of coupling and autonomy. The one-act will be directed by Melia Bensussen and performed by Steven Barkhimer.
Gómez is a poet, performer and playwright, who is also the co-founder and artistic director of Teatro V!da, a youth performance group based in Springfield. G
ómez recently published a new book, a poetic memoir called "Shameless Woman." She'll be giving a reading from the book at "Badass" in a performance called "Shameless to the Bone!" Gómez is one of Sleeping Weazel's affiliated artists, having been featured in their 2013 Women's History Month festival called "Women In Action."
McCauley, who has also collaborated with Sleeping Weazel before, will be performing a meditation called "Jazz 'n Class." McCauley is a performance artist and playwright whose work explores the lives of black women in the American South, having won an OBIE award for her play "Sally's Rape." Until recently, she taught in the theater department at Emerson College. "Jazz 'n Class" explores McCauley's relationship with her composer daughter Jessie Montgomery.
"It deals with aesthetics and politics and race and class," says Meehan of McCauley's piece. "But these are all pieces that go to the depths of women's lives."
These works also share an artistic sensibility that fits with Sleeping Weazel's avant-garde approach.
"What we like is work that has high aesthetics and often surreal qualities," Meehan says, "which all three of these pieces have."
Representation is also important to Sleeping Weazel. The company describes itself as aiming to "cultivate the broadest possible audience base through presenting works created by artists collaborating across generations, cultures and genres." "Badass" brings attention to an artistically underrepresented demographic: older women.
"People getting older in our culture don't have less to say; they have more to say," Meehan says. "These women are in their 60s, and one in her 70s, and they are at the height of their powers as artists."
"Badass" will be at Boston Playwrights' Theatre on March 5-7 and March 12-14.