Revisiting Mass Murder In The One-Woman 'Amish Project'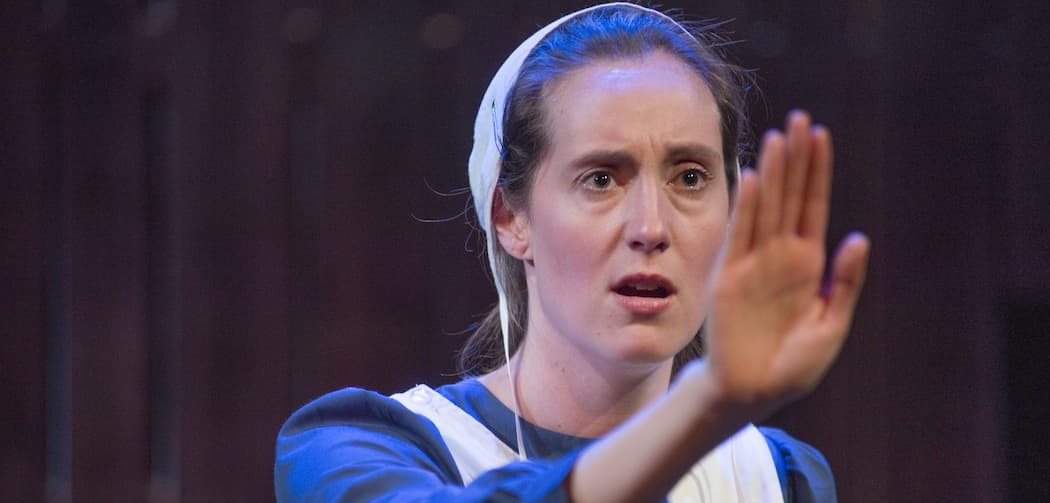 This article is more than 5 years old.
When Elaine Vaan Hogue directed "A Disappearing Number" (originally a devised piece by London-based troupe Complicite) for Underground Railway Theatre a few months ago, she deftly wove competing storylines and timelines, stage projections and an ever-shifting set into a luminous tapestry.
With "The Amish Project," now onstage at New Repertory Theatre (through March 22), she deals with one actress on a spare set with minimal production elements. The result is a soft-focus muddle.
Jessica Dickey wrote this one-act inspired by the 2006 shooting at a one-room Amish schoolhouse in Nickel Mines, Pennsylvania, that left five girls (and their killer) dead. Dickey uses the broad outlines of this specific tragedy but fills in the details — including the details of the attack — from her imagination. (It's unclear why she chose this post-Capote technique rather than writing a wholly fictional response to the event, but let's just mark that down as an artistic choice.)
One of the play's interesting conceits is to examine a calamity by observing the ripples it makes in a community after the fact; it's telling that the relationship between one woman and a teenaged cashier offers some of the more affecting moments. In New Rep's black box space, actress Danielle Kellermann is the one charged with navigating among an indeterminate number of characters — the press release says seven, but I couldn't tell without a scorecard — including some of the young victims, their murderer and his wife. (There's also a college professor conveniently in the mix to add explanatory footnotes.)
In "The Amish Project" we have a play that demands a virtuoso performance to work at all; as in Doug Wright's "I Am My Own Wife," the solo actor either crushes it or is crushed by it. Or perhaps it's just unplayable. It employs narrative jump-cuts that are jarring and increasingly rapid; the technique is better suited to the medium of film, and proves frequently awkward here. (Dickey created the show as writer/performer, and played it in 2009 to the enthusiastic approval of the New York Times on both counts, it's worth noting.)
There are few overt scene breaks, and rather than crafting rhythms that might allow the play's intent to better unfurl, Vaan Hogue has her actress gallop nearly the whole way to the finish. When the director does let a moment land — at a key juncture, a gorgeous lighting cue takes advantage of the features of the schoolhouse-wall set — things finally get a chance to breathe.
Dickey's tossed-off approach to character is tipped by the play's coolly distant title.
Few of them are fully sketched, as written or as performed. Kellermann renders one (or more?) of the girls as a caricature that is almost offensively cloying; when she skips and giggles her way around the stage immediately after an act of violence, it is the very height of audience manipulation.
She does bring a chillingly creepy tinge to the killer, but it's in his wife that we see glimmers of a much more convincing performance and play. She's the only character whose emotional state we see from multiple angles, and you can feel the impossible dilemma of her dual position as both victim and villain-by-proxy. It feels like Dickey has a full play on this topic within her, and I'd be happy to see Kellermann's work on such a piece.
There are plenty of literary gears moving in this ambitious play. Some (like the repetition of the word "pink") I didn't fully grok on one listening, but others are ostensibly meant to cohere into a statement about forgiveness, treatment of "the other" and the essential unity of humanity.
But ultimately this is a very showy performance that reveals far less than it intends.
Jeremy D. Goodwin contributes regularly to the Boston Globe. Among other venues, his work has been seen in American Theatre and heard on New England Public Radio. Follow him on Twitter @jeremydgoodwin. Browse some other work here.