'The Colored Museum' Takes No Prisoners At The Huntington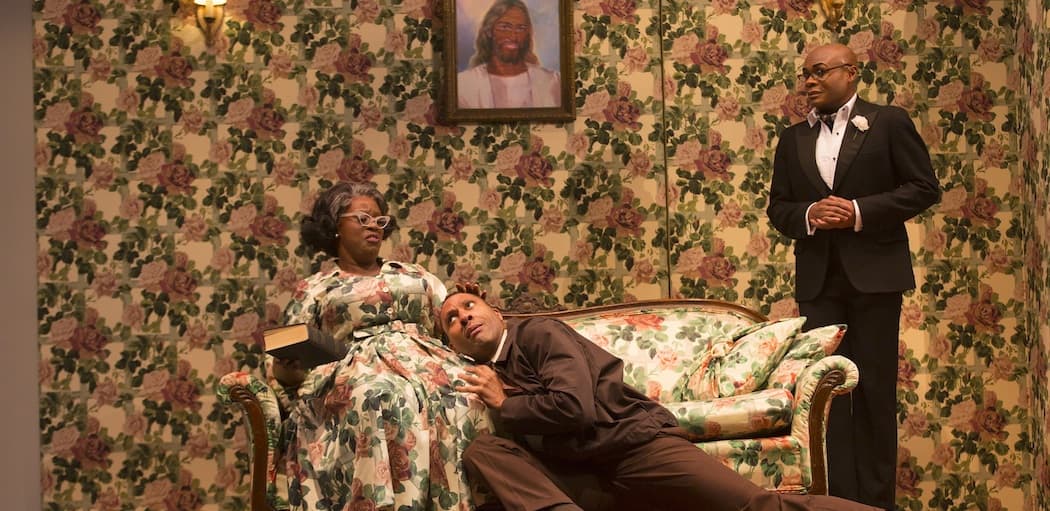 This article is more than 5 years old.
"The Colored Museum" isn't for people who prefer to see their sacred cows on pedestals, not carved up and tossed onto piping hot grills. Throughout George C. Wolfe's one-act play at the Huntington Theatre Company's mainstage, nothing is safe in this satire of African-American cultural tropes and clichés — not Jesus-loving black mamas, the emotional currents of black hair, or the uncivil war many African-Americans wage internally between who they are and who they think they need to be in the white mainstream.
Briskly directed and choreographed by Billy Porter, best known for his Tony Award-winning turn in the Broadway musical "Kinky Boots," "The Colored Museum" (through April 5) is as much a provocation as a work of art. Presented on a rotating stage set, the 100-minute play eschews a traditional narrative for 11 "exhibits," sketches of varying length featuring its five versatile actors — Nathan Lee Graham, Capathia Jenkins, Ken Robinson, Shayna Small, and Rema Webb — in multiple roles, as well as a percussionist, Akili Jamal Haynes.
"Git on Board," sets the play's audacious blueprint. As Miss Pat, Small plays a cheery flight attendant welcoming passengers to the "celebrity slave ship," as she advises them to keep their shackles fastened, and to avoid any playing of drums. She riffs on William Faulkner, George Gershwin's "Porgy and Bess," and millionaire black basketball players, and it's as unnerving as it is funny.
That's also the case with "Cookin with Aunt Ethel," in which Jenkins plays the titular down-home Southern cook on a TV show, singing about her special recipe featuring, among other things, "A heap of survival, humility – just a touch. And add some attitude — whoops, I put in too much!" Jenkins's big, powerful voice is a standout, and her comedic skills sell the skit's irreverent, jarring denouement.
In "The Hairpiece," two talking "wigs," — Jenkins, as a bodacious Afro, and Small, as a straight, bouncy 'do — argue about which coiffure will better serve its wearer when she dumps her boyfriend. It's hilarious and deliciously on-point as it showcases the fact that for many African-American women, their hair is as much a socio-political statement as a fashion choice.
Arguably, the showstopper is "The Last Mama-on-the-Couch Play," which finds its target in Lorraine Hansberry's classic, "A Raisin in the Sun." It's a lacerating send-up of plays that lean on familiar black stereotypes such as the wailing, long-suffering mama (Jenkins), the discontented son always howling about "The Man" (Robinson), and the wife who speaks and acts as if life is a never-ending poetry slam (Webb). Yet it also targets those, of all races, who only seem to respond positively to African-Americans in those well-worn roles. Both Wolfe and Porter pull this off without a bullhorn, always remembering that this is a play, not a protest.
That's not to say that "The Colored Museum" doesn't have moments that echo today's racial strife and discontent. When an unarmed black man is shot multiple times by the police, it chills "The Last Mama-on-the-Couch Play" in a way Wolfe could not have anticipated. (Kudos to Porter for leaving it in.) In "Symbiosis," Robinson is a man literally trying to throw away his blackness for mainstream acceptance. "Being black is too emotionally taxing," he proclaims, "therefore I will be black only on weekends and holidays."
For a play written more than a quarter-century ago, there's very little rust here since so many of its situations are, sadly, still relevant. Yet, fleeting moments show its age. In "Symbiosis," Robinson tosses away photos of Stokely Carmichael and Donna Summer, names that would have made sense for someone who grew up in the 1960s and 1970s, but don't have the same currency for a black person raised in the '80s and '90s. Hip-hop doesn't come up at all, but in 1986, it also wasn't the impossible-to-ignore cultural force it would eventually become.
There are small efforts to contemporize the play. In "The Party," a reference to Aunt Jemima and Angela Davis "goin' off" about South Africa has been changed to Ferguson, as in the once-unknown Missouri city now synonymous with race-based predation by law enforcement and birth of the "Black Lives Matter" movement.
Like "Chappelle's Show" and "Key & Peele," his clear descendants, Wolfe isn't just interested in comedy. There's serious jousting here, with the kind of fierce anger and love one can only express toward those for whom they have a deep, abiding affection; he kids, because he cares. Still, anyone who walks away from "The Colored Museum" with nothing more than an evening of laughs has mostly missed the real punch line.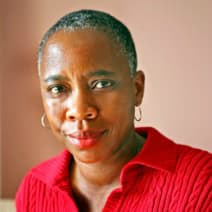 Renee Graham Contributor
Renee Graham is pop culture correspondent for WBUR's Here & Now and The ARTery, and was a longtime arts writer and pop culture columnist for The Boston Globe.