Celebrity Series Experiments With An Unbuttoned Week Of Stave Sessions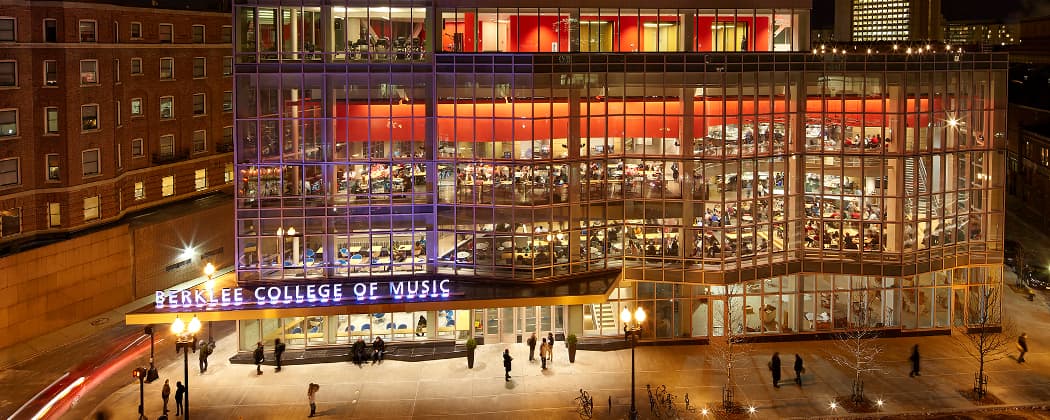 This article is more than 6 years old.
"It may be a little harder to explain, and they may be simultaneously blending genres, but these are absolutely authentic artists," says Gary Dunning, executive director of the Celebrity Series of Boston. "We want to show a wider range of what's happening here and now."
Dunning is talking about the Celebrity Series' latest venture, the Stave Sessions, a definitely unbuttoned week of presentations that will take place at Berklee College of Music's new performance center on Mass. Ave.
Set in a café style room, these concerts are not about unknown artists trying to make it. We're talking Grammy Award winners, successful Broadway composers and Carnegie Hall-performing quartets.
It's just that the names don't trip off the musical tongue, like typical Celebrity Series artists. No Yo-Yo's, Anne Sophies or Renées in this lot. Stave Sessions features Roomful of Teeth, Brooklyn Rider and Gabriel Kahane, all dynamos in their own right, but not your typical off-the-top-shelf Celebrity Series presentation.
"These artists have different influences," Dunning says. "Talking about artists doing fusion, or crossing over, is over-used. Their music is an expansion. And this is another expansion for us. We're taking on a curatorial role that people don't normally think of us doing."
There have been other attempts by the Celebrity Series to grow their core audience, and bring lesser known artists to the stage. The current Debut Series is a case in point: Artists that would not sell out Symphony Hall or even Jordan Hall are being presented at Longy School of Music's Pickman Hall.
In the more distant past, the Emerging Artists series (later called the Boston Marquee series), spearheaded by then-executive director Walter Pierce, brought young artists to more prominent venues. "I'm not sure we ever made it back financially," Pierce says, "but I think it was what we were supposed to do. We had to be the ones that presented these artists."
Pierce had some notable artistic successes. He first presented the late mezzo Lorraine Hunt Lieberson at Jordan Hall back in 1993. That series also offered pianists Max Levinson and Judith Gordon—and others who have had robust careers—their first main stage gigs.
Just two years ago, pianist Daniil Trifonov opened in the Debut Series at Pickman Hall. Who? Trifonov, the same pianist who has since performed with the Boston Symphony Orchestra, the New York Philharmonic and who is coming back under the Celebrity Series banner to give a recital this March at Jordan Hall.
Dunning can't count on rapid ascents like that all the time, but the Stave Sessions offers many possibilities as a counterweight for the usual shirt-and-tie evenings. He's had his eye on the new Berklee performing space since it opened last year; the Stave Sessions coincides with that school's spring break, so Dunning and his staff can move in and take over.
"Amy Lam (Celebrity Series' artistic programmer) and I have been looking at different venues, and a festival format, for a couple of years now," Dunning says. "We hadn't solved the venue problem until we saw this and thought, 'This can work.'"
The Berklee hall, simply called 160 Massachusetts Ave., houses dorms, practice rooms, a recording complex, a fitness center and a performance space that doubles as a dining hall. For this series, the performance space will be configured with seats and café tables, with standing room in a balcony as well.
"They might be more highly produced that they're used to," Dunning says of the artists. "We're putting our level of standards out there. We can make them sound good, and look really good.
"And I think we have a lot to learn from them as well about the concert experience," he says. "The audience they bring in will help us learn more about what a socially engaged concert experience is like. But I'm truly confident about it. When you bring in good artists, a good audience will follow.
"It's a wider aperture for us, but I'm already planning on doing it again next year. From an institutional point of view, I see it as being consistent with our mission: bring in quality."
---
The Celebrity Series presents Stave Sessions, March 15-21 at the Berklee College of Music, 160 Mass. Ave., Boston. Tickets are available at www.celebrityseries.org. Here's the week's lineup:
Sunday, March 15
Banda Magda (opening act, Chorobop): Greek-born singer Magda Gianniko plays bossa-styled music with a Euro-pop twist. Berklee alumni and students will also kick off the festival.
Wednesday, March 18
Roomful of Teeth: Versatile a cappella octet investigates every vocal technique: opera, Tuvan throat singing, yodeling and other exotic styles. 2014 Grammy Award winners.
Thursday, March 19
Ben Sollee and Becca Stevens Band: Cellist and storyteller Ben Sollee weaves music and tales from his Kentucky upbringing. Stevens also mines her Appalachian-based roots, and has collaborated with Kronos Quartet, Esperanza Spalding, Brad Mehldau and others.
Friday, March 20
Brooklyn Rider: Eclectic quartet whose latest project, Brooklyn Rider Almanac, features compositions by Bill Frisell, Christina Courtin, Vijay Iver and others.
Saturday, March 21
Third Coast Percussion: Quartet of percussionists who expand the reach of their instruments through collaborations with multiple composers, and their own compositions.
Keith Powers, former music critic at the Boston Herald, now freelances for a number of newspapers and magazines. Follow him on Twitter at @PowersKeith.
Keith Powers Classical Music Writer
Keith Powers is a classical music critic for The ARTery.