Becca Stevens Mixes Indie Rock, Jazz, R&B Into A 'Perfect Animal'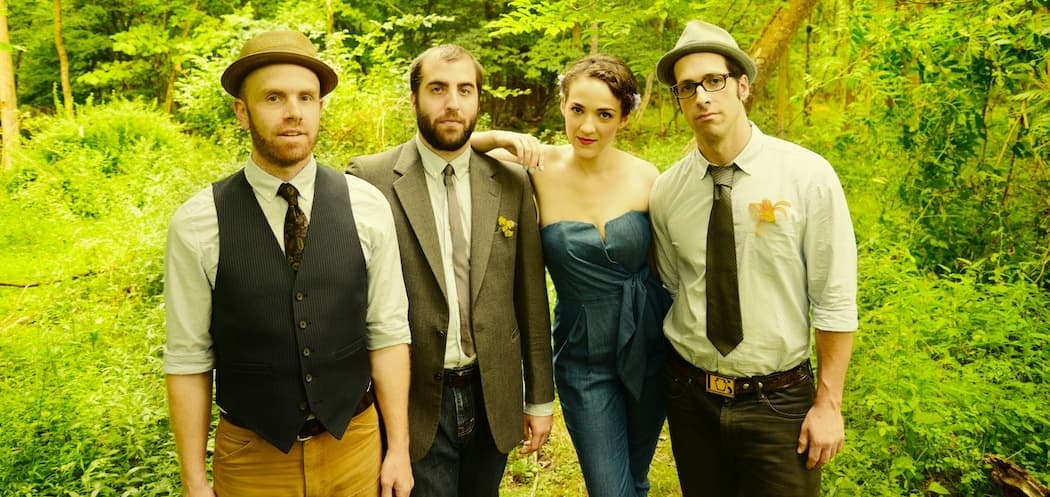 This article is more than 5 years old.
Stave Sessions, the new music festival presented by the Celebrity Series of Boston, is subtitled "Listen outside the lines." How fitting to include Becca Stevens as a featured artist. Stevens is a melting pot of jazz vocalist, singer-songwriter, indie rocker and R&B artist, topped off by a charmingly introspective personality. In other words, she's outside the box, outside the lines, and completely original.
The Becca Stevens Band, the vehicle for Stevens' original music and sound, will be sharing two sets with cellist/vocalist Ben Sollee on Thursday, March 19, at Berklee's new 160 Mass Ave. building as part of the week-long festival. Stevens's third album, "Perfect Animal," will be released April 7.
Stevens was studying vocal jazz and composition at the New School for Jazz and Contemporary Music when she formed her band. They started recording and touring right away, building a dedicated fan base. Along the way, she has collaborated with musicians like Taylor Eigsti, Travis Sullivan's Bjorkestra and, most recently, Billy Childs, on his Grammy Nominated Laura Nyro tribute album. "Perfect Animal" was crowd funded through a PledgeMusic page and features all original songs and arrangements by Stevens.
I talked to her about the album, her collaborations, and writing music.
Claire Dickson: How do you think "Perfect Animal" is different from your other projects
When I was writing the music for "Perfect Animal," I was listening to a lot of BIG sounding records. Indie rock masterpieces, lush layered West African music & Irish folk and brilliantly produced pop and R&B. I was inspired to take advantage of the opportunities that a studio environment has to offer when I recorded "Perfect Animal," because it seemed right for this body of music. That was a different approach than my vision for my last record, "Weightless," where we only recorded the sounds that you'd hear if you came to hear us live.
What was the transition like going from North Carolina, where you grew up, to The New School and NYC?
I graduated high school from North Carolina School of the Arts in '02 where I studied classical guitar. I took a year off, giving myself some time to really sit with my visions, and figure out where I wanted to be. During that year, I played and sang in a band with my brother, and taught at the daycare that I went to as a baby. With the space I gave myself from school, I started to miss the academic environment, and to really look forward to college. I knew I wanted to focus on voice wherever I went, which felt like a return to my roots. I also slowly realized that of all the places in the world, I wanted to be in New York. I auditioned for the vocal jazz department at the New School and got in. The transition was pretty seamless. I really wanted to be there so I just dove in completely. It was a very different environment from my life in North Carolina, but it felt right, and I loved being there and meeting new people and getting the most out of the experience as I could.
How did that change influence your music?
New York seemed to welcome me with open arms. I felt I could be myself there. It was a place of self discovery for me, and finding my voice. It was a necessary adventure for me and my music to be there and find my independence from the rich musical upbringing of my childhood and adolescence.
Around my second year at the New School I started to get encouragement from my teachers and peers to bring my original music to classes and ensembles. That support got me playing the guitar again and writing music for my classes. Those songs made up the material for most of my first record, "Tea Bye Sea." My band mates in that first version of the band were all guys I met at the New School.
On your Pledgemusic page for "Perfect Animal" pledgers have been able to hear the evolution of some of your songs in early demo recordings. Before these home recorded rough drafts, where does the idea of a song start for you?
I don't have one simple answer to this question. My writing process starts with an idea, or a thought, like any work of art. And before that, inspiration. Sometimes I have to dig up the inspiration, and other times it just comes along and falls in my lap or hits me across the head. Often I start on an instrument, chasing the energy of a thought or a feel by cycling some sort of rhythmic or harmonic pattern, and then letting melodies and vowels come through as they may. Other times I challenge myself by journaling from the perspective of the concept I'm dreaming up, until that journaling starts to fall into some sort of verse or rhythmic pattern and then filling in the music around that text. But most of the time, the ideas don't come in a set order. There may be order at first, but once I get into the middle of a song, it becomes like valet parking, or one of those puzzles where you move the pieces around within a frame until you finish the puzzle but if ones out of place you have to move them all around to get it where it needs to be.
"You Make Me Wanna" is one of the cover songs on the new album. Walk me through the process of arranging and recording that track.
That one started with me deconstructing the original a bit. I took a few prominent words from the text "before anything… the one I'm with… relationship…" and created a sort of disjointed vocal intro to the song. Then wrote a guitar part to go underneath it that was similar to the guitar part in the original, but in the changing meter of the vocal intro. I used my toy casio keyboard to accompany myself in the home demo that I made, which ended up inspiring one of the bass lines in one of the sections. Aside from that, everything from arranging that song is sort of a blur. I layered the ideas in GarageBand as they came to me. I remember thinking while I was writing/recording the arrangement, "oh great, I'm finally writing an arrangement that's pretty straight forward and kind of normal!" It wasn't until I shared it with my band that I realized it was one of the most NOT normal arrangements I'd ever written.
How does leading your own band compare with participating as a guest on projects like Billy Childs' or Ambrose Akinmusire's?
It's very different! Down to every detail. For one, I can travel much lighter with Billy and Ambrose. Ha! I can just walk into the airport with one bag, rather than four. With my band I travel with my guitar in a big travel case, ukulele & charango in a joint bag, and a bag with merch and my computer in it, and a suitcase for my clothes and mics and cables.
In those times when I don't perform with the guitar, (like with Billy and Ambrose) it's a different performing experience for me, emotionally and physically. Not better or worse, but very different.
Also leading a band takes a lot more mental and physical energy than guesting with someone else. I have to be on, all the time. At this point in my career, I'm still the tour manager, as well as the bandleader and lead singer. After a tour with my band, everything else feels easier in comparison. It's exhausting schlepping all my equipment around and making sure everyone gets where they need to be, communicating with promoters and managers, and then performing my heart out every night. But the truth is I'm living my dream, and all the moving pieces are necessary to get to the next stage, and then the next one, and the next.
Claire Dickson Contributor, The ARTery
Claire Dickson is a jazz vocalist and writer studying at Harvard College.