Belle And Sebastian's 'Girls In Peacetime': Zippy Electro-Pop By Indie Royalty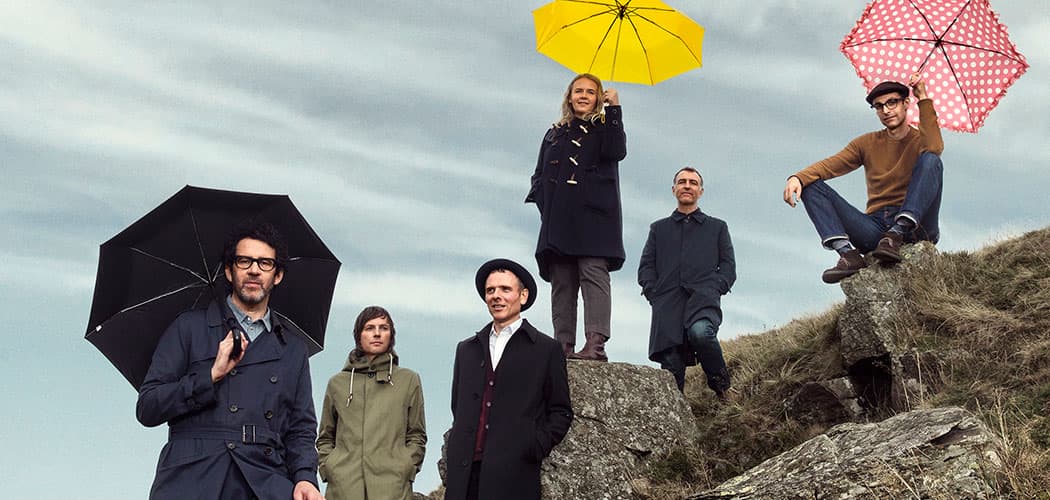 This article is more than 5 years old.
There is no rule that says that if you want to write intimate, story-driven pop songs you must also sing in a conspiratorial near-whisper and compose in pastel colors and with bookish references. Nor must you employ trumpets or handclaps. If you set your mind to it, you can produce zippy electro-pop numbers containing all the delicate detail of a dog-eared favorite novel, familiar and endlessly pleasing.
That seems to be the prevailing message of "Girls in Peacetime Want to Dance," the latest effort from Belle and Sebastian, Scotland's eccentric elder indie-pop royalty. (They play House of Blues in Boston on March 30.) The group, led by frontman Stuart Murdoch, earned their indie accolades in the late '90s with the sort of wistful baroque pop with which they are now instinctively associated, but over the past decade they have developed a more produced sound and a playful, uncanny ability to recycle vintage pop miscellany with their distinguishing stamp of literate wit. "Girls in Peacetime Want to Dance" is their most danceable and, arguably, their least quintessentially Belle and Sebastian-ish album.
"When we were kind of getting [the songs] together in the rehearsal room, Stuart [Murdoch] definitely had a vision for a few of them: a kind of Europop sound, going back to the 1980s probably," says drummer Richard Colburn. "And even some of the Pet Shop Boys records were sort of referenced in a few of the songs. But I think the songs themselves kind of demanded that. Rather than us giving a sound a song, the song kind of told us what it wanted, [that] sort of thing. So it was kind of, as we were going along, it was quite obvious some of them needed to be quite different to what we've kind of done before."
Belle and Sebastian's early reputation as beloved cult indie rockers with a nonconformist mystique—there was a period towards the beginning when the band refused to talk to the press—is still difficult to square with their transformation into a venerable pop institution. Their first two LPs, 1996's "Tigermilk" and "If You're Feeling Sinister," conjured a heady, wryly-written world populated by lonely youth and half-spoken regrets. Their audience built a devoted community through Internet chatrooms and fanzines, bonded by arty interests and a shared sense of outsiderness. Belle and Sebastian's first two albums were written entirely by Murdoch. When the band switched to a more co-operative process on their next album, "The Boy With the Arab Strap," with song contributions from other band members, there was critical backlash—did the group's newfound egalitarianism come at the price of Murdoch's distinctive style? At the same time, the band experienced unprecedented success, winning Best British Newcomer at the 1999 BRIT Awards.
Since 2003's "Dear Catastrophe Waitress," Belle and Sebastian have maintained a relatively even keel, producing new material at a slower but regular pace, and tinkering happily with texture and tone. "Girls in Peacetime Want to Dance" is their ninth full-length album. It opens with the gently euphoric "Nobody's Empire," which Murdoch wrote in reference to his pre-Belle and Sebastian bout with chronic fatigue syndrome. "I clung to the bed, and I clung to the past/ I clung to the welcome darkness/ But at the end of the night/ There's a green green light/ The quiet before the madness," he sings, his voice falling, resigned. But the song slowly ramps up, its honeyed harmonies belying the melancholy at its core.
In a sense, "Nobody's Empire" is an outlier for its autobiographical bent; most of Murdoch's songs are imaginative yarns characterized by droll humor. He writes some of his best lines on "Girls in Peacetime Want to Dance." On the sunny, calypso-tinged "Perfect Couples" he evokes a particular kind of yuppie dissatisfaction, with references to organic figs and the blithe deployment of 10-point vocabulary: "Those perfect couples are breaking up/ What have they done?/ Don't make me feel so good/ Expect that stuff in Hollywood/ Not in my current milieu." On the other end of the spectrum is "Party Line," one of the album's most unabashedly electronic pieces. The song was conceptualized by guitarist Bobby Kildea, who asked Murdoch to jettison his detailed narratives in favor of lyrics with universal appeal. The result is the closest thing to a Belle and Sebastian dance club anthem, though of course it turns on a neat bit of wordplay: "There is nobody here but your body dear/ Jump to the beat of a party line."
Thanks to intricate percussion and dense, dazzling synths, "Girls in Peacetime Want to Dance" glimmers with a slick lavender sheen. Colburn attributes the album's buoyant sonic quality in part to the band's producer, Ben H. Allen, who produced albums by Cee Lo Green and Washed Out and engineered Puff Daddy's 1999 LP "Forever."
"I think because we were working with Ben Allen, and Ben—some of the songs were new ground for us, sonically speaking especially—he's a sort of specialist in that kind of thing," Colburn explains. "He has a background in electronic music. So we thought it might be fun to have him maybe contribute more than we've had producers contribute in the past."
Allen may account somewhat for Belle and Sebastian's newfound twinkle, but really, the band has always had a penchant for change. And it is impressive that they can still surprise after all this time. Although to hear Colburn tell it, their continued vibrancy is due mainly to boring old professionalism.
"We've definitely gone through our ups and downs over the years. More in the first 10 years rather than the second 10 years," he says. "I don't know, I think we just—we just tolerate each other. In the best possible way. I think that we're very respectful of each other. And we have a very good filter system: if something's working, you go with it, and if something's not, you just drop it, and everybody's cool with that. You know, you don't have the ego so much going on."
It now seems a strange act of prescience that Belle and Sebastian, on their debut album "Tigermilk," included the song "Electronic Renaissance." The track, a zany, commenting-on-itself synth experiment, contains lyrics like "If you dance for much very longer/ You'll be known as the boy who's always dancing" and a reverb effect so heavy that Murdoch's voice runs over itself in a muddle.
There is no doubt that "Girls in Peacetime Want to Dance" takes bubblegum much more seriously. But a sliver of that old waggishness remains. You can find it in "The Everlasting Muse," a swingy, bossa nova-inspired number (which, it must be acknowledged, contains both trumpets and handclaps) in which Murdoch adds humorous new dimensions to the age-old trope of Woman as the source of artistic inspiration. "She pays the bill and smokes cigars/ And on the napkin silk/ She weaves a manuscript with skill/ Intro, outro, middle eight." Perhaps, beneath all that irony, a stealthy earnestness lived all along. "A subtle gift to modern rock/ She says, 'be popular, play pop'/ And you will win my love."