Boston Underground Film Festival: Unabashedly Not For Everyone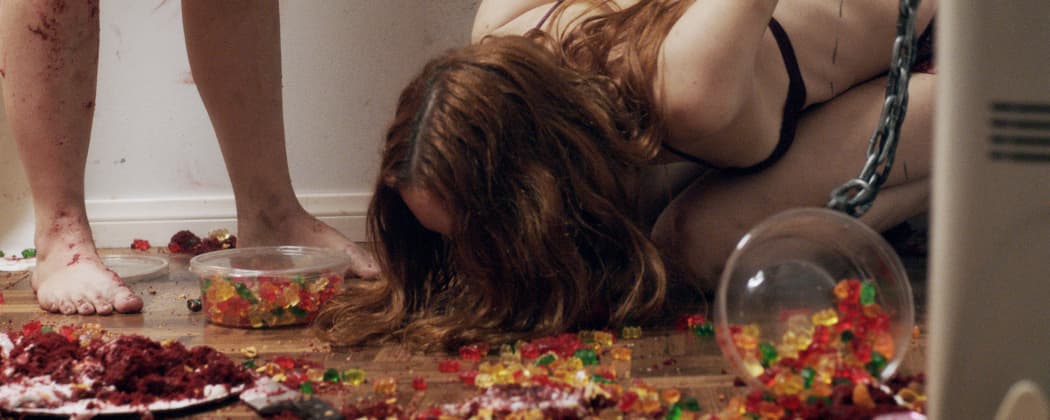 This article is more than 5 years old.
Multiple Academy Award-winning filmmaker Ang Lee once said, "I try to please everyone." The filmmakers of the Boston Underground Film Festival selections, those vying for the Bacchus Award — an honor that takes the shape of a demonic bunny trophy — likely don't create guided by this philosophy. On the contrary, the films of BUFF are unabashedly not-for-everyone, a proud tradition of the 17-year-old festival, which opened March 25 at Cambridge's Brattle Theatre.
Programming director Nicole McControversy says the motley selection of films is akin to what you'd find at a larger festival's late-night screenings. "We try to do that around the clock — five days of that."
A ripe example is body horror flick, "Excess Flesh," which saw its world premiere earlier this month at a midnight SXSW screening. The film opens to a row of swaying palm trees reflected like prison bars onto a sun-soaked Los Angeles high-rise, as a voiceover denounces a size-4 dress as "plus-size," introducing the toxic world the two central characters, roommates Jennifer (Mary Loveless) and Jill (Bethany Orr), are products of. The young women, who are rarely seen outside their gumball-colored apartment, are opposites in almost every respect, except a shared address, similar hair color and their unhealthy relationship with food.
With sassy and confident Jennifer, her oral fixation manifests in a sickeningly gluttonous and sloppy manner, and Jill, fragile and impressionable, starves in envy, binges in self-hatred and seeks satisfaction in purging. In one early scene, the pair share their current cravings, piling hypothetical chili onto a frosted Pop Tart — but the talk is just the beginning. Exaggerated eating rituals are vibrantly filmed in slow motion and closeups in the same way physical violence may be showcased in a torture porn. But food isn't the monster of this story; evil is found in the hefty servings of personal traumas, emotional abuse, social pressures and unattainable cultural standards that pig pile on a person until they are void of a sense of self. In this story, that precarious recipe also leads to psychosis and other surprises.
Handled both thoughtfully and perhaps over gratuitously (especially in regards to one scene of domestic abuse) by first-time feature director Patrick Kennelly, "Excess Flesh," playing on Thursday at 9:55 p.m. with Kennelly and Orr in attendance, epitomizes the type of challenging and unique narratives BUFF delivers.
Hardly horrific, but equally niche is "Remedy," a loosely autobiographical film about the business of BDSM. While mainstream moviegoers and mass market paperback page-turners latch onto the "50 Shades" fairy tale, BUFF offers Cheyenne Picardo's unsexy, yet sex-positive portrayal of a professional switch (both dominant and submissive).
"How's your bondage?"
"I can't even wrap gifts."
"Fabulous — fewer bad habits to unlearn."
This exchange is between a twentysomething New Yorker who assumes the name Mistress Remedy (Kira Davies) after answering a classified ad at a dungeon, as they are called, and her new co-worker. Were Remedy a fresh barista hire at a coffee shop the conversation might go exactly the same way — just sub sex knots with steaming milk and pulling shots. At its core, "Remedy" is a workplace drama in which Picardo uses the lens of her lead lady to demystify the professional BDSM environment. To stick with the metaphor, customer interactions are presented no differently than serving a regular a large coffee or whipping a newbie up a caramel latte (customers are also complained about in a similar manner). What's at stake here, however, is Remedy's psychological well-being as she fights to succeed at a career she may not be cut out for and threatens to push her sexual boundaries too far.
Editing is twitchy and episodic scenes vary in length from elongated client sessions to mere snapshots. The effect is the feeling like you're diving into someone's fragmented memory, and in a way, you are as Picardo has compiled the narratives from her own work experience. It's in that authentic feel and its unfussy aesthetic that "Remedy," playing midnight on March 27, impresses.
Perhaps one of the "safer" films of the festival is "We Are Still Here," a retrograde "Poltergeist"-esque haunted house tale. And much like the New England mansion on screen, the film, playing March 28 at 6:55 p.m., has a history.
During the 2013 installment of BUFF, director Ted Geoghegan was employed as the festival publicist where he met his future producer Travis Stevens, as well as stars Kelsea Dakota and Michael Patrick Nicholson. Together they've constructed the tale of the Sacchettis, who escape city life after a car accident takes the life of their only son. The home they seek solace in, however, has skeletons in its closet … and by that I mean flesh-hungry, charred ghosts in the basement, the ghosts of the tenants who resided in the house decades before the couple's arrival. Seances, possessions and shadowy figures all come into play as the truth about the house as well as the mysterious townsmen come to light, and as the body count piles up.
In a time when new releases like "Unfriended" are imminent, it's refreshing to leave the technology as spook-catalyst behind and relish a film that pays tribute to the horror genre by simply sending its characters into the dark, dingy cellar to meet their predictable and nonetheless startling demise.
For those of the tribe that enjoy all things insane and bizarre, there is plenty more to unearth during the five days of screenings and celebrations that is the Boston Underground Film Festival.
Susanna Jackson's writing has been featured in Art New England, Boston Globe and DigBoston. You can find her on Twitter @suedoesnttweet.