Benjamin Zander Conducts Wagner, And Andris Nelsons Is Back At The BSO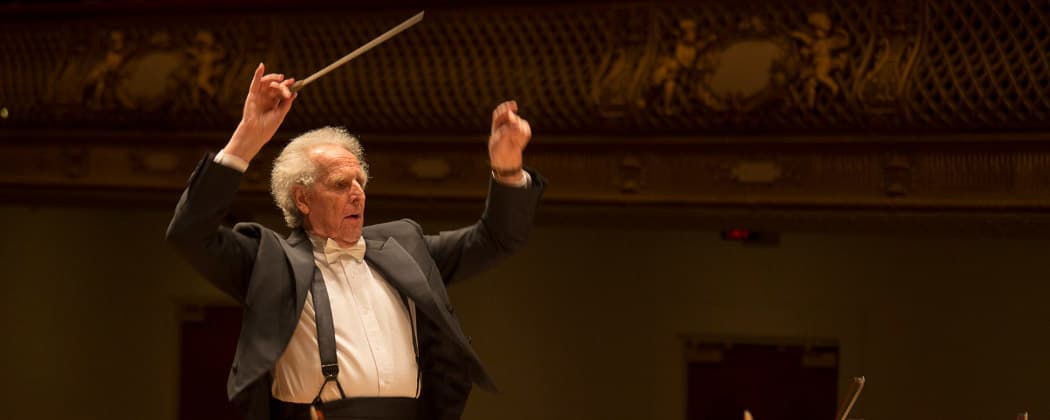 This article is more than 5 years old.
Benjamin Zander, music director of the Boston Philharmonic, is probably best known as our major Mahler conductor, but he's stepping back from Mahler into the world of Wagner. He's leading Wagner's "Tannhäuser Overture" (April 16 and 19 at Sanders Theatre, April 18 at Jordan Hall), on a program with the Saint Säens Cello Concerto, with cellist Jonah Ellsworth, and Berlioz's Satanic "Symphonie Fantastique," and a week later, he's taking a giant leap into the world of Wagnerian opera, leading his impressive Boston Philharmonic Youth Orchestra in no less than the thrilling third act of "Siegfried," the third opera in Wagner's epic Ring Cycle (April 26, Symphony Hall). The exciting British soprano Allwyn Mellor, who sang the role in the Seattle Opera's 2013 Ring, is the awakened Brünnhilde.
She'll be joined by another international Wagnerian, German tenor Stefan Vinke, Seattle's Siegfried, Metropolitan Opera bass-baritone Mark Delavan as Wotan and Australian mezzo-soprano Deborah Humble as the earth goddess Erda (Brünnhilde's mother). This promises to be a major musical event! Here's more information.
The jury is still out over the BSO's new young music director, Andris Nelsons, and is likely to remain so until he really settles in. His appearances with the BSO have been hit and miss—sometimes, as with his concert version of Richard Strauss's "Salome," almost a triumph (many people admired it more than I did); sometimes, as with his leaden "Tannhäuser Overture" (you can hear it on a BSO CD), or bland Stravinsky "Rite of Spring," or shapeless Beethoven Fifth at Tanglewood, profound disappointments; while the solid hits (Tchaikovsky's "Pathétique," Gubaidulina's "Offertorium") have been fewer and farther between. He returns to complete his BSO commitments for the Spring season for one concert at the end of March (featuring a premiere by Boston composer Michael Gandolfi for organ and orchestra and one of any conductor's greatest musical challenges, Mahler's Sixth Symphony) and for two programs in April that offer considerable promise.
He begins the month (April 2-4), with a program centered on one of the major composers Nelsons's predecessor essentially eschewed, Dmitri Shostakovich. Nelsons opens with a piece new to the BSO, the Passacaglia from Shostakovich's hair-raising and controversial opera (recently a great success at the Met), "Lady Macbeth of Mtsensk" (a work that got the composer into serious hot water with the Soviet government), which—along with the Gubaidulina concerto may be Nelsons's most well-considered choice in modern music, a piece I'm especially eager to hear him conduct. The program ends with Shostakovich's important and vast (maybe also a bit bloated) Symphony No. 10, his later response to Stalin's repression and composed shortly after the dictator's death. In between, there's more familiar territory, the Beethoven Violin Concerto with the stellar German violinist Christian Tetzlaff, one of the few violinists one feels might actually reveal something fresh about this warhorse, especially in the context of these two Shostakovich works. It's one of Nelsons's more considered programs.
The following week (April 9-11 and 14), Nelsons will be back leading the BSO in one of its most appealing recent commissions, Gunther Schuller's autobiographical, phantasmagorical "Dreamscape," which had its premiere at Tanglewood in 2012, played by the impressive students of the Tanglewood Music Center Orchestra. The program closes with the most famous and self-congratulatory tour de force of musical autobiography in the repertory, Richard Strauss's "Ein Heldenleben" ("A Hero's Life"—the hero being who else but himself). And in between, another concerto, Mozart's last and most achingly intimate, No. 27 in B-flat, with the celebrated American pianist Richard Goode.
Lloyd Schwartz is a music critic for NPR's Fresh Air and Senior Editor of Classical Music for New York Arts. Longtime Classical Music Editor of The Boston Phoenix, he was awarded the Pulitzer Prize for criticism in 1994. He is the Frederick S. Troy Professor of English at the University of Massachusetts Boston. Follow him on Twitter @LloydSchwartz.