Spring Theater: Shakespeare In His Cups; Mandy Patinkin At A.R.T.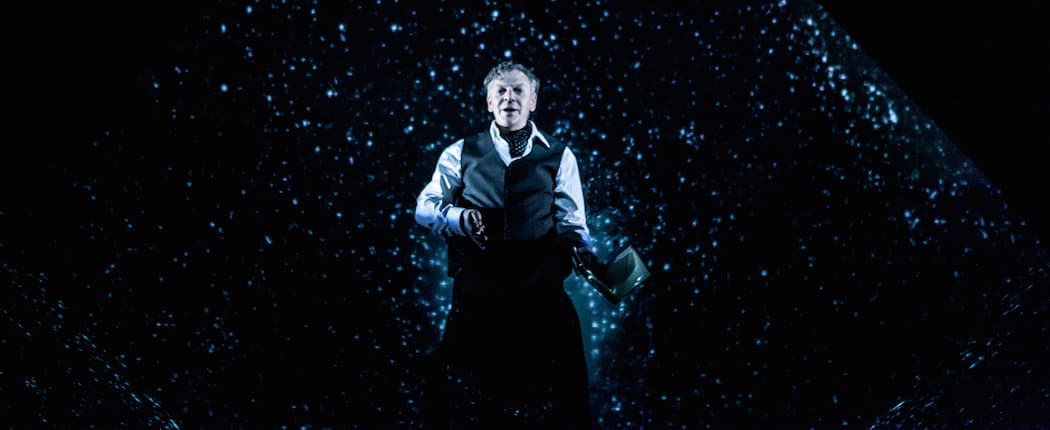 This article is more than 5 years old.
After the winter we've been through, we should be served "Spring Awakening" or at least "Springtime for Hitler." They're not on the menu for April or May, but neither, thank Thespis, are "The Snow Queen" or "The Winter's Tale." Instead we can look forward to, among other things theatrical, singing along with Walt Whitman, dates with Shrek and God, Shakespeare both drunken and obscure, and an apocalypse in song and dance. Here's what's coming up on the Rialto.
"Needles and Opium" | Emerson/Cutler Majestic Theater | April 9-12 | Canadian visionary Robert Lepage, founder of the troupe Ex Machina, revisits his breakout work from 1991, a reverie on dependence that connects Jean Cocteau (partial to opium), Miles Davis (whose drug was heroin), and a lonely Québécois holed up in a Paris hotel trying to forget a former lover. Set in a cube suspended in air, the new production, via ArtsEmerson, is said to be more sensual and three-dimensional than the first. It also adds a character — with Mark Labrèche as the Lepage figure and gymnast/break dancer Wellesley Robertson III standing in for Davis.
"Ulysses on Bottles" | Jackie Liebergott Black Box at Emerson/Paramount Center | April 9-25 | ArtsEmerson presents the first full production by Boston-based Israeli Stage. It's the North American premiere of Gilad Evron's 2012 Israel Theater Prize winner centered on questions of absolute morality and personal freedom. The play introduces strange bedfellows whose shared mattress is a prison. One is the title character, an Israeli-Arab teacher arrested for illegally entering Gaza on a raft of bottles, ostensibly to bring the gift of Russian literature. The other is the Israeli-Jewish attorney who takes his case pro bono. Israeli Stage artistic director Guy Ben-Aharon helms a crackerjack cast made up of Jeremiah Kissel, Will Lyman, Karen MacDonald, Ken Cheeseman, and Daniel Berger-Jones.
"Sh*t-faced Shakespeare" | Davis Square Theatre | April 10-May 1  According to American Theatre Magazine, this sort of thing is happening on our shores as well. But Boston's first dose of drink-dipped Bard comes courtesy of England's Magnificent Bastard Productions, which offers an interactive adaptation (by artistic director Lewis Ironside) of "A Midsummer Night's Dream" featuring "one entirely sh*t-faced cast member." You get to pick which one and monitor how much beer the tippling performer imbibes. Evidently, if you pour enough alcohol onto the Athenian Wood, anything may happen, from simulated sex to Justin Timberlake impressions. It all sounds very "Animal House." But the show, a hit at the Edinburgh and Brighton Fringe festivals, has been pronounced "genuinely hilarious" by no less august an authority than The Guardian.
"Detroit" | Chelsea Theatre Works | April 10-May 9 | Playwright Lisa D'Amour is hot right now. Her NOLA-set "Airline Highway" opens next month on Broadway, and "Milton," about five American towns of that name (yes, Massachusetts' Milton is among them), just premiered in Milton, North Carolina. Now Apollinaire Theatre Company introduces L'Amour to us via this Pulitzer Prize finalist, which won the 2013 Obie Award for Best New American Play. The piece is set in a "first-ring" suburb of a midsize American city, where one couple fires up the grill to welcome to the neighborhood another that has bought the long-empty house next door. Before the party's over, not only the barbecue but also the welcome wagon is aflame. Artistic director Danielle Fauteux-Jacques is at the helm; the quirkily appealing Becca A. Lewis is among the cast.
"Shrek the Musical" | Wheelock Family Theatre | April 17-May 24
Shelley Bolman is at the helm of the area premiere of the 2008 Broadway hit based on the book by William Steig and the Oscar-winning 2001 Dreamworks film that has spawned three sequels. The fairy-tale mishmash of a musical, with the book and lyrics by Southie-bred Tony winner David Lindsay-Abaire and music by Jeanine ("Violet") Tesori, features a big, green ogre who is not the villain, as well as a talking donkey, a magic mirror, and a princess in peril who sounds like Cameron Diaz. Christopher Chew plays the title role; musical direction is by Matthew Stern.
"Mr. g" | Central Square Theater | April 23-May 24 | Wesley Savick, whose previous credits with Underground Railway Theater include the 2007 adaptation and direction of "Einstein's Dreams," returns to Alan Lightman's oeuvre, this time helming his own adaptation of the droll and erudite novel of the deific title. Jordan Ahnquist plays the Creator as "together, we experience the birth and fate of Mr. g's favorite universe: ours." The show, which also features Obehi Janice and Vincent Ernest Siders, is a 10th anniversary production of the Catalyst Collaborative @ MIT, of which Lightman was a co-founder.
"Scenes from an Adultery" | New Repertory Theatre | April 25-May 17 | Pinter already copped the title "Betrayal," so Boston-based, Ireland-bred dramatist Ronan Noone had to go all Ingmar Bergman in naming his new play, which is seen here in its world premiere. Directed by Bridget Kathleen O'Leary (who certainly has the ethnically right moniker for the job), the theater piece "takes the traditional British drawing-room comedy of manners and turns it on its side," and in the process moves it out of the parlor and into a pub.
"Mothers & Sons" | Calderwood Pavilion at The Boston Center for the Arts | May 8-June 6 |
SpeakEasy Stage Company presents the area premiere of Terrence McNally's 2014 Tony-nominated work, an extension of his 1988 "Andre's Mother." In that one, the mother and lover of a man who has died at the height of the AIDS crisis meet for the first time at his funeral. Now the mom, a Dallas matron en route to a European vacation, stops in New York to re-encounter her son's partner, who has since married and is the father of a son. "A debate play with fraught emotional underpinnings," the work "explores our evolving understanding of what it is to be family." Paul Daigneault helms a cast led by the formidable Nancy E. Carroll.
"The Last Two People on Earth: An Apocalyptic Vaudeville" | Loeb Drama Center | May 12-31 | If only two people remain alive on the planet in the wake of a spectacular flood and their common language is song and dance, better the pair be Mandy Patinkin and Taylor Mac than, say, Vladimir Putin and Dick Cheney. Here, in an American Repertory Theater world premiere presented in association with Staci Levine Groundswell Theatricals, the two talented performers, under the direction of Tony winner Susan Stroman, hoof and warble their way through "the rise and fall and hopeful rise again of humankind" to tunes by, among others, Rodgers and Hammerstein, Stephen Sondheim, R.E.M. and Queen. They will enchant you; then they will rock you.
"Henry VI, Part 2" | Modern Theatre at Suffolk University | May 13-June 7 |
Actors' Shakespeare Project does not flinch from the least performed works in the canon, taking aim at a "Titus Andronicus" for every "Twelfth Night." Now the troupe scrolls back to the Bard's earliest history plays, tackling the middle slice of his three-part "Henry VI." Intrepid erstwhile Shakespeare & Company artistic director Tina Packer is at the helm of the production, which uses only a handful of actors to play the many, many parts in this convoluted tale of "conspiratorial machinations" set in motion when the title character takes a French wife – in exchange for Anjou and Maine. Various nobles, pissed that the monarch is giving up the lands his jingoistic father won across the Channel, set about plotting until they set a civil war to simmering. If anyone can pull this off, Packer can.
"Light Up the Sky" | Lyric Stage Company of Boston | May 15-June 13 | 
Scott Edmiston is at the helm of Moss Hart's 1949 homage to eccentric theater folk. Aptly enough, it's set in a hotel room at Boston's Ritz-Carlton, where a leading lady, a lowlife producer, an earnest young playwright, a high-strung director and the diva's mom await what Elliot Norton and his ilk have to say about the Broadway-bound show they opened earlier that evening. The difference between Hart and, say, David Mamet is that he'd sooner send the showbiz types a valentine than a raspberry. He'd send one to this cast as well: Will McGarrahan, Kathy St. George, Richard Snee, Mary Klug, Will LeBow and Paula Plum are on the roster.
"after all the terrible things I do" | Calderwood Pavilion at the Boston Center for the Arts | May 22-June 20 | Huntington Theatre Company honcho Peter DuBois directs the New England premiere of this 2014 two-hander by A. Rey Pamatmat, an intimate consideration of "bullying and second chances." The characters are a Filipina-immigrant bookstore owner and a wet-behind-the-ears white boy who applies for a job at her shop. An aspiring writer, he has unresolved issues regarding his sexual orientation, which starts a conversation that goes way beyond the pair's mutual love of literature.
"Crossing" | Citi Shubert Theatre | May 29-June 6 | American Repertory Theater teams up with Music-Theatre Group to present the world premiere of a new American opera with music and libretto by 25-year-old Harvard grad and music-world prodigy Matthew Aucoin, who is currently the Solti Conducting Apprentice of the Chicago Symphony. Inspired by the diary Walt Whitman kept during his stint as a nurse in the American Civil War, the piece "explores how the individual experiences of soldiers are remembered and told" — in this case to and by Whitman. A.R.T. artistic director Diane Paulus is at the helm. Renowned baritone Rod Gilfry portrays Whitman. And Aucoin himself conducts the chamber orchestra A Far Cry. Andris Nelsons — that old guy?
Carolyn Clay was for many years the theater editor and chief drama critic for the Boston Phoenix. She is a past winner of the George Jean Nathan Award for Dramatic Criticism.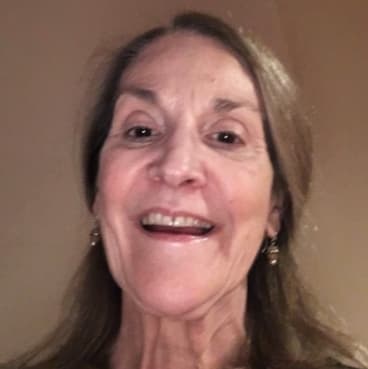 Carolyn Clay Theater Critic
Carolyn Clay, a theater critic for The ARTery, was for many years theater editor and chief drama critic for the Boston Phoenix.