Benjamin Booker: Part Blues, Part Punk, The Whole Truth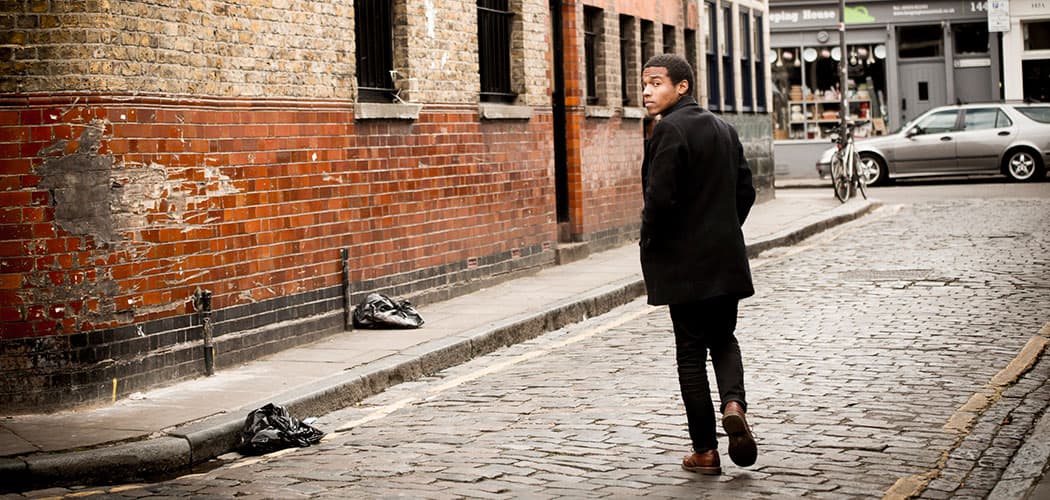 This article is more than 6 years old.
When Benjamin Booker sings, people invariably think of the blues. His voice is like sandpaper trimmed in velvet, or asphalt cooked in the hazy summer heat: roughness enveloped by warmth. His songs are personal, visceral things. Although he takes a casual approach to diction, he says as much with his world-weary delivery as in his most starkly honest lyric.
"I was having a hard time, but really, the people around me were having a way worse time," says Booker of the two years during college that inspired the songs on his self-titled debut. (He plays a sold-out show at the Sinclair in Cambridge on April 4.) "That was really, I guess, the hard part. And I really just wrote songs, individual songs, for people, that I would just share with friends. And that ended up being the first record. It's just a collection of the songs I was writing for friends and family."
As raw as Booker's music is, the comparison to blues is somewhat facile. "Benjamin Booker" begins with "Violent Shiver," a crescendoing garage rock number with furious drumming and a delirious "ooh-ooh" hook. The album is marked by manic cymbal crashes, dirty, distorted guitars, and rockabilly's dramatic punctuations. The occasional blues riff makes its way in, along with the far-off warble of an electric organ.
Though Booker cites bluesmen like Blind Willie Johnson and Furry Lewis as influences, it was punk and noise music that prompted him to pick up the guitar in high school. He elected to attend college in Gainesville, Florida, primarily because of the punk scene there. Listening to his music, it is easy to see why Jack White was an early champion. Both are able to mine the needle-fuzzy rock 'n' roll of yore without ripping it off entirely, and Booker has an indie rocker's penchant for descriptive specificity and wry philosophizing. "Even though computers are taking up my time/ Even though there are satellites roaming in space," he sings in the soaring "Slow Coming," "The future is slow coming." (The new music video for "Slow Coming" puts the song's political implications into blunt relief with references to the Civil Rights and #BlackLivesMatter movements and frank depictions of police brutality against African-Americans.)
"I really don't make the music that I listen to, you know," says Booker. "It's weird because you can tell—I can see parts of things that I've listened to in the music, but I've listened to, I guess, so many different kinds of music that it comes out very differently. Yeah, I listened to a bunch of blues music, but I was also into Sonic Youth, so 'Violent Shiver'—which is one of the songs off the album—I remember wanting a riff like 'Teen Age Riot,' the Sonic Youth song."
Booker, who lives in New Orleans, spent most of his childhood in Florida. His father was in the Navy and the family was very religious. Booker says that he began to question his faith at around age 13. Many of the songs on "Benjamin Booker" touch obliquely on religion (and losing it), but the impassioned "Have You Seen My Son" is perhaps the most nakedly autobiographical. "Told me that the world is full of sinners/ And placed a Bible at my feet/ I could hardly understand you/ I had just learned to chew my meat," it begins.
But the song is not so much a rejection of religion or an admonition to its acolytes as it is a painful reckoning with the loss of faith. What does it feel like to know that your mother is praying for your salvation? "Heard that you were calling out my name, my name/ And you cried for a whole week/ Said 'Have you seen my son?/ He's lost in the world somewhere,'" Booker howls, his voice cracking with empathy. "They say that when a mother loves a child/ She would do most anything." His break with religion is the final, wrenching fissure between mother and son that began with the cutting of the umbilical chord, and Booker, from the other side of the rupture, feels it. "I know I can never make it right."
"It was also me realizing I couldn't change the way that my family and other people felt," says Booker. "And that even though we do see things differently, that [we were] just going to have to learn to respect each other."
Booker has spoken candidly in interviews about some of the hard knocks that have influenced his songwriting: drinking and drugs at an early age, a friend struggling with addiction, his first year in New Orleans working for AmeriCorps and surviving on food stamps. Out of that lowness came swift success. Booker was signed to ATO Records on the strength of his first demo and, with the release of "Benjamin Booker" in 2014, found himself opening for Jack White and performing on the "Late Show With David Letterman." These days, he tours practically nonstop. He has been slowly working up new material for the next record.
"The songs, and stuff that I've been writing about, [are] still about the people around me," says Booker. "I guess a lot of bands, for their second record, it ends up just being about life on the road and sleeping in hotels and that kind of thing. And I was just like, 'Ugh.' I mean I just really don't want to do that."
Booker's success has also made him cagier about the details of some of the events and people he sings about. "The songs are about them, and they know that they're about them," he says. "So it's weird to talk about them in interviews and then see it in some magazine or something."
Yet the singer retains a charming, easy openness. Towards the end of the interview, he laughs as he remembers vomiting right before going onstage to play a gig—not from nerves, but out of sheer exhaustion. In the pantheon of harrowing tour tales, it's a particularly bleak one. But Booker has never been one to sugarcoat things. The unvarnished truth is always more interesting, especially if you can sing it.