'City Of Angels' Adds Up To Less Than A Sum Of Its Parts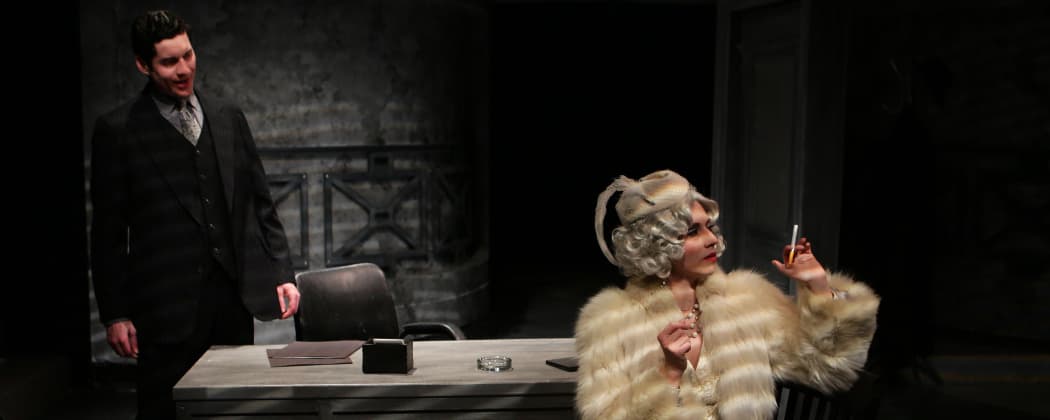 This article is more than 6 years old.
There are any number of films and plays that take a satirical ax to the pretty puffery and self-important pretenses of Hollywood. There are even a few that begin with the conventions of film noir and subvert them to fresh, thoughtful ends.
"City of Angels," the cheerfully showy musical now up at Lyric Stage Company of Boston, does neither. Its satire stings with the lash of a wet noodle, and it luxuriates in the clichés and byzantine plotting of noir, rather than aiming to assemble familiar pieces into a new shape.
But it's harmless fun. And though the show is overlong as written, this production moves with brisk merriment under Spiro Veloudos's very fluid direction, aided and abetted by Elisabetta Polito's spot-on, period-appropriate costumes, Matt Whiton's very clever set design and Johnathan Carr's illustrative projections. Add in a punchy, six-piece orchestra that manages to simulate the swing of Big Band jazz (and, it should be noted, the schmaltz of milquetoast showtunes), and it's a pleasant spectacle, even if it's unlikely to stick in your memory for too long after the curtain falls.
Curiously, "City of Angels" was the recipient of six Tony Awards upon its New York debut in 1989, including the one for Best Musical; still, Veloudos's confident production seems to exceed the limitations of what I see as promising but problematic material. (The book is by Larry Gelbart, the lyrics by David Zippel and the score by Cy Coleman.)
The conceit is revealed at the top of the show, when a scene involving a standard-issue 1940s gumshoe (played by Ed Hoopman) seems to rewind and play again, with variations. When lights come up on a man typing away at a typewriter — Whiton's set provides a dual-level playing space, with events on the upper deck spilling into and affecting the goings-on down below — we see that the detective is a fictional creation within a work-in-progress.
This meta-theatrical device is wittily enacted here, with a 17-person cast working with unforced focus and many a scene transition between "real-world" events and the world of the screenplay, all executed deftly. Most actors double as associates of the writer — a man named Stine (played by a likable Phil Tayler) — and characters in his story.
Maybe the transitions are too smooth. Previous productions seem to have more overtly used design elements like lighting and costuming to differentiate between these two worlds. I for one got a bit lost in the parade of characters and the deliberately elaborate plot, and eventually had to just let it wash over me. One platinum-blonde wig blurs into the next.
Stine is of course feeling put-upon by a blustering studio boss (J.T. Turner, warbling in and out of a Jewish-American accent as Buddy Fidler) who is forever demanding fresh edits. But we start to wonder what is supposed to be so precious about Stine's original material, a crime novel with the befittingly generic title "City of Angels." (See how meta?)
Leigh Barrett is lovely in the dual roles of Donna (Buddy's secretary) and Oolie, the secretary to fictional detective Stone. Tony Castellanos proves a charismatic scene-stealer as a police detective in the fictional world, and earned an extra ovation at press opening on Sunday with "All Ya Have To Do Is Wait," whose layers of Latin Jazz could only be superficially approximated by a band with no one on hand percussion.
The trouble with this show's concept is that both sides of the story need to be satisfying on their own terms in order for it all to add up to more than just a clever conceit. But the noir-inspired content is a rather bland reshuffling of clichés, and there's no real drama surrounding Stine's factory-issued complaints about the studio meddling with his creative process.
Veloudos and team pump it up with as much energy as they can, and very nearly pull it off. Surely, many theatregoers will find it a satisfying experience. But "City of Angels" is ultimately a show that adds up to less than the sum of its parts.
Jeremy D. Goodwin contributes regularly to the Boston Globe. Among other venues, his work has been seen in American Theatre and heard on New England Public Radio. Follow him on Twitter @jeremydgoodwin. Browse some other work here.