Cracking The Case Of The Bookseller-Novelist Josh Cook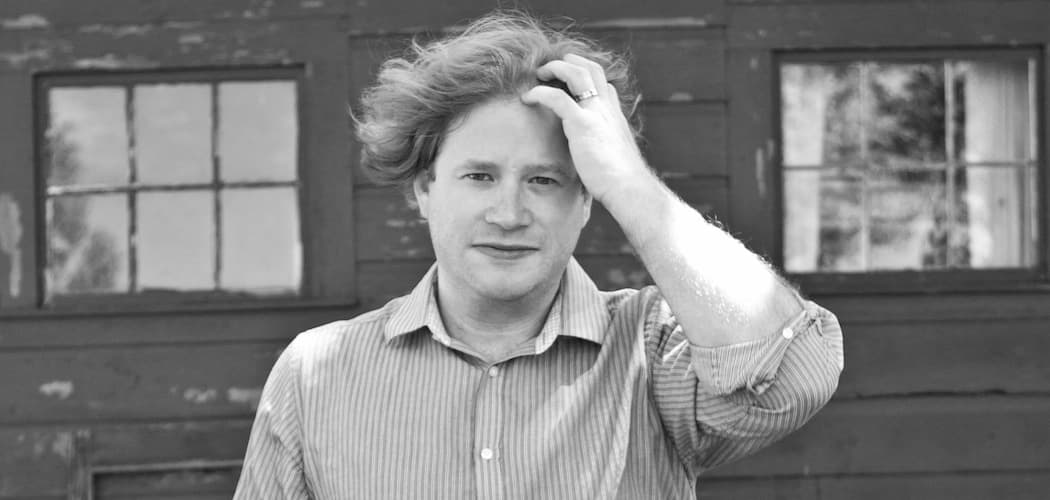 This article is more than 6 years old.
Somerville local Josh Cook balances selling books with writing them.
Cook, a bookseller and the marketing director at Porter Square Books in Cambridge, is a newly minted debut novelist. The book, "An Exaggerated Murder," was released last month by Melville House, an independent publisher in Brooklyn, and is receiving attention for its smart, literary take on the detective novel.
The story revolves around a missing millionaire named Joyce, and a trio of detectives on the case—Trike Augustine, a Sherlock-like CPU of a PI, and his partners Max and Lola. The trio's antics make for an entertaining romp, and the relationship between them ends up feeling deeper and more real than you might initially suspect. I quickly devoured it over the course of two train rides between Boston and Maine.
Though a career milestone, "An Exaggerated Murder" is hardly Cook's first taste of publication. He is a poet, and his criticism and essays have been featured on literary-minded sites like The Millions and The Rumpus, not to mention his own blog and that of Porter Square Books.
One of Porter Square Books' first hires, Cook is now a veteran bookseller of 11 years. Cook's case is increasingly common among professional writers. They've learned to keep busy and remain flexible in an uncertain economy that often insists on the standard of highly consumable (read: with animated .gifs), user-generated (read: unpaid) content.
He is someone who has wisely diversified his talents. In an industry whose doom seems constantly at hand, that is no small feat. For now, however, he can bask in the glow of publication—real, wood-pulp publication.
Cook has been a writer since his teens. "Whatever's in my head, writing is how I deal with it," he told me over coffee one morning at the bookstore. The idea for "An Exaggerated Murder" has been kicking around his head since 2002, not long after he graduated college and started at Porter Square Books. It wasn't until 2008 that he began the process of almost entirely re-writing the novel.
Being surrounded by books certainly allowed him time for reading and inspiration. Bookselling made him especially conversant with contemporary fiction. "It's connected me with contemporary literature and given me access in a way that would be really difficult to have if I didn't work here," he says of his day job.
Despite the chorus of influences, he said, "it all comes out of one brain." Much the way his detective protagonist Trike devours clues and facts, Cook ingested classic detective stories (from Poe and Wilkie Collins to the "golden era" of pulp fiction), modernists and postmodernists, and his contemporaries, too—experimental writers like novelist Jesse Ball, Kerry Howley and Ron Currie, Jr., all of whom he has scheduled for readings at Porter Square Books. "Knowing what's happening now is helpful for writing for now," he said.
The Sherlock archetype was also very much in his head, as well as Dashiell Hammett's stories. Cook loved the characters in these works, but felt a need to make his stories a little more humane—for instance, ramping down the frequently misogynistic portrayal of femme fatales.
After pinpointing Melville House as the kind of publisher he wanted to work with—and getting to know some of its employees through his work scheduling their authors for bookstore readings—he pitched the book to one of Melville House's founders, Dennis Loy Johnson, at an Association of Writers & Writing Programs conference in Boston.
He credits Kirsten Reach, his editor at Melville, as invaluable in steering the manuscript toward publication. He had no trouble taking her informed critique in the best spirit.
"The way I think about it is: if you're getting ready to go out to a party and your friend tells you 'that tie looks awful,' they're not doing it because they don't like you," he said, "they're actually doing it because they like you."
So what's it like to be selling customers your own novel?
"It's amazing," he said. "It's been fun to see it out there. It's been fun to be here [at Porter Square Books]. A lot of writers don't get the opportunity—or the danger—of being able to actually see readers every day."
Charles Thaxton is a freelance writer living in Somerville. You can follow him on Twitter here and Tumblr here.