Ryan Landry, This Year's Elliot Norton Award Winner, Is The Fairest Of Them All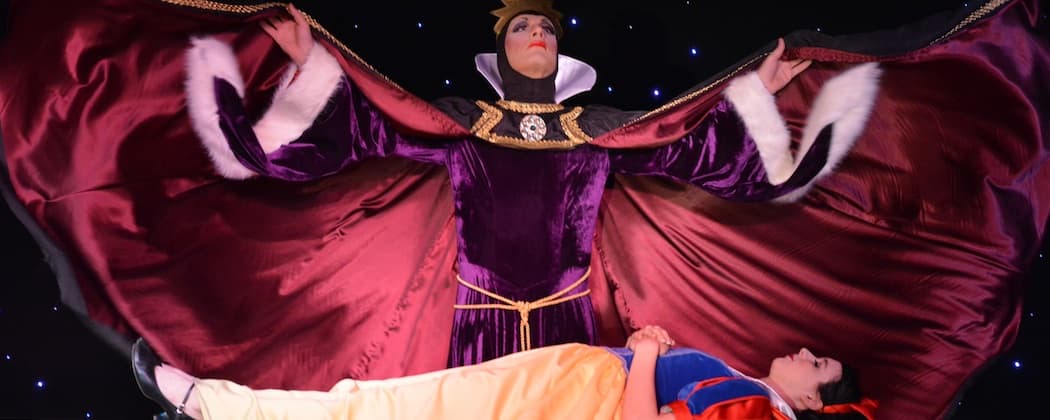 This article is more than 6 years old.
Ryan Landry, the head of the gender-bending Gold Dust Orphans, is the winner of this year's Elliot Norton Prize for Sustained Excellence. This year's awards, presented by the Boston Theater Critics, will be at the Citi Shubert Theatre at 7 p.m. Monday, May 11.
The Orphans have long specialized in often hilarious parodies of films and movies that are written by Landry and performed at Machine near Fenway Park. The group, of which I'm a member, are also awarding citations to Rob Orchard, founder and former executive director of ArtsEmerson (and a former Elliot Norton Award winner) and Kay Bourne, veteran arts reporter.
The Orphans were nominated for three awards this year, two for "Snow White and the Seven Bottoms" — Outstanding Musical Production and Outstanding Director, Small and Fringe Theaters (James P. Byrne). Casey Preston was nominated as Outstanding Actor, Small or Fringe for "Jesus Christ, It's Christmas."

Several productions received multiple nominations. The leader was "Big Meal" at Zeitgeist Stage Company with five.
The American Repertory Theater had several favorites – "The Shape She Makes," a world premiere dance-theater piece by Susan Misner; "The Tempest," directed by Teller and Aaron Posner, both with four; an immersive "The Mikado" by the Hypocrites and "Finding Neverland," both with three.
"Bedlam's Saint Joan," which began life in New York but was retrofitted for the Central Square Theatre by Underground Railway Theater, also had four nominations. The production featured four actors performing a variety of parts in the George Bernard Shaw play.
As announced earlier, singer-actress Lea Delaria is this year's guest of honor.
Here are this year's nominations. The Norton website also has a video presentation of the nominees.
Outstanding Visiting Production
The Trip to Bountiful (Jonathan Reinis Productions in association with Center Theatre Group, presented by ArtsEmerson)
Bedlam's Saint Joan (Bedlam, presented by Underground Railway Theater)
The Mikado (The Hypocrites' production, presented by American Repertory Theater)
Outstanding Production by a Large Resident Theater
The Shape She Makes (American Repertory Theater)
The Tempest (American Repertory Theater in association with The Smith Center for the Performing Arts)
Vanya and Sonia and Masha and Spike (Huntington Theatre Company)
Outstanding Production by a Midsize Theater
Bad Jews (SpeakEasy Stage Company)
Necessary Monsters (SpeakEasy Stage Company)
God's Ear (Actors' Shakespeare Project)
Outstanding Production by a Small Theater
Albatross (Mike Seiden and The Poets' Theatre)
The Big Meal (Zeitgeist Stage Company)
Shockheaded Peter (Company One, co-presented by Suffolk University)
Outstanding Production by a Fringe Theater
Stupid F***ing Bird (Apollinaire Theatre Company)
Two Boys Lost (Stickball Productions)
It Felt Empty When the Heart Went at First But It Is Alright Now (Theatre on Fire and Charlestown Working Theater)
Outstanding Actor, Large Theater
Martin Moran, Vanya and Sonia and Masha and Spike (Huntington Theatre Company)
Fred Sullivan, Jr., Twelfth Night (Commonwealth Shakespeare Company)
Tom Nelis, The Tempest (American Repertory Theater in association with The Smith Center for the Performing Arts)
Outstanding Actress, Large Theater
Cicely Tyson, The Trip to Bountiful (Jonathan Reinis Productions in association with Center Theatre Group, presented by ArtsEmerson)
Brooke Adams, Happy Days (Commonwealth Shakespeare Company in association with The Theatre @ Boston Court)
Finnerty Steeves, The Shape She Makes (American Repertory Theater)
Outstanding Actor, Midsize Theater
Victor L. Shopov, Bad Jews (SpeakEasy Stage Company)
Nael Nacer, Intimate Apparel (Lyric Stage Company of Boston)
Jermel Nakia, Fences (Gloucester Stage Company)
Outstanding Actress, Midsize Theater
Andrus Nichols, Bedlam's Saint Joan (Bedlam, presented by Underground Railway Theater)
Lindsey McWhorter, Intimate Apparel (Lyric Stage Company of Boston)
Tamara Hickey, God's Ear (Actors' Shakespeare Project)
Outstanding Actor, Small or Fringe Theater
Victor L. Shopov, Bent (Zeitgeist Stage Company)
Benjamin Lewin, Good Television (Zeitgeist Stage Company)
Devon Scalisi, The Big Meal (Zeitgeist Stage Company)
Outstanding Actress, Small or Fringe Theater
Lee Mikeska Gardner, Emilie: La Marquise du Châtelet Defends Her Life Tonight (Nora Theatre Company)
Becca A. Lewis, The Big Meal (Zeitgeist Stage Company)
Lesley Anne Moreau, Language of Angels (Happy Medium Theatre Company)
Outstanding Musical Production
Finding Neverland (American Repertory Theater, presented by special arrangement with Harvey Weinstein)
Into the Woods (Lyric Stage Company of Boston)
Snow White and the Seven Bottoms (Gold Dust Orphans)
The Musical of Musicals (the Musical!) (Moonbox Productions)
Outstanding Musical Performance by an Actor
Steven Bargonetti, Father Comes Home From The Wars (American Repertory Theater and The Public Theater)
Walter Sickert, Shockheaded Peter (Company One, co-presented by Suffolk University)
Casey Preston, Jesus Christ, It's Christmas! (Gold Dust Orphans)
Outstanding Musical Performance by an Actress
Laura Michelle Kelly, Finding Neverland (American Repertory Theater, presented by special arrangement with Harvey Weinstein)
Aimee Doherty, Into the Woods (Lyric Stage Company of Boston) and Far From Heaven (SpeakEasy Stage Company)
Leigh Barrett, Closer Than Ever (New Repertory Theatre) and City of Angels (Lyric Stage Company of Boston)
Outstanding Director, Large Theater
Jonathan Bernstein, The Shape She Makes (American Repertory Theater)
Teller and Aaron Posner, The Tempest (American Repertory Theater in association with The Smith Center for the Performing Arts)
Sean Graney, The Mikado (The Hypocrites' production, presented by American Repertory Theater)
Outstanding Director, Midsize Production
Eric Tucker, Bedlam's Saint Joan (Bedlam, presented by Underground Railway Theater)
Spiro Veloudos, Into the Woods (Lyric Stage Company of Boston)
David R. Gammons, Necessary Monsters (SpeakEasy Stage Company)
Outstanding Director, Small or Fringe Theater
David J. Miller, Bent and The Big Meal (Zeitgeist Stage Company)
Natsu Onoda Power, Astro Boy and the God of Comics (Company One)
James P. Byrne, Snow White and the Seven Bottoms (Gold Dust Orphans)
Outstanding New Script
Father Comes Home From The Wars, by Suzan-Lori Parks (American Repertory Theater and The Public Theater)
Albatross, by Matthew Spangler and Benjamin Evett (Mike Seiden and The Poets' Theatre)
Two Boys Lost, by Bill Doncaster (Stickball Productions)
Outstanding Solo Performance
Celeste Oliva, Grounded (Nora Theatre Company)
Benjamin Evett, Albatross (Mike Seiden and The Poets' Theatre)
Robbie McCauley, Jazz 'n Class (Sleeping Weazel)
Outstanding Choreography
Susan Misner, The Shape She Makes (American Repertory Theater)
Mia Michaels, Finding Neverland (American Repertory Theater, presented by special arrangement with Harvey Weinstein)
Emma Rice, Tristan & Yseult (Kneehigh, presented by ArtsEmerson)
Outstanding Design, Large Theater
The Tempest: Scenic design by Daniel Conway, Costumes by Paloma Young, Lighting by Christopher Akerlind, Sound by Darron L. West, Magic by Johnny Thompson (American Repertory Theater in association with The Smith Center for the Performing Arts)
The Second Girl: Scenic and costume design by Santo Loquasto, Lighting by James F. Ingalls, Sound by Ben Emerson (Huntington Theatre Company)
Sontag: Reborn: Video design by Austin Switser, Sound by Dan Dobson, Lighting by Laura Mroczkowski, Set by Joshua Higgason, Associate video design by Jesse Garrison, Costumes by Andreea Mincic, Makeup by Dick Page (The Builders Association and New York Theatre Workshop, presented by ArtsEmerson)
Outstanding Design, Midsize, Small or Fringe Theater
Far From Heaven: Scenic design by Eric Levenson, Costumes by Charles Schoonmaker, Lighting by Karen Perlow, Sound by Noah Thomas (SpeakEasy Stage Company)
Shockheaded Peter: Scenic design by Michael Anania, Lighting by Justin Paice, Costumes by Miranda Giurleo, Sound by Joel Simches, Props by Seth Shaw, Masks and Puppetry by Eric Bornstein (Company One, co-presented by Suffolk University)
Astro Boy and the God of Comics: Scenic design by Natsu Onoda Power, Projections by Jared Mezzocchi, Lighting by Justin Paice, Costumes by Tyler Kinney, Sound by Kelsey Jarboe, Props by Megan F. Kinneen (Company One)
Outstanding Ensemble, Large Theater
The Mikado (The Hypocrites' production, presented by American Repertory Theater)
Tristan & Yseult (Kneehigh, presented by ArtsEmerson)
The Colored Museum (Huntington Theatre Company)
Outstanding Ensemble, Midsize, Small or Fringe Theater
Bedlam's Saint Joan (Bedlam, presented by Underground Railway Theater)
Bad Jews (SpeakEasy Stage Company)
The Big Meal (Zeitgeist Stage Company)